Remodeling your home is exciting. However, it's easy to overlook some important renovation steps when you're fantasizing about the final result.
Whether you're boosting the basics in your home by replacing your old HVAC system with a ductless mini split system, swapping dated countertops for the latest in natural stone, or finally installing your dream wine cellar, you should consider the following seven tips.
Don't Overdo It
Many homeowners embark on home remodels to make their homes more comfortable and appealing to live in and increase the value of their property. However, while any renovation can make your home more comfortable for you, many expensive renovations, such as installing a high-end kitchen, can cost more to install than will add to the house's resale value.
Swimming pools and sunrooms are other common additions that cost a lot to install but don't add much to a home's overall value. Also, never undertake renovations that permanently reduce the number of bedrooms in your home.
Having fewer bedrooms substantially reduces value. If you want to re-purpose a bedroom, do it in a way that the room can still be used as a bedroom without needing another remodel.
Similarly, if you want to use your garage for a purpose other than parking your car, make sure it can easily be restored back to a parking space before you try to sell your home.
Avoid Permanent Installations That Require Maintenance
Other types of renovations can make your house difficult to sell. For example, an over-the-top luxury bathroom with a whirlpool tub and other fancy amenities will scare away most buyers who prefer the convenience of a walk-in shower and easy-to-clean basic bathroom fixtures. Here is a list of permanent features that tend to scare away buyers:
Hot tubs
Built-in aquariums
Built-in entertainment systems
Whirlpool bathtubs
Hard-to-maintain landscaping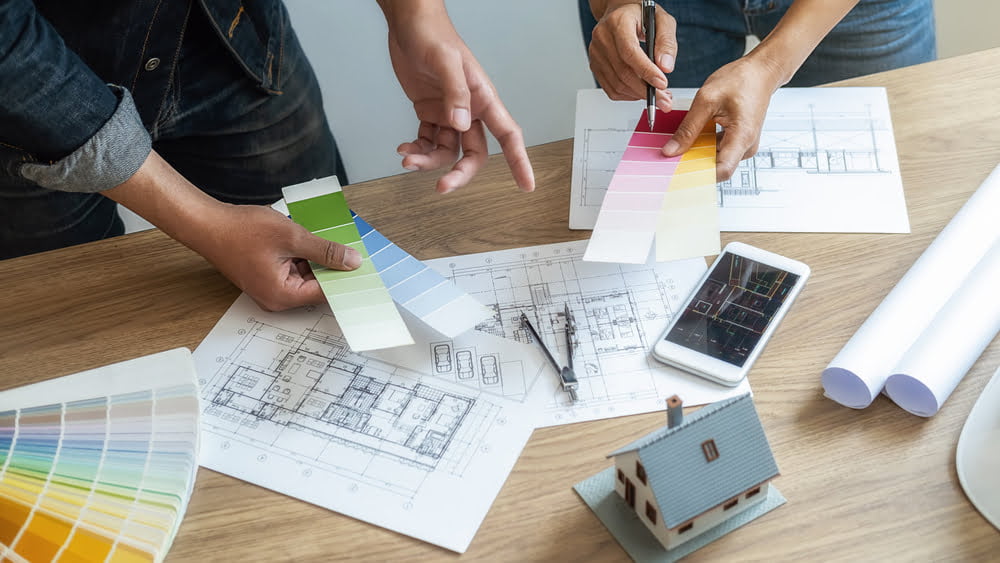 Source: PIC SNIPE/Shutterstock.com
Hire a Professional
If you consider yourself handy, you might be tempted to perform your remodel as a DIY project. Don't. Any major remodel requires a professional to ensure the proper permits are obtained and everything is up to code and properly built and installed.
If your remodel is not up to code or you fail to obtain necessary permits, your local government can force you to rip out the work at your own expense. In addition, DIY work is usually easy to spot and is a major turn-off for future home buyers.
Set a Realistic Budget
Home renovations can get really costly, really fast. Be realistic about how much money you can spend on your remodel, and stick to your budget. Don't be tempted to splurge on costly materials and fancy fixtures.
Keep the costs of temporarily not being able to use part or all of your home in mind when you're creating your budget. Also, remember that you will probably want to stay somewhere else, such as at a hotel, while major work is being done at your home.
You may need to board your pet at a kennel during the remodel. Also, try to add a contingency of 5% to 10% of your estimated costs to cover any unexpected expenses that might come up.
Think About the Long Game
Before starting your renovation, consider how your proposed change will be viewed 20 years from now. Trendy, fashionable things might be all the rage right now, but they usually stop being trendy fairly quickly.
Bright pink tiles in the bathroom might seem like a good idea today, but you'll probably regret not sticking to classic neutral colors in a few years. Choose timeless materials and colors that make sense for your home's structure, age, and location.
Some home decor "trends" that design experts say never go out of style are white kitchens, marble tile, built-in shelving, soaking tubs, crown molding, and fireplaces. A generous pantry is another home amenity that will never fall out of favor.
Work Form Home Scenario
By
HomeLight Homes
Look at Cost-Saving Technology
Although predicting the future is prone to inaccuracies, you can make educated guesses about technology that's likely to be beneficial for many years. For example, induction cooktops will likely become a must-have in every future kitchen.
Likewise, installing a ductless mini-split system is a better choice than spending money on installing air ducts in your home to support an expensive central-air cooling system. Heat pumps that maintain a pleasant temperature in your home are clearly set to displace conventional furnaces and air conditioners in the future.
Updating your appliances to more energy-efficient ones can dramatically reduce your utility bills and add lasting value to your home. If you already have air ducts in your home, you can replace your current heating and cooling systems with a heat pump. If you rely on radiators and window air-conditioning units, you should consider replacing them with a more efficient single-zone mini-split system, such as the ones manufactured by GREE.
Make the Most of Your Renovation
If your renovation involves ripping holes in walls, think about what else you could do to improve your home while rebuilding those walls. You could add insulation and extra electrical outlets or update light fixtures while completing your main renovation.
Similarly, if a contractor is coming in to install new bathroom fixtures, which involves turning the main water supply off for several days, consider having the contractor update the laundry room sink at the same time. You can save money by getting everything done at once.
Conclusion
A home renovation is an exciting undertaking. The major goal of any home renovation is to improve your living environment. If you follow the above tips, you can achieve that goal, make the most of your money, and create the home of your dreams.