In today's world, DIY arrangements are the go-to approach for homeowners looking to get hands-on with their home's renovation projects, such as repairing roofing issues.
It's easy to see why this DIY approach is appealing. With tons of videos on YouTube guiding you on how to deal with the different roofing issues, it appears that it's cheaper than hiring a professional roofing contractor.
However, you're mistaken for assuming this, more so when dealing with your home's roof, which is one of the most vital parts of your home that plays a part in safeguarding your wellbeing. If you're still in need of greater convincing, read on.
1. Safety
Your safety is something that you can financially quantify, and it's because of this that you need to hire this roofing contractor. This is because the roofing tasks are quite dangerous as they involve climbing great heights to get the work done. If you make the slightest mistake, you risk falling and suffering severe injuries.
As a homeowner inexperienced in roofing repair, it's best to avoid placing yourself in such a situation. Instead, you'd better leave repairing the roof to a qualified roofing contractor. Besides the skills and experience in roofing, this professional also comes with all the necessary safety gear required, such as fall arrest equipment and harnesses. Therefore, they can considerably prevent the chances of an accident happening thanks to their safety measures.
If unfortunately, an accident does happen during your home's roofing, the roofing company's staff are insured and bonded. Therefore, they'll be compensated, and you don't have to worry about possible legal actions being filed against you.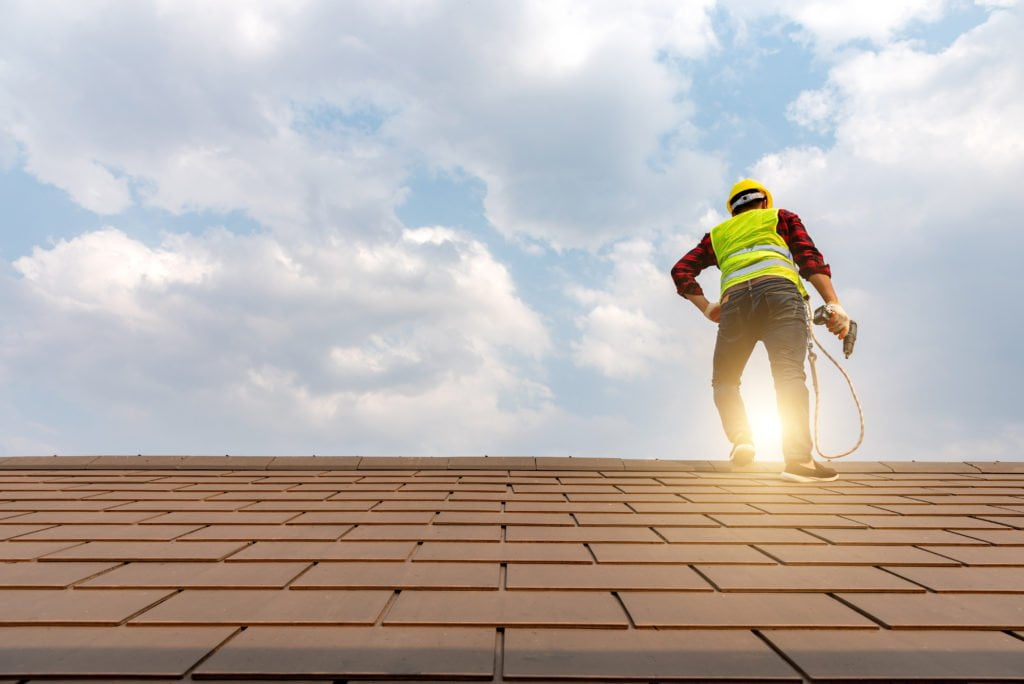 2. Better Roofing Knowledge And Experience
Roofing tasks are usually quite complicated. Because of this, it's best to leave this duty to a professional contractor with both the theoretical and practical knowledge on how to best repair your home's roof.
This isn't something you can acquire regardless of the duration you spend watching YouTube videos or reading online tutorials on how to repair a roofing system.
With this in mind, you're better off leaving the roofing tasks to a licensed professional roofer who'll deliver quality work. This is expected because they have the necessary roofing equipment and understand appropriate building codes.
Roofing contractors will also help you save money because they won't make small mistakes that you most likely have made due to inexperience. As a result, you won't end up spending more money on correcting your mistakes which is something you'll avoid when you hire a roofing contractor.
3. Time Savings And Efficiency
Doing your home's roof by yourself isn't straightforward, besides the necessary experience, you'll also need to invest in proper tools and equipment that might not be readily accessible.
As a result, you'll need to use your precious time looking for the correct tools and materials to use during your DIY roofing project.
This might end up taking you more time than necessary because you most likely don't know the best place to get all the needed gear and equipment.
In addition, attempting the roofing on your will take up more time because you're not very knowledgeable and experienced about this whole process.
This means you need to spend uncountable additional hours trying to learn proper roofing techniques as you go. Because of this, you end up taking much longer to complete your roofing project.
You also shouldn't forget that doing your home's roofing by yourself increases the chances of making a mistake. As a result, the roofing project takes longer than expected and costs you a lot more because you'll still need to pay the roofer to rectify your mistake when this happens.
4. Guaranteed Quality Work
Another advantage of hiring a qualified roofing contractor is that they guarantee to provide you with quality work. One reason is that roofing contractors know the best high-quality roofing materials to use for the roofing project.
As a result, this ensures that your roof looks great and is very durable. This means you'll not worry about needing to re-roof your home in the near future due to the roofing contractor's exceptional job.
Takeaway
The roof plays an integral role in protecting you and your family from many factors such as dirt and harsh weather elements.
It also helps protect your family from thieves. Because of this, you must always ensure it remains in excellent condition.
And in case of the slightest issue, you need to hire a qualified roofing contractor to deal with whatever problem you're facing. This guide has elaborated on why hiring a roofing contractor is one of the best decisions you'll ever make.