The bathroom is an essential part of your house — after all, this is where you take a bath and clean yourself. For that reason, it makes sense that you would want to think long and hard about how you should design it. Ideally, your bathroom should look sharp and clean, and it should also feature decorative elements to avoid looking too sterile.
To help you in this endeavor of designing your bathroom, here are a few modern design ideas that you can implement.
Stick to a Monochromatic Color Scheme
One of the most popular methods to make your bathroom look modern and sharp is implementing a monochromatic color scheme. The reason for this is that a monochromatic color scheme provides a sleek and sophisticated feel to any room. It's also a classic design choice — no matter what year we are in, the monochromatic color scheme will still be loved by people.
One way to execute this design idea is to focus on the color white — which means your bathtub, walls, and drawers will be white. And then, when you're ready to assemble the bathroom vanity and other features, you can experiment with different hues of gray. 
Go for a Black-And-White Color Scheme
If a monochromatic color scheme isn't your style, then you go for a black-and-white color combination. This particular color scheme is well-known for its striking contrast, which helps define the space and gives a harmonious minimalist effect.
Include Bright Accents
Since the first two design ideas mentioned in this post talk about sticking to only one or two colors, you might get the impression that modern design means colorless.
This assumption couldn't be any further from the truth. Modern designs are actually pretty accommodating when it comes to incorporating a different color — so long as it's a single, saturated hue and is used as an accent.
So, pick a color of your choice and then make it your accent color. It will definitely enhance the design of your bathroom.
Incorporate a Few Natural Materials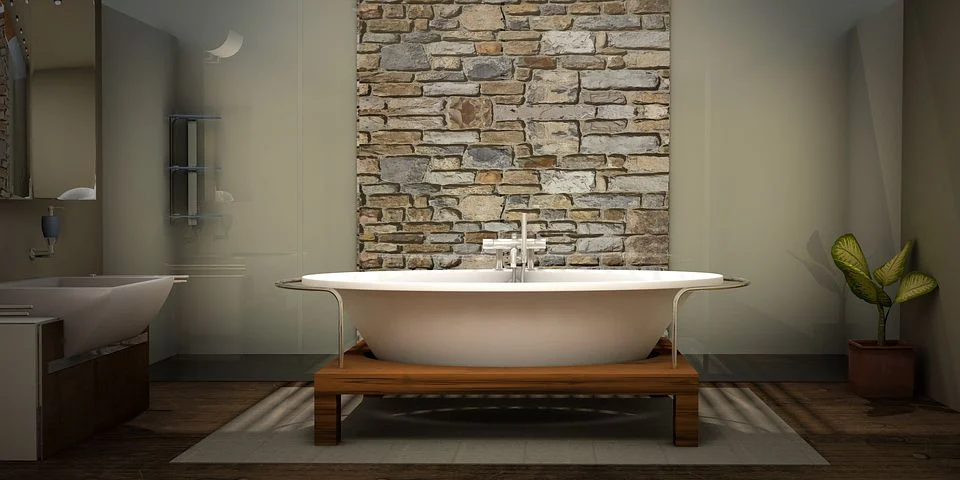 Credit: Pixabay.com
Another simple yet elegant design idea is adding natural materials, such as wood and stone, to your bathroom. It's even better if you combine natural materials with the monochromatic color scheme — that way, not only does your bathroom look sleek, but it also appears visually interesting. 
Moreover, finding a way to let as much natural light into the bathroom as possible helps round out the room's appearance. Adding a few plants into the space is another idea worth considering as well.
Select Furniture with Clean Lines
Modern interior design is the complete opposite of the ornate school of design that came before it. In other words, whereas ornate interior design loves to implement lavish and fancy design elements, modern design prefers stark contrasts and simplistic styles.
For that reason, when shopping for bathroom furniture, you need to ensure that you're selecting those that are not bombarded with all sorts of elaborate details and embellishments. Instead, they should have clean lines, and their beauty is focused on simplicity.
Layer Different Textures Throughout the Space
Modern designs love to focus on sharp elements and clean lines, but sometimes, when overused, these design elements will end up making a room look cold or harsh. To prevent this scenario from happening, you should find a way to infuse a feeling of warmth and comfort back into the room.
To achieve this, you should layer different textures throughout the space. To do this, you can place a plush rug or mat on the bathroom floor and then arrange multiple layers of soft towels throughout the area — probably on the sink or on towel racks. If you want to put in more effort, you can also choose to include luxurious spa accessories, such as fluffy bathroom robes and slippers.
Embrace Minimalism
Wanting your bathroom to look aesthetically pleasing is great and all, but what if you don't want to focus and worry too much about the process of designing? What if you just want something simple and easy — and yet still beautiful to look at?
If you can relate to this scenario, you might want to go for minimalism in your bathroom design. As the name suggests, the minimalist design focuses only on function — it doesn't care about adding other elements to spruce up the room.
Because of this, a minimalist bathroom will look starkly bare at first glance. But at the same time, it also appears soothing, which is a good thing. 
Conclusion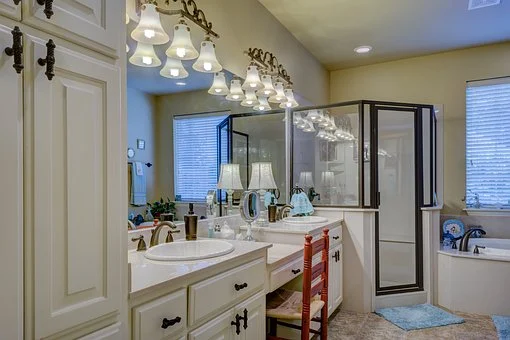 Credit: Pixabay.com
Designing your bathroom is a crucial task — but it can be intimidating as well. This post aims to aid you in the design process by providing you with a list of ideas that you can choose from.
So, select which design idea you like best and apply it to your bathroom. Soon enough, your bathroom will look ultra-modern and beautiful, which is the result you want.