The bedroom is perhaps, the one place in your home where you can relax, unwind and have some peace after a long day. It's also a place to get some profound rest and privacy, so it's essential that it's designed with that in mind.
Designing the perfect bedroom isn't just about the aesthetic attribute of a room. It's also about creating a cozy, comfortable, and functional space you can call your own. That said, here are four tips for planning your dream bedroom.
1. Choose the Right Bed
One of the things you can do to create a relaxing bedroom is to choose the right bed. To start, get a bed that suits your lifestyle. If you're not sure what kind of bed you want, think about how much time you spend in your bedroom. Moreover, you should also choose a size that fits your space. Don't go for something too big if you have limited space in your room. On the other hand, don't choose a bed too small that might restrict you while sleeping.
In addition, choose a bed that can offer you optimum comfort. After all, if you're not able to sleep well in your bed, nothing else will matter. Having a good one can ensure you get the sleep and rest you need.
While a soft mattress may feel nice at first, in some cases, it can cause back pain over time. And so, you should opt for something that can provide you with good support and springiness so that your body moves with each breath rather than sinking into the mattress. And after picking your mattress, improve your sleep further with the added benefit of a mattress protector.
2. Pick Out the Perfect Paint Color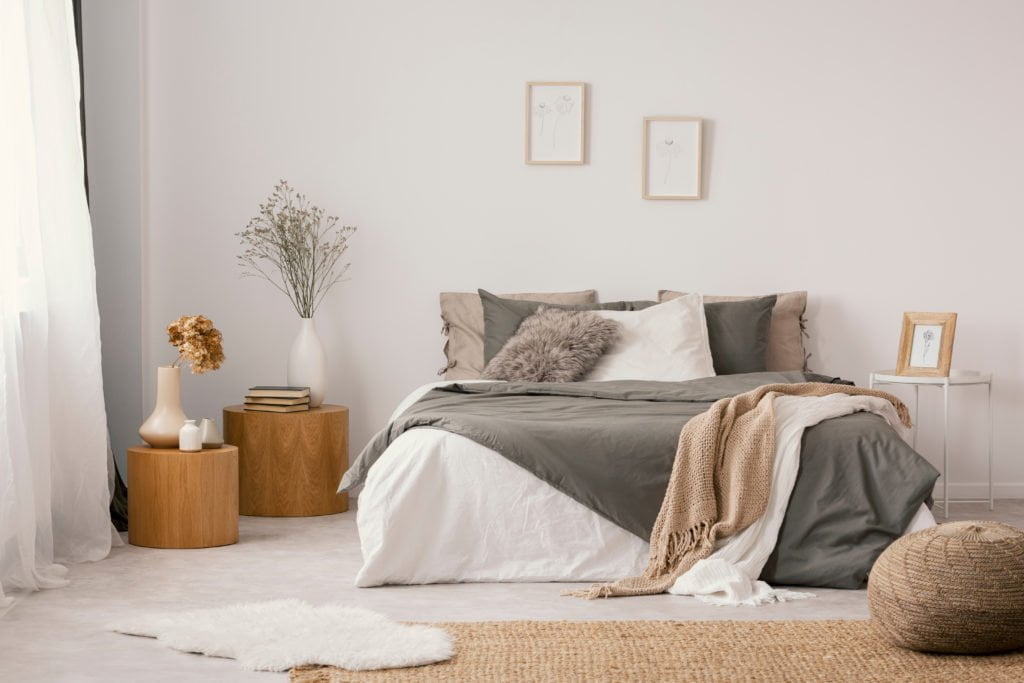 The theme or color you choose for your bedroom is also another thing you have to consider. It can influence the mood and set the vibe for your space. However, picking out the perfect paint color can be challenging. Ideally, it should be a color that makes you feel good, but it also has to complement the rest of the room and your style.
To name a few, here are some tips for choosing the right shade of paint for your bedroom.
Pick a neutral color
If you don't know where to start, try picking out a neutral color first. This will allow you to add more color later on without committing to a specific shade. A white or cream-colored wall can be a safe choice if you aren't sure what paint color will look best in your room.
Have an accent wall
You can also introduce an accent wall by picking out a wall and painting it with a bright hue or adding wall art. Doing so can add personality and charm to your room without going overboard. It can also be a great way to express your creativity and style.
Play with texture and pattern.
There are many ways to incorporate texture into any room — including bedrooms! Try using different fabric types on pillows or curtains and patterns on bedding or rugs to match and complement your walls' paint color.
3. Create Some Cozy Seating
If the space permits, consider adding comfortable seating in your bedroom. This can be a great feature to have in your bedroom. You can add an ottoman or bench at the end of your bed. And to make it more functional, you can get one that has built-in storage.
You can also opt for a bolder choice by picking out a lounge chair as an accent to your room. You can set it up in a way you'll have a nook where you can lounge or curl up with a good book or magazine. You can even make it cozier and relaxing by placing fluffy pillows and adding some soft lighting via lamps.
4. Add Enough Storage
When designing your bedroom, make sure you also have plenty of storage space. For instance, whether you'll be having a walk-in wardrobe or a dresser, having enough space for all your clothes can help keep things organized.
A bedside table with drawers can also be another way of adding extra storage to your bedroom. It could be used for storing books or other items that are easy to access when you want them but which don't need to be seen all the time.
Takeaway
The best and perfect bedrooms are both functional and comfortable at the same time. And perhaps you're planning to freshen things up in your room. In such a case, the insights above can be a great start. Armed with these tips, you'll be able to decorate and design your bedroom in a way that can reflect your style and preference while providing you with the sleep and rest you need.