Designing a Black Brick House – When it comes to home design, there are a lot of options out there. But if you're looking for a unique way to make a statement with your house, then the black brick is the way to go. Black brick adds boldness and sophistication to any exterior.
Using black brick as the main material for your house can be intimidating – after all, it's a look that doesn't often come up in traditional home designs. That's why we put together this article – to help you figure out how to work with this material in a creative and stylish way.
We'll share some tips on selecting black bricks, as well as ideas on how to integrate them into other materials and décor elements like shutters, trim, and roofs. Our goal is that by the end of this article, you'll have been inspired by some new and creative ideas when it comes to designing a black brick house.
Embrace the Dark Color Palette
Designing a black brick house can be a unique, exciting way to express your style. So why not embrace the dark colour palette of a black brick exterior? With these creative ideas, you can build an eye-catching house that will turn heads in your neighbourhood and make your home stand out in any season.
One way to add a touch of glamour to your black brick house is to pair it with metallic accents like wrought iron railings and fencing or even gold fixtures. This creates a luxurious look with the contrast between the dark bricks and the bright metals making each element pop.
You can also play up the darkness of your brick exterior by painting the trim or windows with coordinating or complementary hues like charcoal, navy blue, deep grey or burgundy red. For an added touch of texture, mix stone features—such as stone columns or walkways—into your design as well. By pulling all of these elements together, you can create an inviting home that stands out from the crowd.
Add a Touch of Greenery
Image Credit: pinterest.com
Adding a touch of greenery to your black brick house is the best way to instantly liven up the design. For instance, you could go for a few hanging plants just outside of your front door. This adds a beautiful, homely feel that will leave visitors feeling welcomed.
Alternatively, you could add some landscaping touches, such as a grassy area or shrubs strategically placed around your house. Not only will this offer natural beauty and texture to your outdoor space—it's sure to be appreciated by any wildlife in the area!
If you don't want something that requires too much maintenance, why not consider some flowerbeds or container gardens? These can be planted with several different flowers or even vegetables and herbs for a bit of extra flavour in your outdoor space.
Whatever type of greenery you choose to add, make sure it complements the look and feel of your black brick house. Stick to lighter shades with wildflowers or earthy colours with succulents for example—this way, it won't stand out too starkly against the black brick walls.
Dark Gray Brick with Siding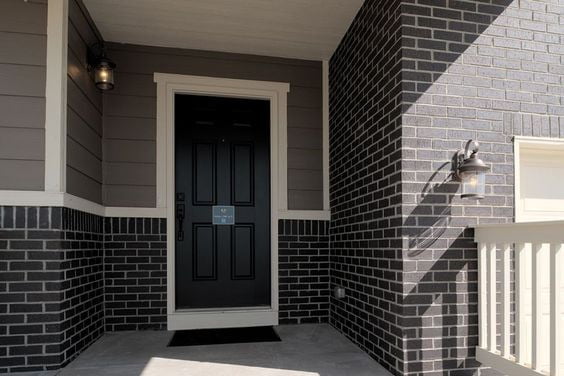 Image Credit: pinterest.com
If you're wanting to give your black brick house a modern, yet rustic look, dark grey brick with siding is the perfect way to go. Not only does this look great, but it also helps protect the bricks from damage and weathering.
Using dark grey brick creates a unique esthetic appeal; it's subtle yet eye-catching and adds a touch of style. To make the look even more interesting, opt for different types of siding to create depth and contrast. For example, you could use wood siding on the bottom half of your house and asphalt shingles on the top. This combination creates a cosy and inviting atmosphere that stands out from the crowd.
Another plus is that this combination can help protect your home from harsh weather elements like rain and snow. That's because siding helps to repel water, which can seep into porous brick and cause it to crack or discolour after prolonged exposure. Plus, siding also provides additional insulation — which can help you save money in energy costs too!
Black Brick with Contrast – Designing a Black Brick House
Image Credit: pinterest.com
One way to up the design quotient of a black brick house is to add contrast. And the best way to do that is with colour—lots of it. Choose bright, complementary colours for trim, shutters and window frames that contrast with a classic black brick exterior for an eye-catching effect.
A popular design idea right now involves using cement mortars in vibrant, pastel shades like green, blue and pink to create contrast against a black Brick façade without overpowering it. This can be done by either dry brushing on the mortar after installation or 'painting' it on before application.
You can also use contrasting materials like wood, stone and tiles to accent your black brick walls. Use wood panels with a metallic finish to create an interesting pattern that stands out against the black Bricks. Consider contrasting tiles for steps or pathways. Frame windows and doors with sandstone or other natural materials for added texture and colour.
These creative ideas provide plenty of options for anyone looking to design a black brick house with a unique look and feel.
Traditional Home with Black Painted Brick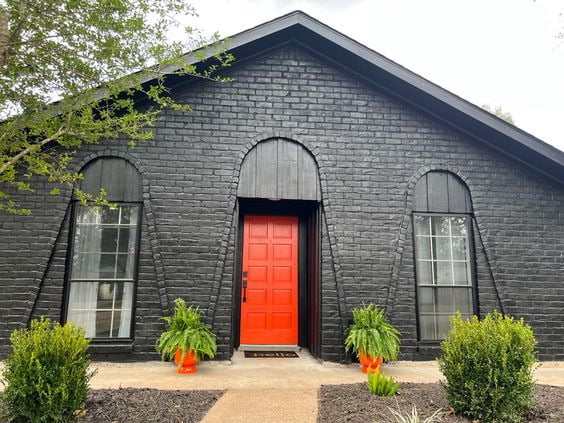 Image Credit: pinterest.com
The traditional home with black painted brick is a style that is ever-trendy. It's versatile and classic, yet it makes an eye-catching statement.
Plus, there are plenty of ways to add personality to your black brick house. Contrast the traditional look of a black brick house with interior accents in vibrant colours like fuchsia, electric blue, or yellow for a modern twist. For example, you could have the fireplace built in deep black brick and use a bright pop of colour on the mantelpiece.
Incorporate interesting architectural details like arches above exterior doors or tall columns in the façade to give your home an extra touch of elegance. Paint these architectural details in black brick to keep the theme going throughout the house. Windows can be framed with white trim for contrast against the black brick walls. With this simple addition, bring some natural light into the space and create a brighter environment for your family.
At the end of the day, you're designing a custom look for your house—so let your creativity go wild! With these creative ideas for using black-painted bricks, you can design a look that perfectly suits your vision.
Modern Charcoal Grey Ranch | Designing a Black Brick House
Image Credit: pinterest.com
Can't get enough of the black brick look? Invest in a modern charcoal grey ranch! This gorgeous twist on the traditional ranch-style house can be perfect for anyone looking for something unique.
The exterior of a modern charcoal grey ranch house can be painted black to bring out the colours and textures of the brick. With a sleek black finish, you can add texture and interest to your otherwise standard ranch-style home with some carefully chosen embellishments.
Decorate your modern charcoal grey ranch house with bold colours and eye-catching accents that make it stand out from the crowd. Bright colours like blues, yellows, oranges and even pinks can be used to add a splash of life and vibrancy to your home's exterior. This layering of colours against an all-black backdrop will bring attention to your home's uniqueness, making it stand out from a sea of cookie-cutter houses.
Greenery is essential when creating a modern charcoal grey ranch house, so don't be afraid to go green! Add planters or flower beds around your entranceway and windows to create contrast against the dark, neutral tones of your all-black facade. You could even try adding some statement pieces—like large planters, tufts of grasses or an arbour—to really bring out your home's unique charm.
Black Brick with Wooden Accents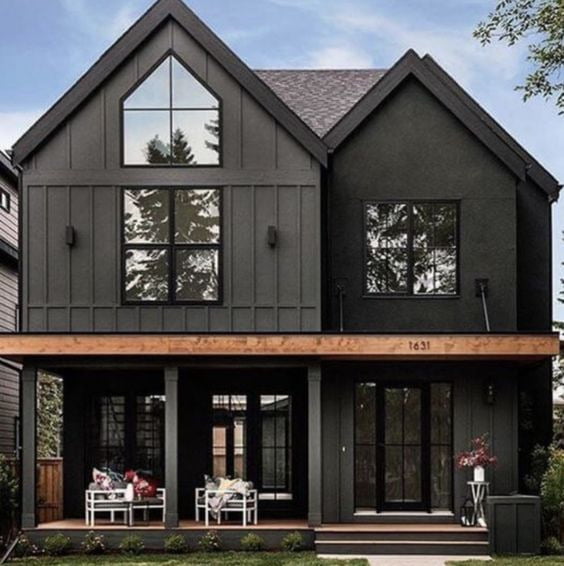 Image Credit: pinterest.com
Wooden accents can bring your black brick house to life. Whether it's a wooden window frame, a black-and-wooden door, or a wooden fence around the garden, you can use wood to add some texture and warmth to the exterior of your home.
You can also mix and match a few materials for a unique look. For example, why not try out a modern combination of sleek black brick and natural-looking wood? It's an easy way to give your home that contemporary, stylish look.
And if you want to go the extra mile, why not try out some adventurous ideas like using rough-cut barn wood or coloured concrete planters? It's all up to you!
Give the Exterior a Facelift
Image Credit: pinterest.com
If you're looking for a way to easily give the outside of your black brick house a facelift, there are some creative ideas that you can try.
Adding colour is an easy way to break up the monotony of black brick walls. Consider painting the door and window trim in a contrasting hue, or even painting the entire exterior with a splash of colour. You could even opt for two-tone paint, alternating the top half and bottom half in two different shades.
It's easy to forget about windows and doors when planning exterior updates, but they can really make or break your overall design. Choose windows in bold hues, or choose hardware finishes like polished chrome to give your facade an updated look. Or why not add some shutters for visual interest?
You'd be surprised at how much impact updating your hardware can have on the look of your home's exterior. Replace old door knobs and outdated fixtures with decorative lighting fixtures for an instant upgrade. From sleek modern styles to traditional designs, there are options available to suit every style preference.
Diversity in Materials – Designing a Black Brick House
Image Credit: pinterest.com
You might want to use different materials to break up the texture of your black brick house. That way, you can really add a unique character and highlight different design elements. Think about things like metal, wood and glass for accents on external walls like balconies or pergolas. You can also look at things like stone, limestone and terracotta for features such as retaining walls or even an outdoor fireplace.
Combining different materials into your design will help you achieve the perfect balance between style and function when it comes to creating an outdoor feature that complements the black brick house of your dreams.
Modernizing with Black Brick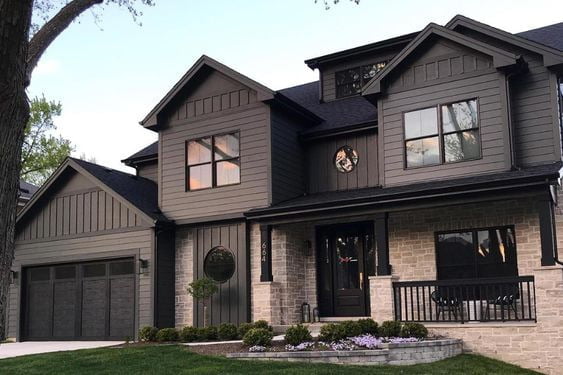 Image Credit: pinterest.com
Looking for a way to modernize your black brick house? There are some great ways to do this without having to tear down and start again.
Using black brick to create accent walls can instantly add a modern vibe. Whether you opt for floor-to-ceiling or a more subtle halfway height, you can have fun playing with different shapes, sizes and textures of bricks. Keep it all the same colour but try mixing up different lengths or adding a border of contrasting colours — there are endless creative possibilities.
Black brick is also ideal for outdoor spaces like patios, decks and fire pits. The timeless look will give your outdoor space an elegant and modern update — perfect for entertaining! You can create pathways for added effect, or just use it to add definition around seating areas. For example, you could pair pale-coloured wood with black brick or add foliage or white furniture for contrast.
Conclusion
In conclusion, designing a black brick house can be a great way to make a statement. Whether you're looking for a minimalist modern look or a gothic, vintage appeal, there are plenty of creative ideas that you can use to make your house stand out from the crowd. From modern glass accents to Gothic stained glass inlays, there are endless design possibilities to turn your black brick house into a unique home. So, get creative and daring and bring your black brick house design dreams to life!