Moving from one location to another is a life transition that's exciting and overwhelming at the same time. Your first-time move signifies a fresh start, a new beginning, and an opportunity to experience change.
However, part of moving out is the stress that it entails from packing, planning, and getting all the stuff ready on the scheduled moving day.
A seamless move is possible if you have a clear plan and a positive mindset, so you must work out the relevant details of your moving day while you still have time.
This strategy will help you prevent any hassles as you go through your moving journey. Therefore, you must create a checklist to make sure that everything will go smoothly and there will be no circumstances when the day comes.
This article will provide you with strategies to ensure the efficiency of your first-time moving experience.
Hire A Moving Company
Moving from two different locations isn't just time-consuming. In fact, this task can be daunting, especially if you have a busy work schedule.
So, you must require assistance from a team that's equipped with the tools you'll need to transport heavy boxes without compromising your family's safety.
Outsourcing a moving company is less costly than following the Do-It-Yourself (DIY) process. For instance, in DIY, you must buy packing materials and ensure that you'll have ample energy to finish everything before the moving day.
Indeed, the energy, money, and time that will go into moving big pieces of furniture by yourself is higher compared to partnering with professional movers.
Here are five tips you may consider to help you find a professional moving company to ensure that your first-time move will be seamless:
Ask Colleagues for Referrals: Begin by asking your family and friends for recommendations. These people might be able to suggest a local moving firm and contribute smoother moving ideas.
Receive Estimates During a Face-To-Face Meeting: This strategy ensures that the quote you'll receive from every moving company is accurate. Moreover, you'll gain the chance to learn more about the service offerings of the movers.
Practice Clear Communication with The Estimator: Show the estimator all your furniture, clothes, boxes, and belongings you're planning to transport. The mover has the power to refuse moving anything you failed to disclose as part of the written quote. Indeed, being upfront with the estimator will save you from paying expensive costs.
Consider the Company's Packing Services: As a first-time mover, you might fear the thoughts of packing all your belongings. For this reason, you must eliminate the stress of your move by identifying if an organization offers packing services. 
Check Insurance Coverage: Communicate about insurance protection for your items and ensure to receive information about the coverage in writing. Furthermore, check if your homeowners' insurance policy can apply while your belongings are in transit to your destination.
Remember that hiring the right moving company must improve the transition into your new home, and not become a source of stress.
So, you should take the time to conduct thorough research and select the professional firm you can count on.
Declutter Your Home
Moving into a new place can be both exciting and stressful. With all the strategizing that goes into this process, you may experience roadblocks along the way if the strategies aren't done methodically.
Therefore, you must eliminate unnecessary items you won't need anymore.
Decluttering your home can significantly decrease the whole relocation-related workload. For instance, you might believe that you'll have enough time to sort what you need and what you'll no longer use once you start packing your belongings before the moving team arrives.
Consequently, you must decrease the volume of your possessions to a minimum.
So, if you're planning your first-time move, here are four ways you may follow while you declutter your house:
Reorganize and Pack Realistically: Take your time in analyzing which items you can discard and which ones you'll need. This process is essential because you might be too strict about the things you still want to keep. On this account, you need to set certain criteria that will help you minimize your things.
Categorize Your Belongings According to Necessity: If you haven't used an item within the previous year, you must put it inside the 'Yes' box. Alternatively, if you're still actively using a particular thing, start putting it inside the 'No' box.
Check Expiration Dates: Before you begin packing, check for an expiration date or assess when you bought the item. For instance, spices may last for twelve months but lose their potency after six months. So, if you've had a spice jar for a long time, open it and smell its contents.
Don't Linger on Memories: Regardless of what you choose to do, you'll end up sifting through emotionally triggering items. In that case, try to veer back into the present moment once you suddenly find yourself starting to linger on past events.
Decluttering your home can be a long process, but this strategy is essential in reducing the volume of your belongings.
Remember to go through every corner of your house by checking the cabinets and reassessing all pieces of clothing. That said if your items are simply going to be sitting unused for years, getting rid of these things will save you time, energy, and space.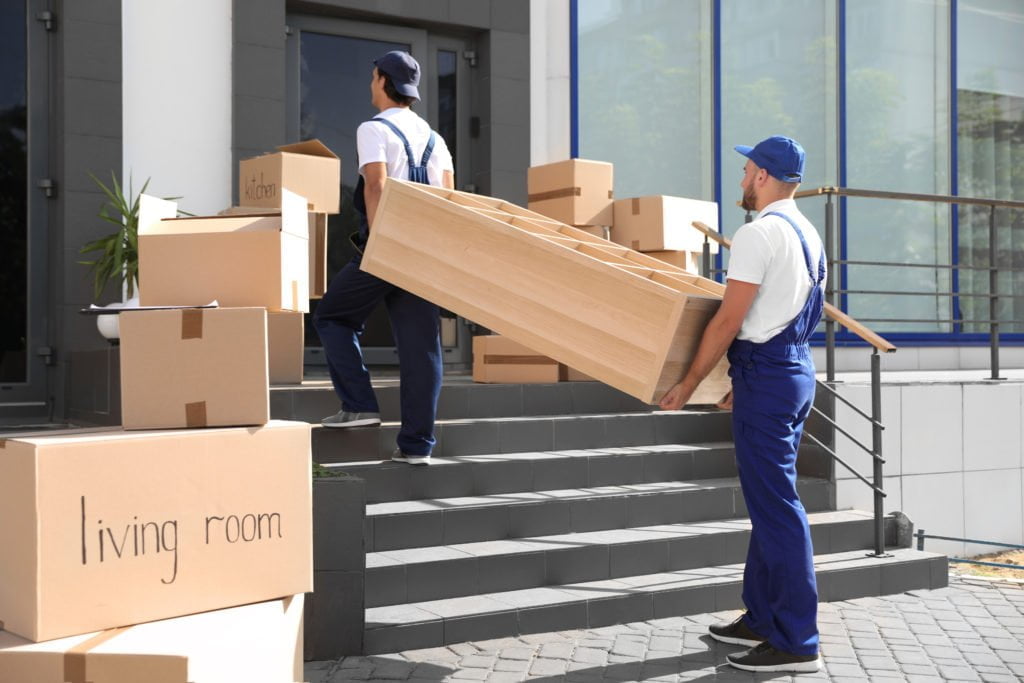 Start Packing as Early as Possible
When moving into a different location, you shouldn't leave the process until the last minute. Unless you don't have an abundance of possessions, you won't be able to pack everything before the day of the move.
So, you must create a packing plan by creating a checklist that you can gradually accomplish every day to help you organize your house move.
Here are six effective hacks you may follow to efficiently pack your belongings during your first-time move:
Protect Fragile Items: Stack up your pans and pots, and wrap them with newspapers. Tape cardboard over your artwork and mirrors. Then, use packing tape to make an 'X' shape on the mirror to prevent it from cracking.
Use Bubble Wrap and A Labeled Bag: If you're disassembling large furniture, label each part and ensure all components are tightly packed together using bubble wrap. Moreover, put the screws and smaller fittings inside a labeled bag to prevent the parts from falling during the day of the move
Ensure Computer and Cable Safety: Secure backup duplicates of your files. Then, unplug the cables from the device and clearly label each cable so you know which one needs to reconnect on your computers. Lastly, if you don't have the original packaging, you must use a thick-walled box with plenty of bubble wrap and cushioning material to protect your computer.
Defrost Freezer: You should leave enough time to defrost and drain your refrigerator and freezer. Ensure to clear up items inside the fridge, wipe excess moist, and put it inside a safe package.
Disconnect Gas Ovens: This process requires assistance from a registered gas engineer to successfully unplug the item. If you won't need the gas oven several days before the move, you must book a professional team in advance so you won't have to find anyone at the last minute.
Dedicate an Essential Bag: Pack a bag or plastic box with the things you'll need immediately. These items include phone chargers, snacks, and toothbrushes. Doing so will help your family members easily locate these everyday items once you move inside your new home.
Pick the appropriate packing materials and estimate the number of boxes you need. Get assistance from the right professionals that will ensure the safety of your belongings and boost the efficiency of the process.
This strategy can reduce your moving costs and avoid moving accidents along the way.
Prepare Your Children
Determining how to inform your kids that you're moving into a new home address can be quite stressful, but this technique is very important.
So, as soon as you gather all the relevant information about when and where you're going, you must talk to your children. If your kids are too young to fully understand what will happen, you must begin providing them with exciting kid-friendly details about their new neighborhood.
If your children are old enough, you can make them feel included by giving them responsibilities during the moving process.
These tasks may include allowing them to pack their belongings, making decisions for their new bedroom design, and meeting with the movers. By doing so, you can help them stay engaged and ease their transition.
Another excellent way to help your children cope is by encouraging them to stick to their daily schedules as much as possible. You don't need to establish a new routine as your kids' city, school, and friend groups will change, so, allowing them to sustain their normal habits can help them build up a sense of normalcy.
During the moving day, you may want to consider taking your children away from your house. Since heavy items move around, you can let your friend pick up your kids to ensure their safety.
Alternatively, you may invite a relative to guide your children and let them stay inside a designated bedroom so you can still keep an eye on your kids.
Key Takeaway
Moving into a new neighborhood can be challenging for first-time movers. Fortunately, you can follow these four strategies to ensure the success of your moving journey.
In addition, consider working with a professional moving team for a quicker and seamless transition.