What is Bloxburg?
Bloxburg is another life-simulation game from Roblox that was developed by the Coeptus group.
Once you can get your hands on this game, you can personalize the gameplay of Roblox. It has the simulation of the quotidian life of the player in a fictional town.
What does Bloxburg do?
Much like The Sims, this is an open-world life simulation game. The players are free to build their houses in the fictional city of Bloxburg.
You can also sharpen skills, learn new skills, explore the city and work to earn money.
House In Bloxburg
It is an important place in Bloxburg as this is where the player lives and spawns. You will get a 30×30 plot for this but if you have a Large Plot Pass then you can expand it to 60×60.
You can also purchase a new plot and get a pre-built house with that plot.
Build Mode
In the build mode, the players can construct their own houses or other construction on the house plots in Bloxburg.
You will need to interact with the mailbox or House button in order to enter the Build mode from the settings. You can make your own cute Bloxburg house.
You can choose the style that you wish but like in the real world, you will need to keep it within budget. If you like to dream big and are willing to do anything to make that dream become reality then you can work in Bloxburg and build your budget accordingly.
What Can You Do in Build Mode?
Once in build mode, you can choose to set up the walls, roofs, and other related things. You can also decorate the houses with counters, furniture, and even related equipment.
What Can You Build without A Game Pass?
You can construct your house a one-story 30×30 plot if you do not have any game pass.
What Are the Perks of A Game Pass?
Multiple Floors Pass
Then if you want an aesthetic house with multiple floors, then the multiple floors pass will allow you to construct a house of up to 5 stories in Bloxburg.
Large Plot Pass
If you want a big and aesthetic house in the game, you can obtain a Large plot pass that will allow you to expand the plot and double the size to 60×60 on which you can make a better house if 30×30 plot is too small for your vision of dream Bloxburg house.
Advanced Placing Pass
This pass will allow you to build items with colliding and set up the house as you want its aesthetic settings to be.
Basements pass
With this pass, you can even build underground. You can build an aesthetic space in the basement as well as aboveground.
Aesthetic Bloxburg Houses Inspiration
Budget Bloxburg house
You can take a while to play the game. Then you will be able to buy a 10k build no game pass that will allow you to construct your dream aesthetic house right within your budget.
It will give you all the building process and building material to construct your aesthetic bloxburg house.
You can stream the walkthrough videos of aesthetic houses to find inspiration or maybe rebuild the same house in your game.
This project will allow you to make a living room with grand windows, kitchen, and aesthetic bathroom along with beautiful bedrooms.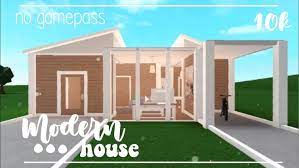 Luxurious Hillside Mansion
If you give the game some time then you might be able to increase your budget and use various building materials and processes to make a hillside mansion in Bloxburg.
It costs about 188k but it is worth every penny as this pretty house comes with a pond, waterfall, fireplace and huge open spaces.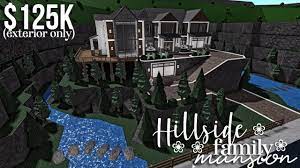 Large Aesthetic
The colonial mansion will winn your heart if you want a big Aesthetic Bloxburg house with huge space.
This house has a garden area as well as a pool and rich interiors. It has a living room, bedroom, kids' room and a garage and kitchen that will help you accommodate the whole family.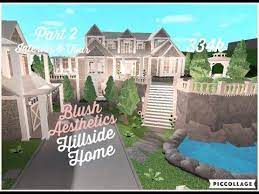 Modern Two-Story House
If you can obtain a multiple floors pass then this house will allow you the modern Aesthetic house that has four bedrooms and an interior balcony. You can make the living room, dining area, kitchen and garage along with laundry and bathtub.
You will need to get curtains as well for the large windows of this house. There are many posts that you can find if you search for a modern two-story house for this game.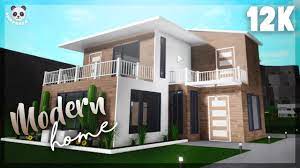 The Blush Mansion
If you have huge budget and can make a detailed interior for the house then you can invest your time and money for this aesthetic bloxburg house.
You can certainly choose any color palette, but pink gives the house a grand and aesthetic feel. This plan has many windows and sharp architectural features that make it distinct and a great house.
Basic Steps to Make a House in Bloxburg
First, you start with an area by selecting the area for your Bloxburg house. Then you need to chart out the entrances and start building the structure with walls.
Then choose a roof for your house. Add doors and windows to the house. The more the windows, the better ventilation, and lighting in your house. Don't forget to then add the fencing and the gates as well to give your house a complete look.
You can use the remaining area to set up a garden with a pool and arches as well as flowers and plants. You can choose the colors and textures for your house and also add pillars for reinforced strength.
Conclusion
If you wish to exercise your interior designing skills then this game will allow you to get creative with the planning and architecture with the Bloxburg houses and set up your own aesthetic bloxburg house where you can play the game.
You can put your designs into action and come up with creative ideas or search for videos or posts that have related content to enhance your gaming experience as well.