Bamboo House: Just this week there have been various, fortunately minor, earthquakes across the United States of America. In fact, according to the analysis of seismic activity by Rystad Energy reveals that tremors of above the magnitude of 2 on the Richter scale quadrupled in 2020 and are on track to increase even further in frequency in 2021.
Do we have more refined instruments to measure the seismic activity or the earth is restless with all the pollution we are making, the cause of the rising number of earthquakes cannot be defined clearly.
But there are some steps we can take to ensure the safety of us and our loved ones without threatening nature. In many countries which lie in the seismic zones which are most active, the engineers have brought into vogue bamboo houses!
But how can a bamboo house save you from an earthquake? We are going to give you all the information you might need to set up your bamboo house along with interior and exterior design ideas.
Even if you are living in a zone that is not so seismically active, bamboo houses will still win your heart with their aesthetics and sustainability!
Bamboo House Features:
Sustainability
Bamboo is quite a wonder plant. It grows quickly and does not require too much space or maintenance. These plants can do well without pesticides or other hassles.
There are hundreds of species of bamboo found on this planet. However, not all are suitable for making houses as they all have different properties and varying degrees of rigidity.
Bamboo plants can be harvested every three to five years and then they will continue to grow from the cut stem after the harvesting. Since this plant does not need too much space or maintenance, it is also called a sustainable growing plant.
Sustainable products are much better than non-sustainable ones as it is good for the environment and also for us human beings.
Eco-Friendly
Did you know, bamboo is a great natural air purifier too! It can take in the polluted air and exhales oxygen-rich air. It will give you 30% cleaner air than other traditional wood. Eco-friendly options are always good to go for.
If you are apprehensive about bamboo houses because you live in a coastal area, then do not worry! Bamboo will also keep the erosion from salt air at bay!
When we use traditional building materials like bricks and concrete, then they produce a lot of waste which is not good for our planet.
If you use bamboo then even if there is minor wastage of raw material it can be recycled. When replanted on the earth, it will start growing again!
Flexibility
Bamboo is far more flexible than the other woods used for construction. Using boxes or molds, the bamboo plants can be given specific shapes to adorn your eco-friendly bamboo house.
It makes the construction process easier as it can be bent easily. This sturdy wood does not break or splinter too easily.
This makes it suitable for various uses, be it flooring, piping, siding, scaffolding, and so on. With just a bit of proper maintenance, the bamboo houses can last for a good while.
Durability and Hurricane and Earthquake-Resistant
This may sound surprising but the strength ratio of bamboo is as good as steel! It can take on winds of up to 170 kilometers per hour so it can withstand tornados and hurricanes as well.
Being equally sturdy and flexible, bamboo can handle the shockwaves from an earthquake as well.
In countries like Japan, China, Indonesia, and so on, where bamboo is widely available and hurricanes and earthquakes occur frequently, bamboo houses are being built for centuries.
It is used for flooring, roofing, and even in the cuisine of these countries. Shakuhachi is a wind instrument made of bamboo that is quite popular in Japan as well.
Easy to Use the Material for Construction
Bamboo is easy to transport and will help you to cut down on transportation costs. While traditional materials like concrete and bricks are as heavy on your pocket with their shipping costs, bamboo is lightweight and can be shipped in smaller vehicles.
This will also cut down on energy and carbon emission since it will require fewer and smaller trucks for transportation. It will also be more budget-friendly along with being eco-friendly.
What Is the Cost of Building Houses Made of Bamboo?
Whatever the cost may be, it can be said with certainty that a bamboo house will be worth all your hard-earned money for you as well as the planet. A basic bamboo house plan can cost $10,000 to even $200,00.
It depends entirely on your budget and preferences. At a lower price, you can get a simple two-story house with real bamboo. As you climb higher in price, you can get high-quality bamboo with beautiful details on your bamboo house.
It is entirely a matter of your choice and your budget. If you prefer a bamboo house that you can flex on your friends for its intricate designs and have extra bucks to spare then you can certainly go for the more expensive option.
But even at a lower price, you will get a decent bamboo house that is eco-friendly and sturdy.
How Can Bamboo Be Incorporated Into Modern Houses?
You do not have to necessarily get a new house to incorporate bamboo in your living place. You can also add a bamboo feature to your existing humble abode!
Here are a few ideas to incorporate this sustainable and eco-friendly feature in your house! You can make the look rustic or refined, as per your choice!
Modern Bamboo House Design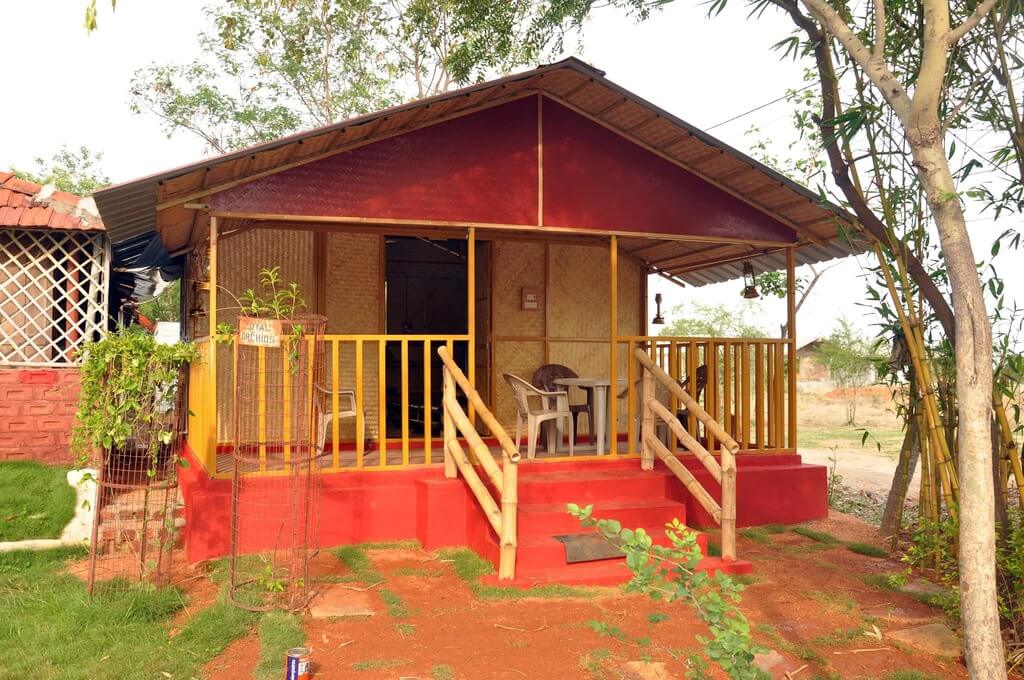 This is a simple but modern bamboo house design. It is a Japanese-style architectural style that you can set up on your property as a farmhouse or a guest house to spend some idle weekends in a natural setting to unwind.
Exteriors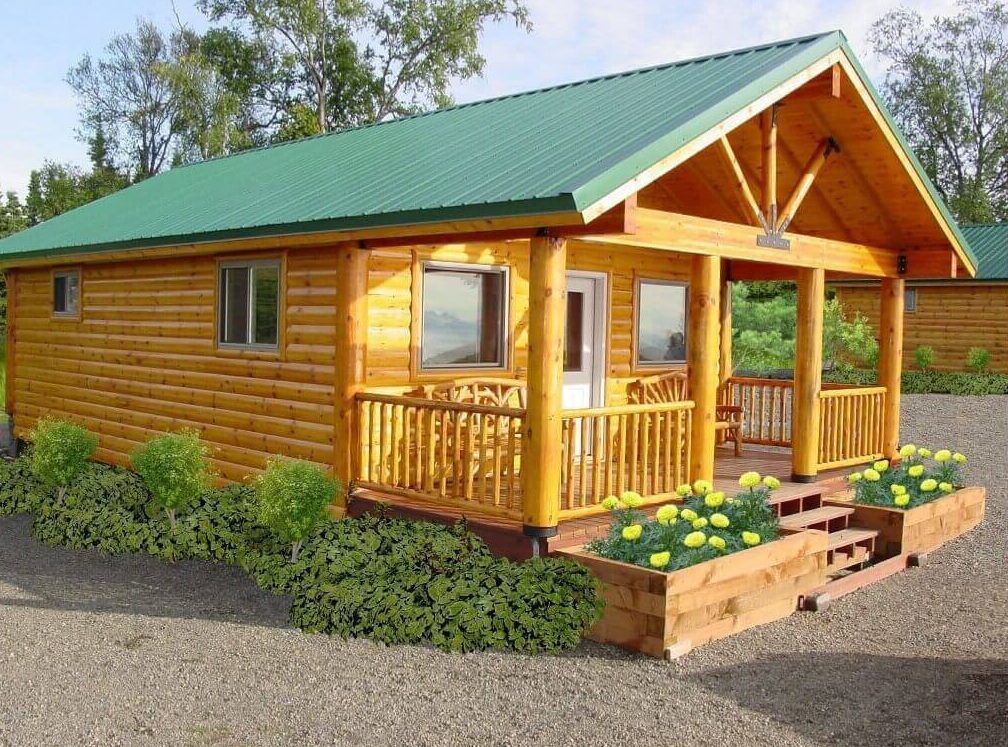 If you are not keen on getting an entire house made of bamboo then you can simply replace the traditional siding for a bamboo-based exterior design! There are bamboo panels or pillars available to give you a cozy but chic bamboo exterior for your house.
Decor in Bedroom
If you are not keen on getting too much bamboo in your house then you can always add small bamboo elements to your house. You can go for bamboo partitions or paneling in the rooms if you do not want an entire house made up of bamboo.
It will give your house a hint of nature and simplicity right in your budget!
Wall Cladding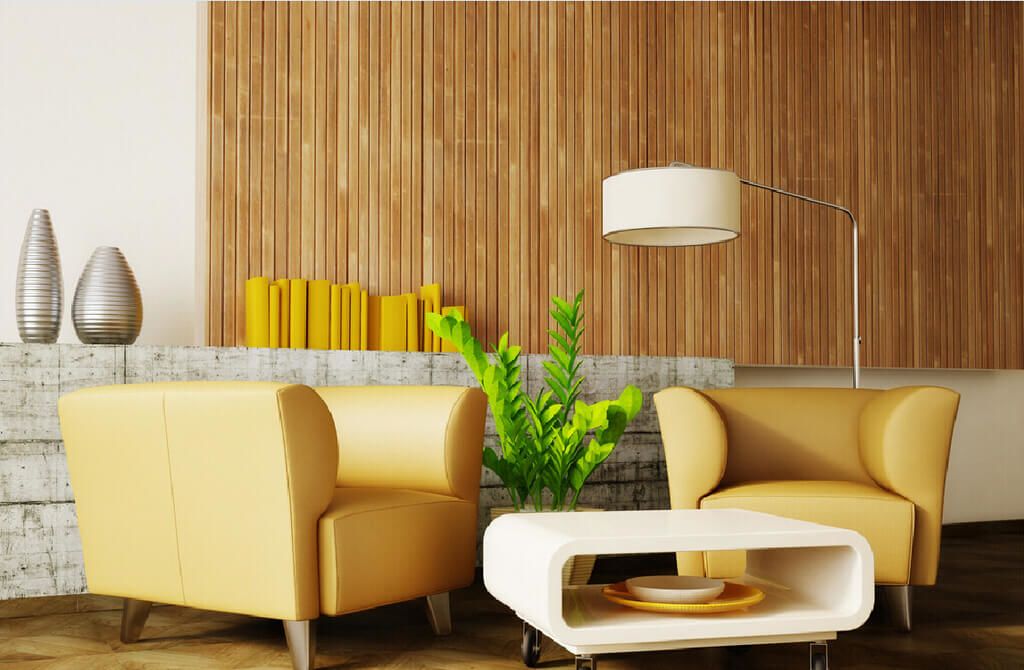 If there is not enough space for bamboo partitions then you can add a bamboo wall cladding in your room and attract the eyes of your guests! This will serve as a great accent wall in your room if you do not want to splurge on wall decor.
Wall Divider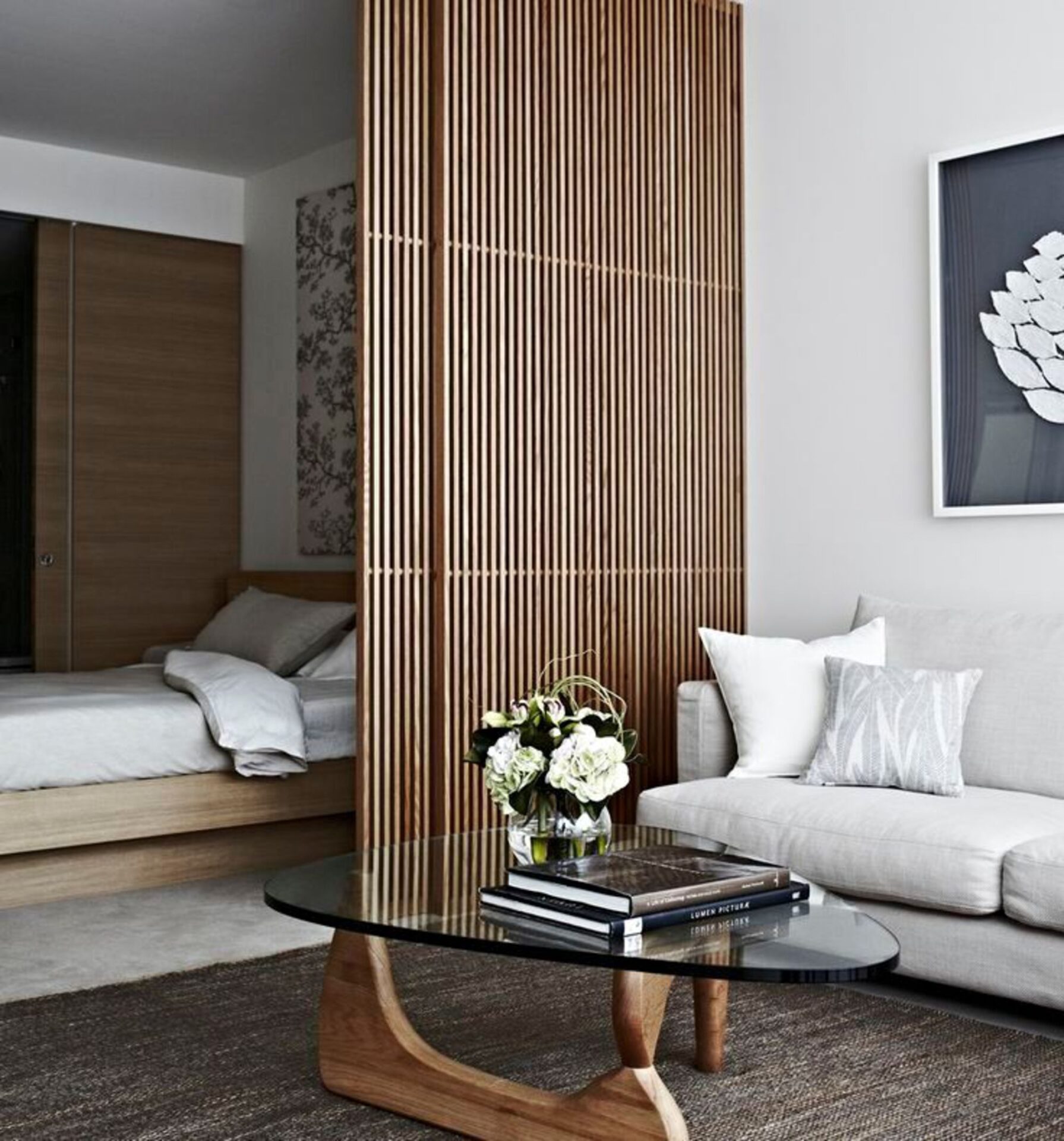 Nowadays, the open floor plans are in vogue, and pretty much every new property comes with an open floor layout. To create privacy and divide the spaces, you can go for a bamboo wall divider.
It is sustainable, affordable, and will give you a great place where you can take some pictures for Instagram!
Wall Textures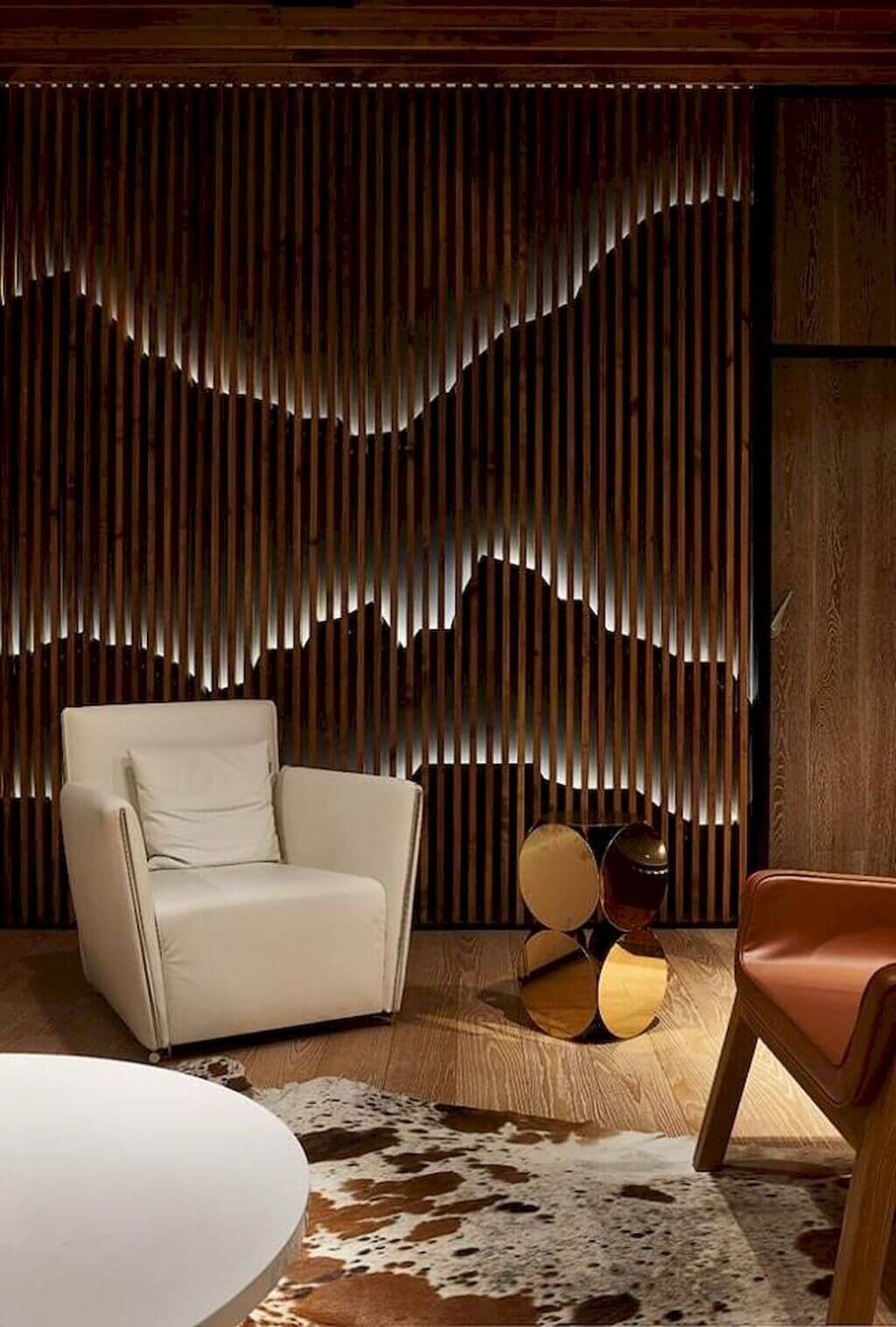 Wall textures have earned a lot of fame in recent times. If you want to incorporate the bamboo in your house for some zen vibes then you can get bamboo wall texture on your accent wall that will make your room look elegant and classy but not cluttered at all.
Beds
Bamboo is used to make various kinds of items, from pens to hair combs. So obviously there are bamboo beds in the market that will give your house a luxurious and exotic feel.
It is also sturdy and durable material for the beds and will add character to your bedroom.
2 Storey Bamboo House
You can get a simple 2-story bamboo house even with the lowest budget. You do not need to sacrifice your dream of having a sustainable and environment-friendly bamboo house just because of money restraints.
Bamboo Staircase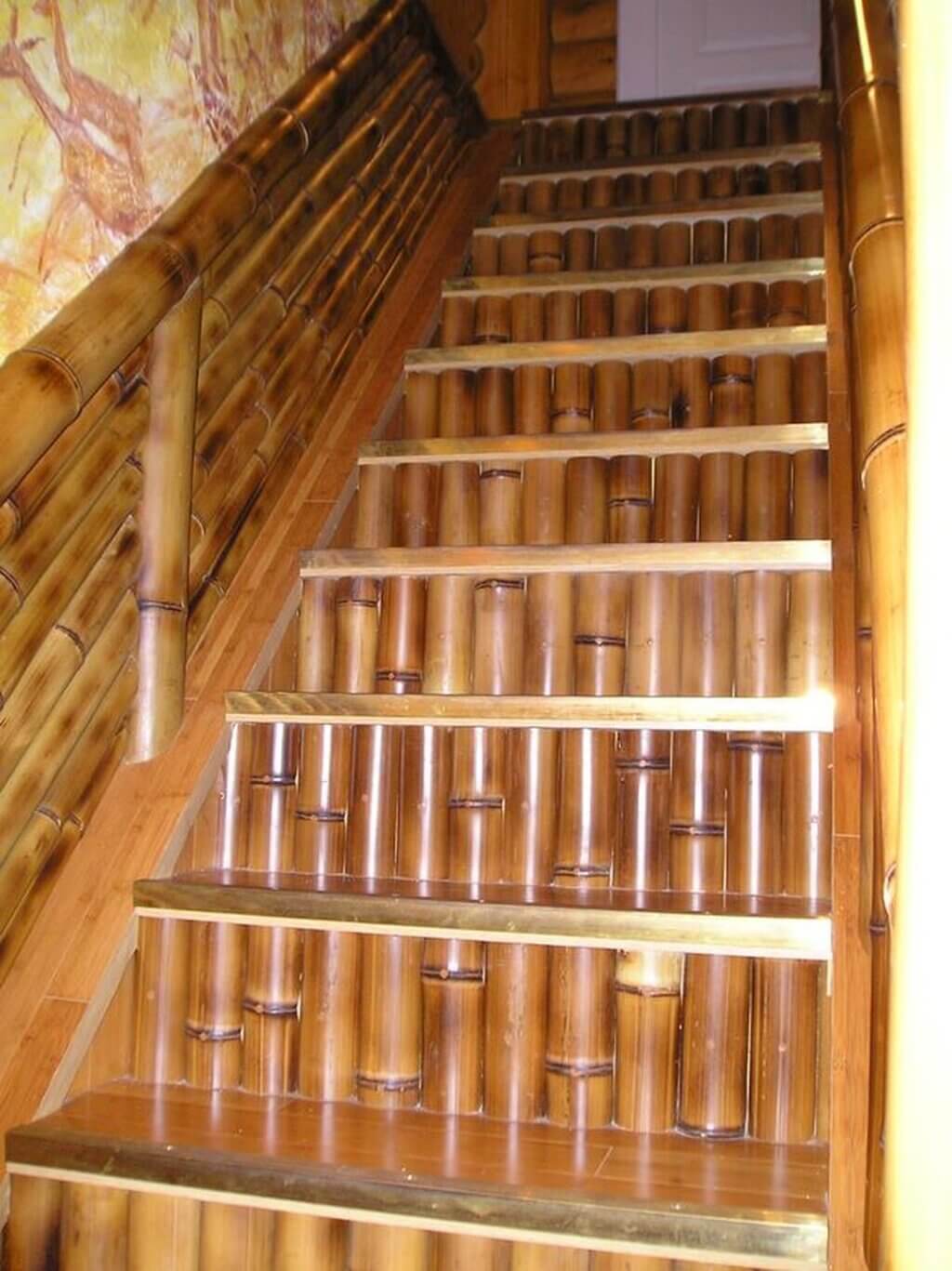 To give your house a uniquely exotic feel, you can replace those concrete or metal staircases with bamboo wood staircases in your house.
It will give a luxurious look as well as a hint of nature in your house. They are available in smooth finish and are extremely sturdy. Their soft brown shade compliments neutral color palettes very well too.
Bamboo in Garden
Bamboo in a garden looks the best. No jarring metal or plastic fences or outdoor furniture! Go for bamboo fencing and bamboo-based outdoor furniture to elevate the aesthetics of your garden.
The eBay part is it will work just as well for small terraces or balconies too if you do not have a proper lawn on your property!
Wardrobe

A closet is always a dream space for fashion enthusiasts but it can be quite expensive when constructed with traditional materials. You can save some bucks by using bamboo to create a walk-in wardrobe.
Bunk Beds
If you have a different design theme in your house and a huge, luxurious bamboo bed is not the perfect fit for the room then you can even get fun bamboo bunk beds!
They do not compromise on the sturdiness so you can be assured that they can handle all your pillow fights!
Wall Decor
If you want to have an accent wall decor piece in your house then you can browse from a wide range of bamboo decor that is now available- from bamboo framed paintings to bamboo lamps or bamboo hangings!
You can certainly find something to suit your tastes and requirements in bamboo!
Furniture in The House
Every house needs furniture and you can find all the kinds of furniture like coffee tables, lamps, sofas, chairs, storage drawers and so on made of bamboo!
These are durable and elegant. They will add that functional bamboo element to your house that you have been looking for!
Plant Decors
The bamboo plant is a great way to spruce up the green element in your house. It will take in all the dirty air and give you oxygen-rich air.
It is easy to maintain and can even be decorated in a glass bowl. You only need to regularly change the water in the bowl. It is also believed to bring good luck!
Fences with Bamboo Sticks

Source: pinimg.com
If you want to keep your property protected from any stray animals or other threats and are planning to get the area fenced then you can always go for the hardy and durable bamboo fences.
They are easily available in the market and are eco-friendly as compared to the nasty plastic fences.
If you wish to experiment with bamboo yourself then there are many DIY kits available for bamboo enthusiasts as well!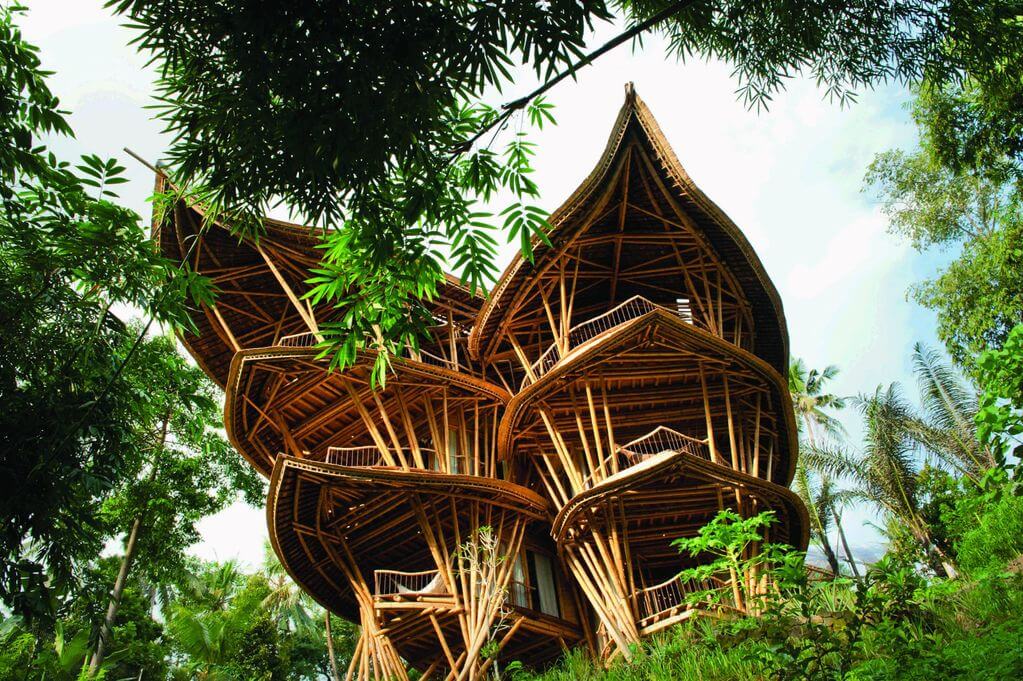 Source: asiatatler.com
Conclusion:
Now you know various ways through which you can incorporate bamboo elements in your existing house or you can even get a brand new bamboo house.
You can simply check with your budget and get an architect who is used to working with bamboo. You can then customize and plan exactly the way you want your bamboo house and don't have to bear the guilt of harming the environment!