Sims 4 house ideas: Aside from Minecraft and Terraria, Sims 4 is another popular game for creating structures. In this game, players can construct a variety of constructions and buildings, such as dream homes, apartments, and even business establishments.
Let's have a look at some Sims 4 house ideas.
The Sims 4 is a simulation video game released by Electronic Arts and created by Maxis' Redwood Shores studio. It was first announced on May 6, 2013, however, it was only published in the United States on September 2, 2014.
Is Sims 4 a game you play on a regular basis? Do you want some great Sims 4 house concepts? If that's the case, you've found the proper place. When you're always creating the same kinds of structures and buildings, it might get monotonous and tiresome rather quickly.
Why settle for less when you can build modern beach cottages, boathouses, mountain chalets, and homes instead?
We've compiled some of the best Sims house designs on our site today. Keep reading if you want to learn how to build something new and if you want to put your construction talents to the test.
'Snowy Escape,' the most current Sims 4 update, went live on November 13th, 2020. There were 18 "stuff packs," 10 "game packs," and 4 "kits" in total. Free updates include the addition of a toddler's life stage in this edition.
This game is now playable on a number of different platforms, including Microsoft Windows, macOS, PlayStation 4, and Xbox One. All of this equates to more pleasure when it comes to erecting homes and other constructions.
So, are you all set to begin working on your next venture? If this is the case, have a look at the creative suggestions and inspiration found below.
Cool & Simple Sims 4 House Ideas in 2023
The Sims 4's Build Mode allows you to construct a plethora of unique constructions. So take a look at some of these imaginative Sims 4 house designs for inspiration for your next major project.
1. The Realistic Family House
This home design is ideal for those just starting out as a builder. This house has a three-bedroom, two-bathroom bungalow that seems fairly authentic. Isn't it the ideal location for Sims to call home?
This house is full of little features like a basketball hoop in the front yard, kid's rooms furnished with all the essential childhood accessories, or the washer/dryer combination in the utility room.
Del Sol Valley is a suburban community where this house was constructed. This area was included in The Sims 4: Get Famous as a new planet. This is a great example and location to put your constructing talents to the test.
2. Yacht House – Sims 4 House Idea
Many of us aspire to spend our lives aboard a luxury yacht. In Sims 4, you can make this fantasy come true. You can, in fact, construct a yacht house and occupy it. Think about how lavish your life would be if you lived it on a boat. Isn't that something?
This house would be ideal for a family holiday or a large gathering. The time you spend on your yacht with your pals, drinking and playing gambling games, will be exciting and pleasant. You're free to call your pals whenever you want and have a great time on Friday night.
3. Modern Mansion
You and your family want a high-tech home, do you? Then get some ideas from the images above if that's the case. A few of the most creative Sims 4 gamers have come up with these stunning residences. Doctor Ashley (User Name) modeled it after real-world residences that are now on the market.
For instance, the house seen above is an $18 million mansion in Bel Air that she re-created using The Sims 4. You can draw inspiration from real-world structures and residences in games, as this example demonstrates.
4. Beach House
Surely no project can be considered complete without first designing and building a beach house? It's true that you could live in a smaller home, but wouldn't it be fantastic to design your own modern beach house.
The seaside house shown above has floor-to-ceiling windows, a sleek entrance, and a set of wraparound stairs. Interior and exterior design options are available to you.
So whether you go with a contemporary or modern design, your building will unquestionably appear stunning.
5. Sims 4 House Idea – Country Farm
Even while many of us desire modern urban living, this isn't the only option for everyone. If you're one of those people, you may want to consider setting up your own little farm.
If you want to feel like you're in a village, stay at this genuine farm. It's the ideal location for a family vacation or holiday. Here, you may unwind and take advantage of the natural surroundings. Additionally, no additional resources are required to construct this.
6. Bilbo's Hobbit Village
Do you like both The Lord of the Rings and The Hobbit films? Then you'll be well-known around these neighborhoods. There's nothing better for you than this complete hamlet, with its beautiful ambiance.
Even if you don't like the movie or the hobbit series, you can still create these types of structures if you like cottages and the outdoors. It has flowers, lily pads, water features, and circular windows, all of which are required components for these adorable homes.
Generally, hobbit houses are small, but they can be made larger by dividing the bedrooms into several smaller houses.
7. Small HouseBoat
Why not try to build a tiny house on the lake when everyone else is doing so on the land? It'll be a good way to practice your construction skills.
There are numerous structures to choose from, ranging from basic boathouses to classic sulani houseboats. Taking your residence along with on a trip gives you the flexibility to live anywhere you want.
8. Flying Dream House
When we were little, we all wished we could live in a floating house like the one from the animated film UP. However, in the real world, this is unlikely to come to pass anytime soon; however, in the game, you have the opportunity to make your fantasy come true.
You can realise your childhood fantasy of owning a flying home by building this structure.
Make this floating house to add a little "whimsy" to your creation. It'll be a magical and exciting experience to design and build something like this, and living there will make you feel like you're on top of the world.
When built over water, your home will appear to float in midair. Just be sure to remember to include the steps leading up to your home.
9. Horror House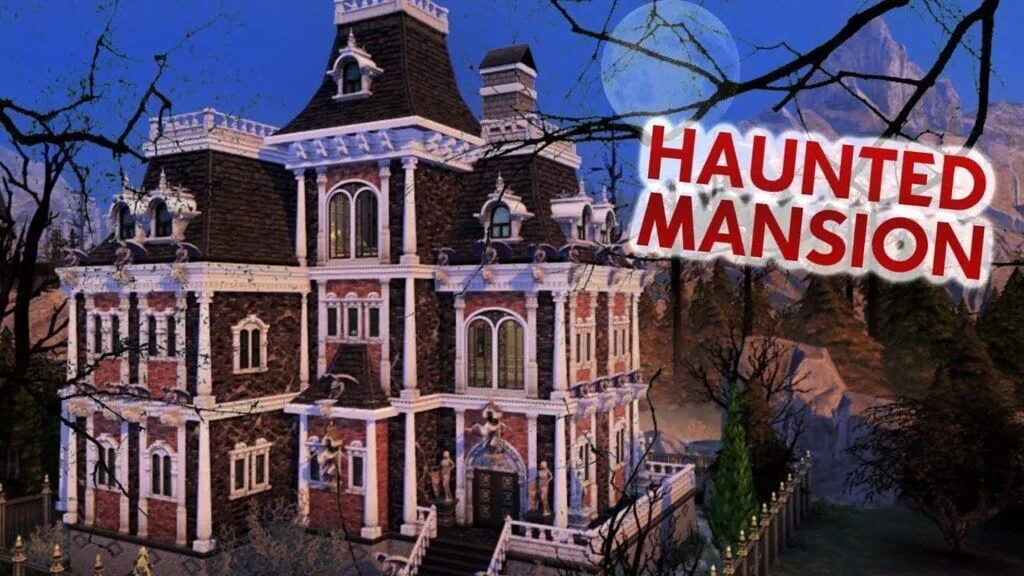 Even though Halloween is still a few weeks away, you may build this entertaining horror house in the meantime. Take a look at the above structure; doesn't it appear ominous and eerie?
You can design the house according to your personal preferences or draw inspiration from your favourite horror films, video games, or television shows before starting construction. Decide on a site and design a fun and scary house full of zombies and ghosts.
10. River Cabin
This building plan is for experienced Sims 4 builders who are familiar with all of the game's features. The lovely river cabin features numerous levels of exquisite architecture, from waterfalls to a loft extension.
To begin, you must begin at the lowest possible level, which differs slightly from the levels seen in ordinary houses. The images and techniques shown above can be used to your advantage. Construct this one-of-a-kind dwelling using your imagination.
11. Tiny Treehouse
If the previous house design is too complex for you, this one is an alternative. This little treehouse is simple to construct. One or two Sims can hide away in the one-bed, one-bath apartment and enjoy the simple life.
If you like, you can add more conveniences and enjoy a comfortable and opulent lifestyle in this natural hideaway. The nicest part of this design is that it doesn't necessitate a large number of resources.
12. Gingerbread Coffee House
This edifice will appeal to everybody who enjoys the holiday. Your Christmas spirit will last all year long with this Gingerbread Coffee House.
You can make a gingerbread house, a gingerbread coffee shop, or something else entirely. This is an excellent project for even young children because it requires few supplies and can be constructed in a short period of time.
Some more Sims 4 house design ideas and inspirations for you are provided below:
Final Thoughts
Which Sims 4 mod did you like the most? To a large extent, building all of these structures is up to you and your imagination. Create something special and one-of-a-kind by utilising numerous game tools and mods.
You can construct anything you want, whether it's a lovely home for your generation's extended family, a cosy cafe for your retired sims, or a sleek beach house for a relaxing getaway.
Experiment with different styles and designs and get ideas from other builders and real-world structures around the world.
So that's it for our list of simple yet eye-catching Sims 4 House Ideas. If you like reading this, please tell your Sims 4 playing friends and family about it so they may use it to build amazing structures.