Buying a property in Vienna is a big deal. It's not just about buying a house or an apartment — it's about investing in your family's future. Real estate prices in Austria rose by over 12% during the first quarter of 2022. And since Vienna is the heart of the country, property prices showed faster growth there.
Making the right decisions requires sound research, deep knowledge of the market and culture, and wise counsel from experienced professionals. That's where this guide comes in!
Whether you're a first-time buyer or a seasoned investor, this article aims to provide you with valuable insights and strategies to navigate Vienna's real estate maze successfully with trusted ally in your real estate journey.
Research Vienna's Real Estate Market
Vienna is one of Europe's most desirable cities, with a rich historical heritage and sound economy. It's experiencing a boom in residential property prices, meaning it is a great time to buy or invest in Vienna real estate.
With a wide range of neighborhoods and districts, each with its unique charm, it's important for investors to identify the area that best suits their needs and preferences before investing in any property. The city has several popular neighborhoods for real estate investment:
1st District (Innere Stadt). The average price per square meter is $22,700.
3rd District (Landstraße). The average price per square meter is $7,800.
5th District (Margareten). The average price per square meter is $5,800.
19th District (Döbling). The average price per square meter is $8,200.
22nd District (Donaustadt). The average price per square meter is $7,900.
The 1st district includes many famous landmarks like the Hofburg. The 3rd district is known for its beautiful architecture. And 19th district offers a peaceful suburban lifestyle.
Learn More About Vienna's Neighborhoods and Districts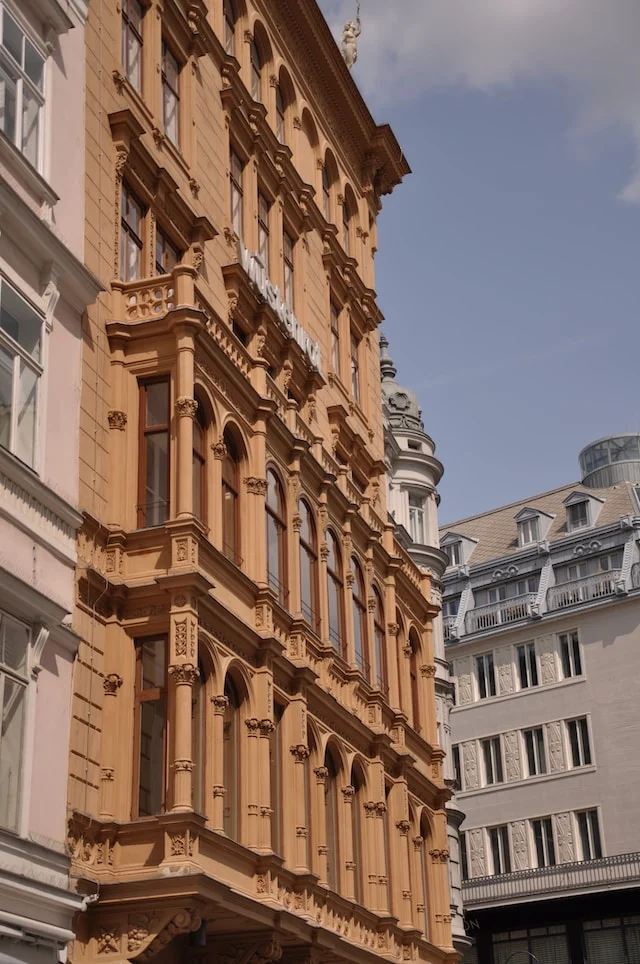 As you start to explore Vienna's various neighborhoods, it's important to note that each neighborhood has its unique characteristics. For example, if you're looking for an area with great access to public transport links and amenities — but also one that offers quieter streets than those found downtown — you might be interested in 10th District Favoriten or 20th District Brigittenau. Alternatively, if you want to be far from the city's hustle and bustle and high prices, districts like Döbling may suit your needs perfectly.
The best way of learning about each district is by speaking directly with locals. This will give you a sense of the community's feel and vibe and help highlight any potential issues with noise, pollution, or crime rates before deciding to invest in real estate within this area. You might also want to check the state of fixtures and fittings of your future property and the amenities available nearby.
Find a Reliable Real Estate Agent
Once you've identified the area of Vienna that interests you, it's time to find a reliable real estate agent. It can be a daunting task as there are so many agents out there. The best way is to ask friends or family members who have invested in property before. You could also ask your bank or financial advisor if they know any agents they can recommend.
If possible, meet up with several different agents before choosing one so that they can show their credentials firsthand. Look for someone with extensive knowledge of the local market and strong relationships within it. A reputable real estate agent who is well-versed in the Austrian property market can help bridge the language and cultural gaps, ensuring that you make informed decisions and avoid any misunderstandings or pitfalls.
Consider Legal and Financial Aspects
When looking for a property in Vienna, there are several legal and financial aspects that you should consider. First, it's important to understand what you need to do for the purchase to be legally binding. It includes being aware of all the restrictions and documents you will need to buy property in Vienna. You'll also want to find out about any associated taxes, because they can have an impact on how much money goes into your pocket after closing on a sale or rental agreement.
Finally, if renting out apartments is part of your plan for investing in Vienna's real estate market, then knowing exactly what regulations apply can help ensure success and avoid penalties like fines or even jail time if someone reports illegal activity happening inside your home. It would be in your best interest to consult professionals in Vienna's real estate. They've been in the field long enough to help you avoid bureaucracy, possible financial losses, and waste of time.
Discover Cultural Differences and Etiquette
When venturing into Vienna's real estate market, it is crucial to familiarize yourself with Austria's unique cultural values and norms. Understanding and respecting these cultural differences can go a long way in establishing positive relationships and navigating business transactions smoothly. Here are some key points to consider:
Embrace Austrian Cultural Values. Austria has distinct cultural values that shape social interactions and business dealings. Austrians value punctuality, so it's essential to be on time for meetings and appointments. Being prompt demonstrates respect for the other party's time and professionalism. Additionally, honesty and directness are highly valued. When negotiating a deal, it's important to be upfront and transparent about your intentions, expectations, and concerns.
Language Matters. While English is commonly spoken in tourist areas and among younger Austrians, it's advisable to be prepared to communicate in German when dealing with locals in the real estate market. Hiring an interpreter or learning basic German phrases can greatly facilitate effective communication and build rapport with potential sellers, agents, or legal representatives. Speaking the local language shows your commitment to understanding the culture and can help foster stronger relationships.
By recognizing and embracing Austria's cultural values, being mindful of punctuality and directness, and taking language considerations into account, you can navigate Vienna's real estate market with confidence and establish fruitful connections with local stakeholders.
In Conclusion
Vienna's real estate market is highly lucrative. It's important to understand how the city works and respect local customs. By working with professionals who know their way around Vienna and its surrounding areas, you can make informed decisions that will lead to success in your investment endeavors.