Most crystals are used in making furnishings and home decors, like figurines, jewelry boxes, and table lamps. But calcite, agate, quartz, and other crystals can also be used in making furniture such as countertops and tables.
Crystal furniture items can add character to a home's interior, making it more elegant. And with its unique features, it can complement art wall paintings and other luxurious home decors.
But how should you properly take care of your crystal furniture at home? This article provides some insights to help you get started.
How To Remove Stains In Crystal Furniture
Stain accidents can happen whether you use crystal furniture in your home or wooden furniture. For instance, children might accidentally spill milk, juice, or chocolate drinks on the table. Or perhaps, in some cases, you may see drawings or paint stains made by your exploring little one. Although, adults also have a fair share of stain accidents in the home, such as coffee marks.
Light stains on crystal furniture are generally easy to remove with detergent or liquid dishwashing soap and warm water. Just soak a soft cloth or sponge and wash off the light to moderate surface stains.
On the other hand, it could be a bit more challenging to get rid of stubborn stains, such as dried red wine, tomato sauce, and hot cocoa marks, in crystal furniture than in tiles and wood. However, it'd be best to use cleaning products specially made for crystal products. This is because crystal products such as quartz can be sensitive, and you may further worsen the stain or discoloration due to chemical reactions.
How To Remove Grease In Crystal Furniture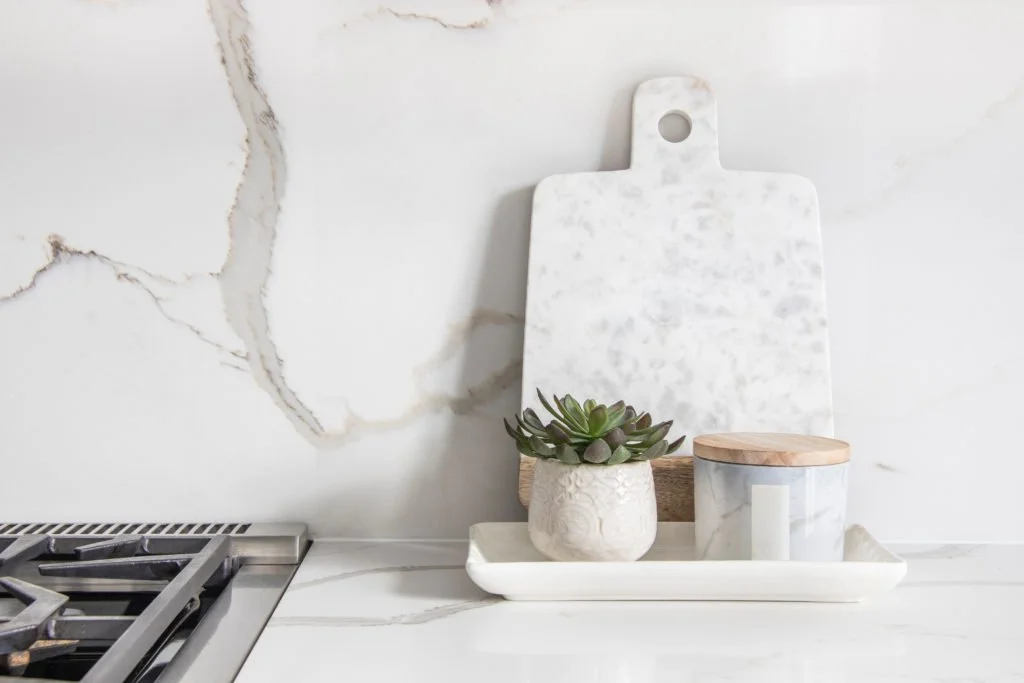 Quartz and other crystal countertops can make your kitchen look luxurious. But with their frequency of use, they're likely to sustain grease problems. And it's a good thing that most degreasing products are generally suitable for crystal furniture. 
However, much like being meticulous on which cleaning product to use, never use bleach or any cleaning agent containing bleach because it may cause surface damage. When using degreasers, follow the manufacturer's instructions and rinse the cleaning agent thoroughly.
How To Deep Clean Crystal Furniture 
Much like other furniture, your crystal furniture may also require deep cleaning once in a while to keep it pristine and maintain its good condition. Using a commercial or homemade glass cleaner can be a good idea to make glass and crystal furniture look good and shiny.  
Here's how you can clean your crystal tables and furniture using a glass cleaner:
Spray a glass cleaner on the darkening areas on crystal furniture. Let it sit for 10 minutes.
Wipe the surface down and check if it has achieved a lighter color or returned to its previous color.
Rinse the area once you're happy with the result with soap and warm water. Wipe the surface with some paper towels or air dry for drying.
How To Preserve Crystal Furniture 
Make your crystal furniture look shiny and beautiful by polishing it using a commercially available white liquid furniture polishing product. Apply the polishing liquid onto the crystal furniture surface using a soft cloth in small circular motions.
However, some crystals can be prone to lose their shine and fade over several months or years of sun exposure.
For instance, chlorargyrite is color gray, which turns violet-brown with prolonged sun exposure. Some rose quartz fade or lose its sparkle. On the other hand, xanthoconite and cinnabar darken. The same concept applies to crystal furniture.
Protect your crystal tables and countertops from direct sun by installing the right window treatments. You don't necessarily need to hand blackout curtains. Using blinds and curtains to provide a decent shade for your crystal furniture can be enough to help preserve its look.
How To Remove Mold In Crystal Furniture 
Mold can also spread to crystal home decors and furniture. You can spray a baking soda and water solution on the affected area if you notice mold growth.
Mix a tablespoon of baking soda in four glasses of water to prepare the solution. Another way to remove the mold using baking soda is by sprinkling it onto the moldy surface. Let it sit for an hour. After which, wipe off the remaining soda residues using a clean cloth or soft brush.
Conclusion 
Make your crystal furniture look as new as the day you bought it by applying the cleaning and polishing tips shared above. If you're unsure how to clean it or too busy to deal with it, perhaps, you can hire a cleaning service company with experienced cleaners to properly take care of your crystal furniture.