Composite Decking – The Best Choice for Creating an Ideal Garden
With the continuous increase in the volume of outdoor home furnishing market, more and more owners begin to pay attention to garden and courtyard life. They invite professional designers to privately customize gardens with high-quality products to pursue high-quality life.
People who yearn for the pastoral style often like solid wood and stone to decorate their gardens. Such building materials are more common and easy to obtain. People tend to think that building gardens through these is simpler and has a longer use time.
However, with the popularity of some new materials, people have a new understanding of garden decoration.
Composite decking is one of the more popular new materials. Attracted by composite decking's long life, rich color styles and simple installation, more people will consider composite decking as a priority option when decorating patios and gardens.
Are you ready to consider composite decking for your garden?
Advantages and Disadvantages of Composite Decking
| | | | | |
| --- | --- | --- | --- | --- |
| Performance | Composite Decking | Solid Wood | Stone | Plastic |
| Scratch Resistant | ★★★ | ★★ | ★★★ | ★★ |
| Stain Resistance | ★★★ | ★★ | ★★★ | ★★ |
| Mildew Resistance | ★★★ | ★ | ★★★ | ★★★ |
| Toughness | ★★ | ★★★ | ★★★ | ★ |
| Life Time | ★★ | ★ | ★★★ | ★ |
| Low Maintenance | ★★★ | ★ | ★★★ | ★ |
| Visual Effect | ★★★ | ★ | ★ | ★ |
Composite Decking Advantages
Good waterproof and moisture resistance: WPC floor is different from traditional wooden floor, which is easy to be damaged by moisture.
Prevent the damage of ants and insects: WPC floor can effectively prevent the infestation of termites or other insects, and it is more solid.
Beautiful appearance: The wood-plastic floor has a wide variety of colors. On the basis of retaining the wood texture, it also provides many colors to choose from.
More environmentally friendly and safe: its formaldehyde content is very low, and the wood-plastic floor can be reused, which is more environmentally friendly and safer.
Strong fire resistance: wood-plastic floor has a good flame retardant effect, and its fire resistance is B1.
Convenient installation: The installation and construction of wood-plastic floor is more convenient and quick, without various tedious steps, and it can shorten the decoration time.
Strong reworkability: It has strong reworkability and can be reprocessed and used by sawing, planing, bonding, etc.
Durable and long service life: The wood plastic floor will not deform, expand and other characteristics, and is more durable and has a long service life.
Disadvantages of Composite Decking
Poor impact resistance: composite decking is slightly less "tough" than solid wood
Buy carefully. Composite decking in the market varies greatly in price and quality. It is recommended to choose a well-known brand with after-sales guarantee for purchase.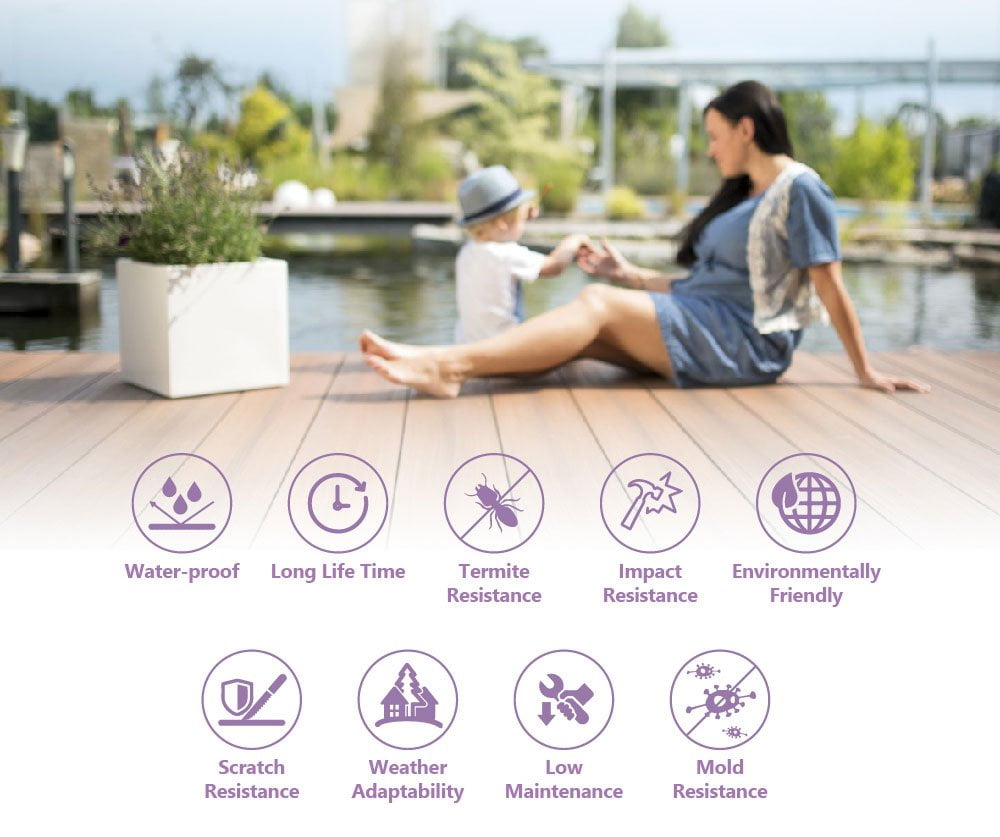 How to Plan Your Garden with Composite Decking
Please plan the route from the entrance of the garden to your house first, these are the basis for everything to start. No buildings or plants should interfere with the passability of 2-3 people walking side by side.
Generally speaking, it is a good idea to build a composite decking platform specially, and the composite railing will make the garden more refined. Note that composite decking needs to be installed on a level and well-drained area at all times. If the area you want to install doesn't already have these conditions, do this part of the job before you start: You might consider building a wood frame to elevate the composite decking, or install the joists after the drainage is in place.
After determining the installation area, we start to plan the green plants and flowers around the decking. This will make your decking more beautiful and natural. Choosing plants that are easier to survive will save you a lot of flower maintenance trouble. Different countries and regions have different climates, and the plants suitable for planting are also different. You can plant a row of French holly near the edge of the decking area to grow into a natural screen. Or plant creepers or ivy by the walls to grow into a verdant barrier. By planting welcome spring, pomegranates, Chinese roses, wax plums, camellias, or kumquats, oranges, figs, loquats, etc. in the garden, you can enjoy spring blossoms and autumn fruits, which is a feast for the eyes and a good fortune.
If you're still not sure if you're up to the job, ask your architectural designer! Provide them with your needs and expectations, and they will make more reasonable suggestions for the planning of the area. But trust me, the installation of composite decking in the garden is so easy that even you can do it yourself! Next, let's see how to install composite decking!
How to Install Composite Decking?
1. Ground Treatment
A flat, firm, well-ventilated and drained floor environment is critical to the service life of composite decking. Please carry out appropriate ground treatment according to the ground conditions of the construction site. For soft sand, soil, lawn and other ground environments, you can take the following methods:
Concrete foundation is poured.
Use suitable ground screws.
Concrete is poured for ground hardening treatment.
2. Install Decking Joist
You can build a wood frame or use wood plastic composite joists. If you use wood-plastic joists, please ensure that the ground has good drainage performance and the installation direction of the composite decking board has been determined. Please use expansion screws for joint fixation
3. Install the Starting Pieces and The First Row of Floors
Cut the wood-plastic floor to a suitable length. Install the starter piece on the decking joist first with screws, then attach the floor to the joist.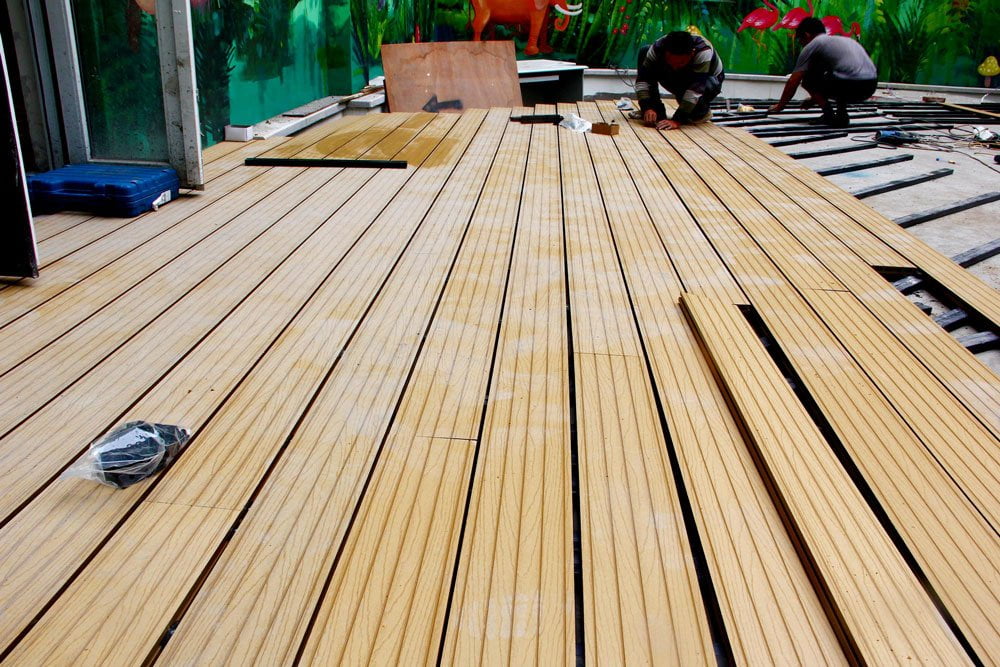 4. Install Remaining Decking
Use metal fasteners, or plastic connectors to install remaining wood-plastic composite decking. Please note that different fasteners have different installation methods, please consult your supplier for specific methods.
5. Decking End Finishing
Corner guards or edge boards can be installed on the outside floor edge, which will make the whole decking look more complete and beautiful. Note that any time you want to attach screws to the decking board surface, pre-drill holes or use professional woodworking nails to do so.
Do-it-yourself gardening using composite decking is a great experience! Of course, the work of installing the floor can also be done by a professional woodworker. Under the guidance of your architectural designer, they will make more reasonable adjustments to the specific conditions of your garden.