Have you recently been thinking about making a new HVAC installation in your home? Maybe you want to change your central AC system, or install a specific heating device, a furnace, a split system AC unit or pretty much anything else. Have any idea on how to install those specific appliances, though? If you go here, you may get some tips on one of the types and the installation process.
Anyway, you're probably not exactly planning on learning how to go through the installation processes yourself, when there are experts that can do that for you. Risking damaging the devices or even getting injured in the installation process, while ultimately winding up not doing it the right way, is certainly not a good idea. So, you definitely don't want to assume such risks.
What you want to do instead is make sure you're hiring the right people for the installation projects. This is why you're probably wondering one specific thing. Can your plumber actually install your HVAC, or do you need to turn towards a different type of a professional to provide you with such a service? Not an unusual question at all.
Can Your Plumber Install Your HVAC?
So, what do you think, can your plumber actually install your HVAC systems and appliances, or should you be focused on hiring other types of professionals when in need of those services? Plumbers are for plumbing systems, and there are other experts for HVAC systems, right? Well, I can't say you're wrong there.
Here's the thing, though. Some parts of the HVAC installation processes include some plumbing work as well. Electrical work too, for that matter. Does that make it easier for you to determine whether a plumber can install some of these appliances for you without any issues? Probably not. You're most likely even more confused right now than you were before, but we're now going to get rid of the confusion and make things much clearer.
Basically, when you find a plumber in San Francisco area that is qualified for doing HVAC work as well, you can let that particular professional do the installations you need. So, to cut right to the chase, here's the answer to the above question. Yes, your plumber can install your HVAC, but only if that professional is also a qualified and licensed HVAC technician, in addition to being a plumber. While plumbing work is necessary, the installation process will require other skills as well, so you absolutely need to be careful when selecting the right pros for this particular job.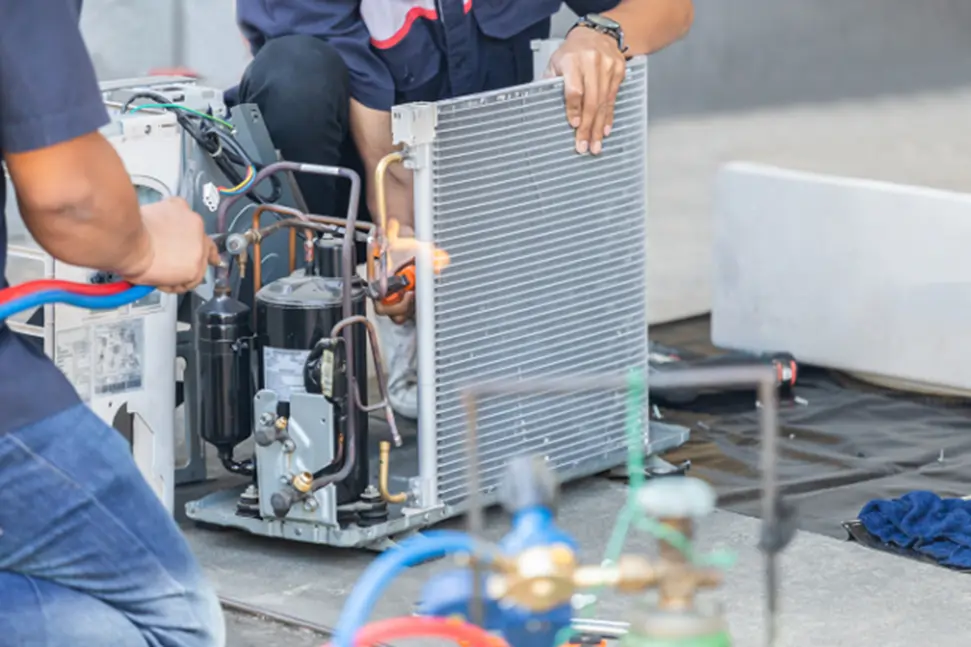 Plumbers Who Repair HVAC Systems
What is it that you have to do when selecting the professionals for the installation projects you need to have completed? Well, since you're searching for plumbers who can repair HVAC systems, it is quite clear that you should focus on finding such professionals, instead of focusing on finding plumbers solely, and not checking anything else. We have made it clear that plumbers can, in fact, install or repair your HVAC systems, but we've also made it clear that not every single plumber can do that, meaning you'll need to carefully research them and consider different ones before making your final choice.
Search the Web and Get Suggestions
How should you research them, though? Starting with finding these professionals online, you'll work towards creating a list of potential professionals that will be capable of completing either the repair or the installation process for you, depending on what you need. Naturally, apart from searching for those professionals online, you can also get suggestions from the people you know, inquiring about the companies they may have cooperated with when they had to have certain HVAC systems installed. As explained already, these two steps should help you create a list of potential experts to cooperate with.
Remember Qualifications
What you're doing here is trying to find plumbers that can fix and install your HVAC systems, meaning you'll absolutely need to check their qualifications. We have made it clear quite a few times that you can't count solely on plumbers if they don't have any kinds of other qualifications that could make them suitable for HVAC installation or repair. So, what do you think should you do next? Check those qualifications, of course.
Here's something to help you hire the right technicians as well: https://www.angi.com/articles/how-hire-hvac-expert.htm
What kinds of qualifications should you focus on here, though? Clearly, the bottom line is in finding technicians that are qualified to repair and install HVAC systems, but that are also amazing plumbers. Such a combination is what will lead you to getting the perfect services and making sure that everything is perfectly installed and repaired. Choosing unqualified professionals will only lead to you getting poor quality services, which is certainly not what you want.
Reputation Matters
Speaking of getting poor quality services, you could also wind up with those if you decided to go for ill-reputed technicians, that is, professionals that are not really known for providing their clients with the perfect services. Since you don't want that to happen, you'll have to check and inspect the reputation of those professionals before making any final choices. Reading reviews can help you do that, and so can talking to some past clients directly if that's a possibility. In any case, the point is that reputation matters and that you should always check it when aiming at choosing the perfect plumber that can repair or install your HVAC systems.
Check the Costs
Here's one thing you'll probably know, but it still has to be mentioned. Basically, checking the costs is also quite important here, because you don't want to get ripped off for the services you'll be using. Naturally, you shouldn't make any final decisions based on the prices alone, of course, because the quality of service, the reputation and the qualifications definitely matter much more. Still, after checking all of those factors, you should feel free to check and compare the costs as well, which will ultimately lead you to selecting the perfect professionals to fix or install those HVAC systems for you.