Regardless of their years of experience or the size of their operations, every farmer wants the best for their plants and would do anything to ensure great produce.
And this is where greenhouses come into the picture, providing numerous advantages to plants.
Greenhouses offer farmers a chance to plant anything they want as these structures extend the growing period.
With a greenhouse, you can now have the perfect climate for your plants to thrive without stressing about the temperatures and growing environments that may be too harsh for what you plan to grow.
Moreover, as a farmer or gardener, you won't have to deal with pests that have easier access to plants growing in a field.
You can now say goodbye to toxic chemicals and embrace organic practices that'll make pest control more manageable.
Greenhouses are versatile and can be customized and moved based on your plants' needs. You also get to have additional growing options to incorporate different seeds and plants into your garden instead of sticking to one type.
With these main advantages in mind, you'll need to pick a greenhouse that'll be the perfect addition to your home. Use the following tips as your guide:
Best Greenhouses For Small Spaces
When you think of getting a greenhouse, you don't have to be too worried about the amount of space available. Greenhouses come in different sizes and can be custom-made to fit whatever size you can accommodate.
If you don't have a large garden, you'll want to choose a smaller greenhouse that doesn't take up a lot of space, such as a cold frame or narrow greenhouse.
You may also want to choose a greenhouse with a low eaves height if your main restriction is the overhead allowance.
And if your focus is on growing plants such as vegetables for your consumption instead of selling, smaller greenhouses will be perfect for you.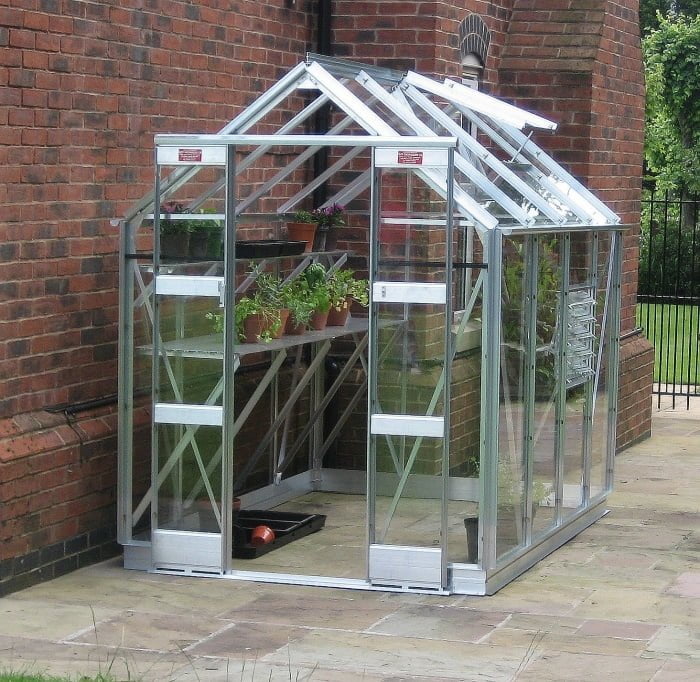 1. Determine If You're Buying Or Building
If you're a DIY pro who's looking for a challenge, then building your greenhouse would be a great project to undertake. If you want a simple greenhouse, it will be cheaper to build it instead of buying a kit.
On the other hand, if you want a detailed greenhouse, you should expect it to cost more due to the materials needed. But if you opt for a kit, it will come with different costs depending on what you want your greenhouse to contain.
Buying a kit with no customization is less expensive than getting one with features such as a glass cover instead of polycarbonate. With this information in mind, go through your options and factor in all the features and resources, then settle on one that's in line with your budget.
2. Find A Suitable Material
The material used in your greenhouse construction will determine the structure's durability. When buying or building, it's vital to consider all the options available and compare them to your resources before making a final decision.
For instance, if you want an aesthetically pleasing but functional greenhouse, safety glass glazing might be the best fit for your plans.
However, if you want a glazing material that lets in enough UV rays, has the same durability as glass, is cheap, and is of high-quality, polycarbonate greenhouses will be the best choice.
As for the framing, you can choose between wood, PVC pipe, galvanized steel, and aluminum frames. If you want a durable and affordable option customized according to your style, consider using aluminum frames.
3. Find The Right Structure
Greenhouses can vary between stand-alone structures and attached structures made in different shapes based on the running costs, light transmissions, affordability, and practicality.
These structure shapes include the hoop-house, gothic arch, A-frame, post and rafter, span roof, and uneven-span roof.
In addition, your space will highly influence the shape of your greenhouse. For instance, people living in a hilly area may opt for an uneven-span roof greenhouse since the rafters aren't equal.
You'll have to look at each structure's pros and cons to settle on one that'll fit seamlessly with your needs. Each structure will have a feature that you may need depending on your budget.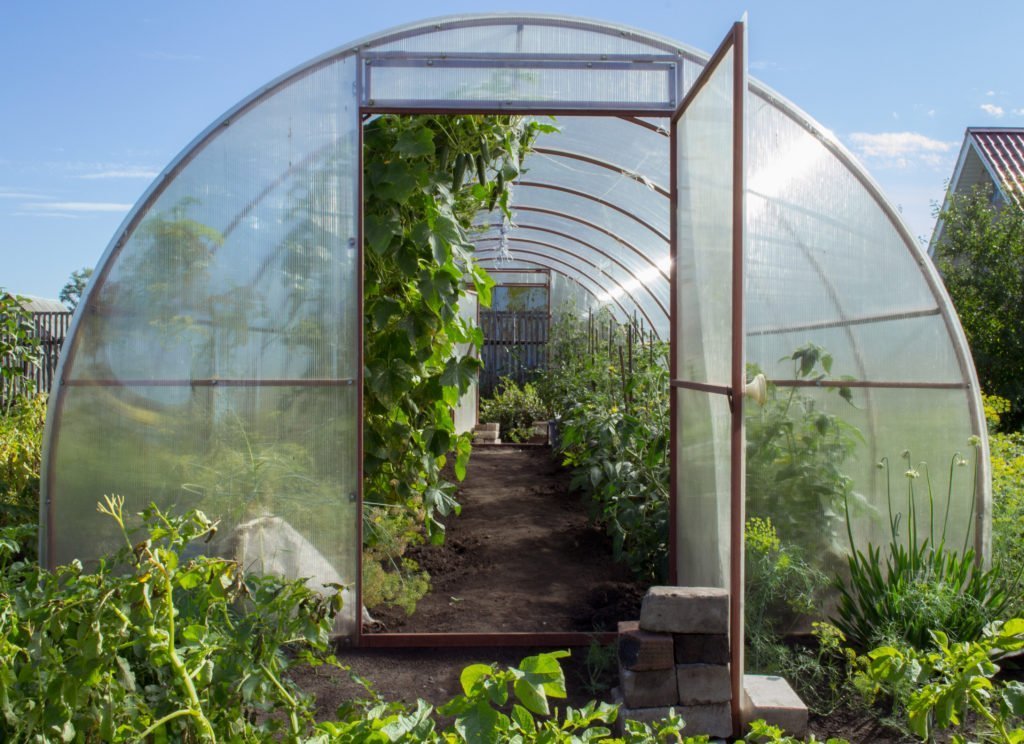 4. Settle On The Appropriate Type
The type of greenhouse you may need will depend on what type of gardening you hope to do and on what scale.
For instance, if you want a place to propagate seeds before transplanting, you'll need a starter greenhouse that's smaller in scale. On the other hand, plants that need the tropical climate will do well in a heated greenhouse.
Alternatively, if you want to propagate seeds, grow them until harvest time, and cure them for storage, then grower greenhouses are large enough to cover these purposes.
5. Get Greenhouses That Are Strong, Durable, and Easy To Maintain
When choosing a greenhouse, ensure its ability to withstand harsh weather conditions such as severe wind, hail and storms, and falling objects that can be hazardous to the greenhouse. Find frames that will be easy to clean and are scratch-resistant.
When going through your options, find out what's involved in their upkeep and how much you may need to spend on them. The greenhouse you pick should also be adjustable and allow extra accessories that boost productivity.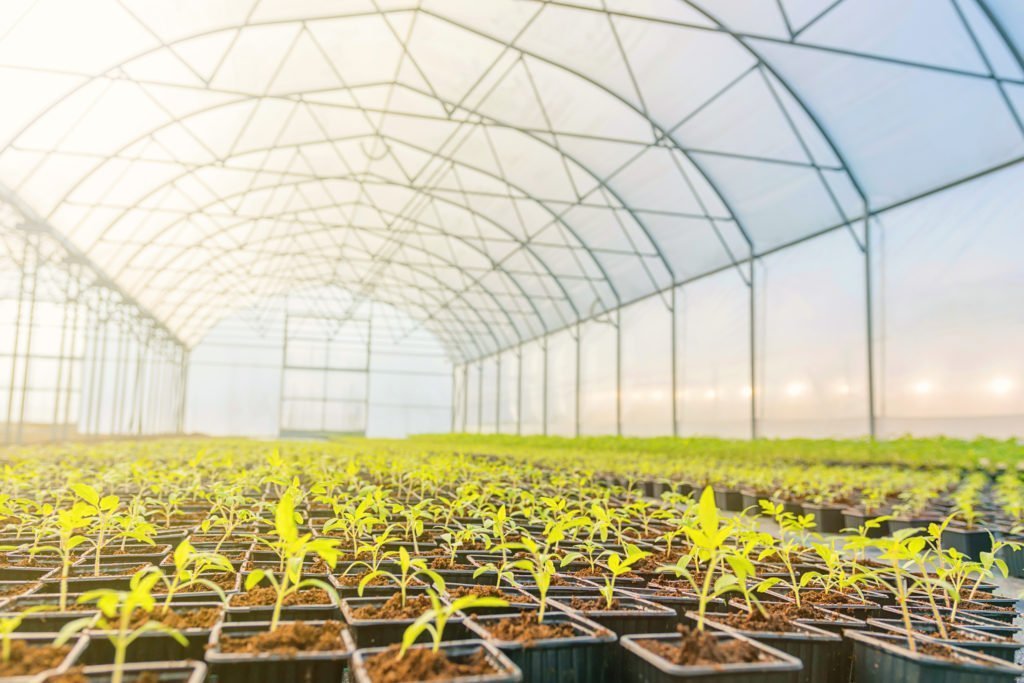 6. Go For A Greenhouse That'll Extend Your Growing Season
Since the planting season comes and goes, you'll need a greenhouse that's well ventilated and insulated to allow planting all year long.
For instance, the option you go for should keep the temperature warm during the cold season to ensure a great harvest.
In addition, your greenhouse should provide the right type and amount of light as direct light may contain harsh UV rays that aren't suitable for your plants.
Your plants should get diffused light with the right amount of UV rays that'll lead to healthy and compact growth.
The greenhouse you choose should have materials that don't cast shadows and allow light to reach plants from all angles. If your greenhouse doesn't create the right temperature, the plants may waste energy through transpiration.
Bottom Line
Before settling on the best greenhouse for your choice, reach out to professionals for inspiration and let them guide you on where to start.
Your greenhouse should offer you the environment you need to grow your plants efficiently.
If you go for a kit, get one that can be easily assembled and doesn't need much site preparation. For small spaces, the only requirement will be an even flat surface, and you'll be ready to go.