Steel buildings are fabricated metals used for interior and exterior support of structures. They're now accepted globally as the most used component to make buildings because they're cost-efficient and durable.
Steel materials are now the choice of architects for almost every structure they build. Today, the number of steel buildings is rising because of the numerous benefits they provide. People can benefit from them as they also have great uses.
Here are some of the benefits you'll get when you choose to use a steel building:
1. Safety
Safety is always the top priority of any building, and the steel provides the structure's safety benefits. It ensures to withstand earthquakes, hurricanes, and extreme snowfalls.
Steel doesn't spread flames if there's a fire in the building. The material is non-combustible and resistant to corrosion as long as it's properly coated. It also doesn't cause mildew or mold. The moment steel buildings are constructed, their safety benefits have already begun. Pre-fabricated structures have less construction time meaning lesser accidents could occur.
Prefab metal buildings that are IAS certified have the same quality and audit standards that national companies follow. Hence, property owners and builders can vouch for their structural integrity and safety. Prefab metal manufacturers employ professional licensed engineers who expertly process orders according to the proper codes and loads determined by local municipalities.
Nowadays, computer programs are being used to make 3D designs of steel buildings. That way, you can get more information on the structure and make it safer for people to enter. They're commonly used when planning to construct high-rise buildings. It'll give the architects and construction owners a better perspective of the structure's possible outcome.
2. Sustainability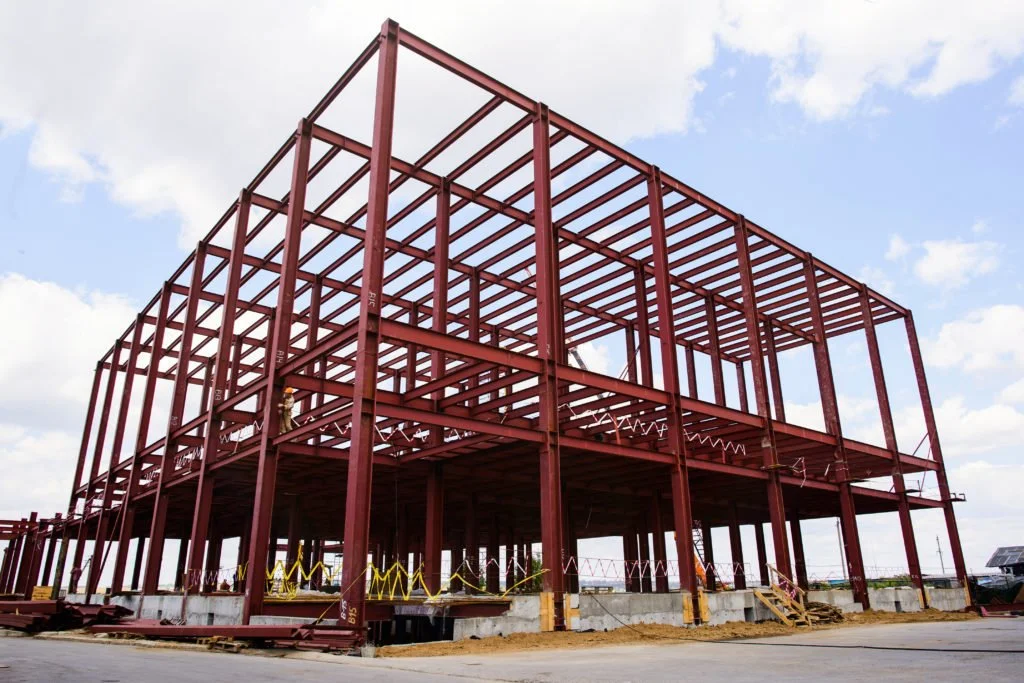 Steel is a sustainable material available globally, and it's one of the most durable and sustainable construction components available in the market. Steel manufacturers generate minimal to no waste during the fabrication process. All metal scraps are being resold and recycled, which is a great benefit of using steel to construct buildings.
Over the past few years, using steel to make structures has reduced greenhouse gas emissions. It also increased the recycling rate of water during metal production. When a steel building reaches its end of life, the metal will be recycled to be used again in the future.
Recycling steel from dismantled buildings involves steps like sorting, shredding, melting, and casting. The resulting recycled steel retains its quality and can be used in construction, automotive, and other industries. This approach is environmentally responsible, as it conserves natural resources and lowers greenhouse gas emissions compared to producing steel from raw materials. Many countries have established effective recycling programs for construction materials, facilitating a circular economy where materials are reused and waste is minimized.
3. Flexibility
Frames and buildings made of steel are adaptable. The steel's strength can support additional weight of new levels. Steel buildings' functions can be changed rapidly, it is possible to alter the floor loads and lay out significantly.
Steel will allow architects to develop various building designs because of its flexibility. The structure will always remain durable and functional. Some people think steel buildings can't be custom-made, unknown to everybody, metals have a number of customization options.
4. Durability
Steel is denser and more durable than concrete and wood. The material is used to build bridges and high-rise structures because it survives extreme tension but still keeps its shape. Constructed steel buildings will stay standing for decades to come because of its material.
Steel is the component of choice by almost everyone. The beams of the building are designed to support intense gravity loads. It can withstand any extreme conditions, even an intense earthquake. The longevity of using steel building is really worth the investment in the long run.
5. Lesser Construction Cost
Contractors and architects tend to go with steel buildings because of the controlled cost during construction. With the latest technology, pre-fabricated buildings are available and provides great benefits.
In using steel buildings, the timeline will be shortened, and labor costs are reduced. Pre-fabricated metals are delivered at the job site assembled already, it saves time and increases the safety at the site. With a faster construction timeline, quicker operations mean lesser labor costs. In the end, once the building is erected on its target date, revenues will be generated sooner.
6. Architectural Expression
With the adaptability of metal comes its versatility. It'll allow the architects to build a structure using their creative visions and develop unique designs. Usually, steel buildings are erected in a vertical design, but with today's technology, these structures can now be built with curved parts to add to the building's aesthetics. Architects can freely express themselves as long as the business owner fully approves their design.
For instance, iconic skyscrapers like the Burj Khalifa in Dubai, designed by Adrian Smith of SOM, or the Willis Tower (formerly Sears Tower) in Chicago, designed by Bruce Graham and Fazlur Rahman Khan, utilize steel frames to achieve their impressive heights and structural stability. On the othr hand, the Beijing Daxing International Airport Terminal in China was designed by Zaha Hadid Architects. It features a striking steel and glass roof structure that spans across the expansive space.
Property owners collaborate with architects to design buildings that meet their vision, needs, and preferences. Architects transform owners' ideas into functional structures through a process that involves understanding the owner's goals, analyzing the site, creating design concepts, refining designs, selecting materials, ensuring code compliance, and overseeing construction. This partnership combines the owner's input with the architect's expertise, resulting in unique and personalized buildings that fulfill the owner's vision while adhering to technical and regulatory standards.
Final Thoughts
These benefits of steel buildings are the reason why many people use them for their business. Surprisingly, steel is now the popular choice for building commercial and residential structures. It has been favored because of its safety, sustainability, flexibility, durability, better cost, and architectural expression.
Steel has more benefits to offer, and these are the most common ones. They'll provide a stable structure that can be made into any design and sustainable at the same time. Invest on steel buildings, and you'll surely never regret it.