Image Source: Nesolenaya Alexandra/Shutterstock.com
Spring is one of the most welcoming times of the year, so it's an excellent opportunity to make your home more inviting. Whether you're looking to bring the outdoors inside with paintings or accessorize with nature-inspired decor, there are plenty of ways to transform your space into a cozy oasis for you and your guests. From adding art by completing a step-by-step flower painting to using earthy elements to decorate your space, here are a few great ways to create a welcoming home this spring.
Bring Nature Indoors with Art
Bringing nature into your home is a great way to create a more welcoming atmosphere. Creating a nature painting not only brings the outside in, it adds warmth and depth to a space. From landscapes to abstracts, flower paintings and more, there are numerous types of nature paintings that you can use to create an inviting home.
Not only do these paintings bring visual appeal into your space, but they also have psychological benefits, too. Artwork featuring natural elements in the home can help improve mood, reduce stress levels and create feelings of relaxation. Artwork of nature will make your guests feel more at ease and relaxed, too.
When it comes to painting nature, there is no shortage of inspiration. Landscape paintings offer stunning vistas, while flower paintings add delicate beauty with vibrant colors and intricate details. Abstract art gives you the freedom to explore different perspectives on outdoorscenes while still capturing the essence of nature itself.
No matter what type of painting style you choose, adding some natural art to your walls will instantly make your home feel more inviting and cozy this spring.
Create a Diamond Painting
Painting with diamonds is an excellent way for beginning crafters and experienced artists alike to create stunning artwork for their homes. Diamond painting is an increasingly popular crafting technique in which the artist attaches tiny diamond drills to a self-adhesive canvas, forming an intricate design. 
Unlike traditional art forms like painting and drawing, diamond painting requires no artistic skill or experience. Even beginners can easily learn how to make stunning pieces of artwork with diamond painting projects! Diamond painting kits come with everything you need to get started, including a pre-printed canvas, drills (the name given to the tiny diamonds), wax, tweezers and more.
Use Outdoor Furniture to Create a Cozy Vibe Indoors
Source: sofia winghamre/Shutterstock.com
When the weather warms up, it's time to start thinking about ways to bring the outdoors in. The right outdoor furniture for your home can help you create a warm and inviting atmosphere that will make it a cozy place to relax during spring. Here are some tips on choosing the perfect outdoor furniture for your indoor space.
First, select items that are both comfortable and stylish while still being durable enough to withstand daily use. Look for things made of natural materials, like wood or wicker, to bring an organic feel to your home. These materials are easy to clean, too. Keep in mind the amount of space you have available and how the furniture will fit into it. If space is limited, look for tables with foldable legs or chairs that tuck away easily when not in use.
Accessorizing is key when creating an inviting indoor atmosphere with outdoor furniture. Choose rugs, cushions or throws made from natural fabrics like cotton or linen that coordinate with your color scheme. These pieces will add texture and comfort while still allowing you to show off your style. Adding lighting fixtures like string lights or lanterns for evening entertaining can create a soft glow around your home, making for a more inviting atmosphere than regular lamps and light fixtures.
Invest in quality pieces you know will last through multiple seasons of use. Quality furniture may cost more upfront, but it will be worth it when it lasts longer than cheap alternatives. Keep in mind that your outdoor furniture will likely see more use when used indoors. Many inexpensive outdoor items simply can't withstand daily use.
Accessorize with Nature-Inspired Decor
Accessorizing with nature-inspired decor is another great way to create a welcoming home. Natural materials like wood, stone, wicker and rattan all bring a sense of the outdoors inside. Furniture with an earthy feel can also give your home a cozy, rustic quality.
Adding plants is an excellent way to accessorize with nature-inspired decor. Plants bring life into the home and provide health benefits such as improving air quality, brightening up the interior space and helping reduce stress levels. Adding plants doesn't have to be complicated. It could simply mean adding some fresh flowers or hanging planters in different areas of your home for a touch of greenery. Even artificial plants can make a room feel more inviting if you don't have much of a green thumb.
Consider taking a walk in nature for inspiration. Observe the sky, trees, flowers, ground, etc. Use your observations to inspire your next decorating project, or bring home small natural elements to use as decor. Interesting rocks, flowers, acorns and other natural items can all be used to create one-of-a-kind decorations and give your home an inviting feel.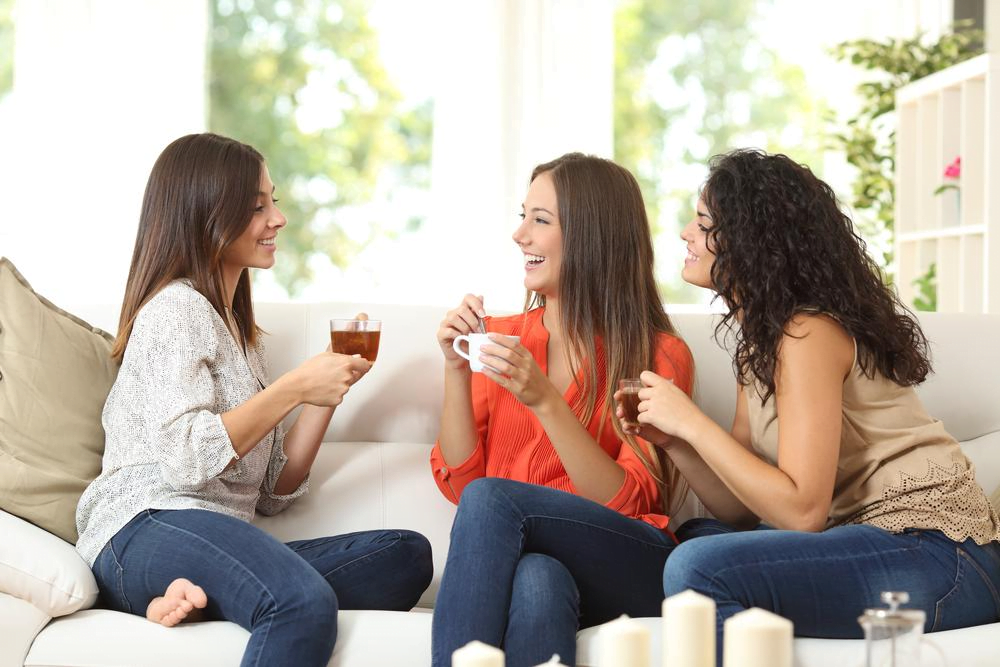 Source: Antonio Guillem/Shutterstock.com
Conclusion
This spring, transforming your home into a welcoming space doesn't have to be difficult. From custom art to found natural objects, you can use all sorts of things to decorate and fill any room with peace and tranquility.
Let your creative juices flow, and always consider what makes you feel comfortable and welcome when visiting someone else's home. Inspiration is all around you!