Spring Is Here, Get a Fresh Fresh Look for Your Walls
There is nothing like the arrival of spring to wake us from our winter slumber and make us feel energized. It is as if a new energy is in the air, making us gag for a fresh start. It is not a surprise, we are in sync with Mother Nature after all and we also come out of our cocoons, we call houses.
Talking about them, they also need to be part of the game and be renovated. Nothing put us in a better mood than a renovated and tidy space.
Short of investing a hefty sum to change furniture, which might be out of reach for most of us, a great option to achieve that elusive sense of new is to do some smaller scale renovation work and focus on the walls.
Due to their sheer size, any change affecting them will have a dramatic impact on the room and when it comes to bringing a fresh look, it is difficult to beat a wallpaper.
They are available in a stunning range of varieties: colourful, in stripes floral, ornamental or in celebrated art styles like Art Deco or Bauhaus.
Wallpapers seem to be everywhere nowadays and are one of the most sought-after trends in the world of interior design. A tool that used to be plain and subdued has been transformed into a very eclectic and dynamic weapon in the arsenal of the interior designers.
Technological gains have helped bringing to the market new materials able to be used in many different environments. As a result, contemporary wall décor can often be washable, with a magnetic surface or resisting to heat and light.
There is another evolution that is often not talked about enough: installing and removing wallpaper is now easier than ever. Gone are the days of flimsy materials, long soaking times, and complicate procedures.
Most wallpapers can now be installed without any previous expertise in a matter of hours.
They also come in almost infinite variety of motives and designs, allowing for a flexibility that is unmatched when compared to simply painting your walls, so let us look at a few tips to pick the wallpaper that best suits your needs.
What Are the Advantages of Wallpaper?
Pain or wallpaper? This question has been discussed aplenty in the last few decades, but it might have reached a point where it is no longer relevant, as the two options can happily coexist, with wallpaper highlighting a feature wall and paint taking care of the other three.
Modern wallpaper is amazingly easy to install and remove and offers countless options when it comes to motives and designs, with a sophistication that cannot be matched if you elect to simply paint the walls of your house.
This flexibility allows interior designers to create unique atmospheres in each environment, separating spaces and creating the illusion of a larger living area.
Wallpaper in The Kitchen
Nowadays is quite common for wallpaper to replace the tiles in the kitchen to add a touch of originality and freshness to an otherwise plain and slightly traditional environment.
If you select, make sure you choose a model with a vinyl coating, as this layer, added to the paper of TNT surface material, makes the wallpaper more robust, washable, and insulated from moisture.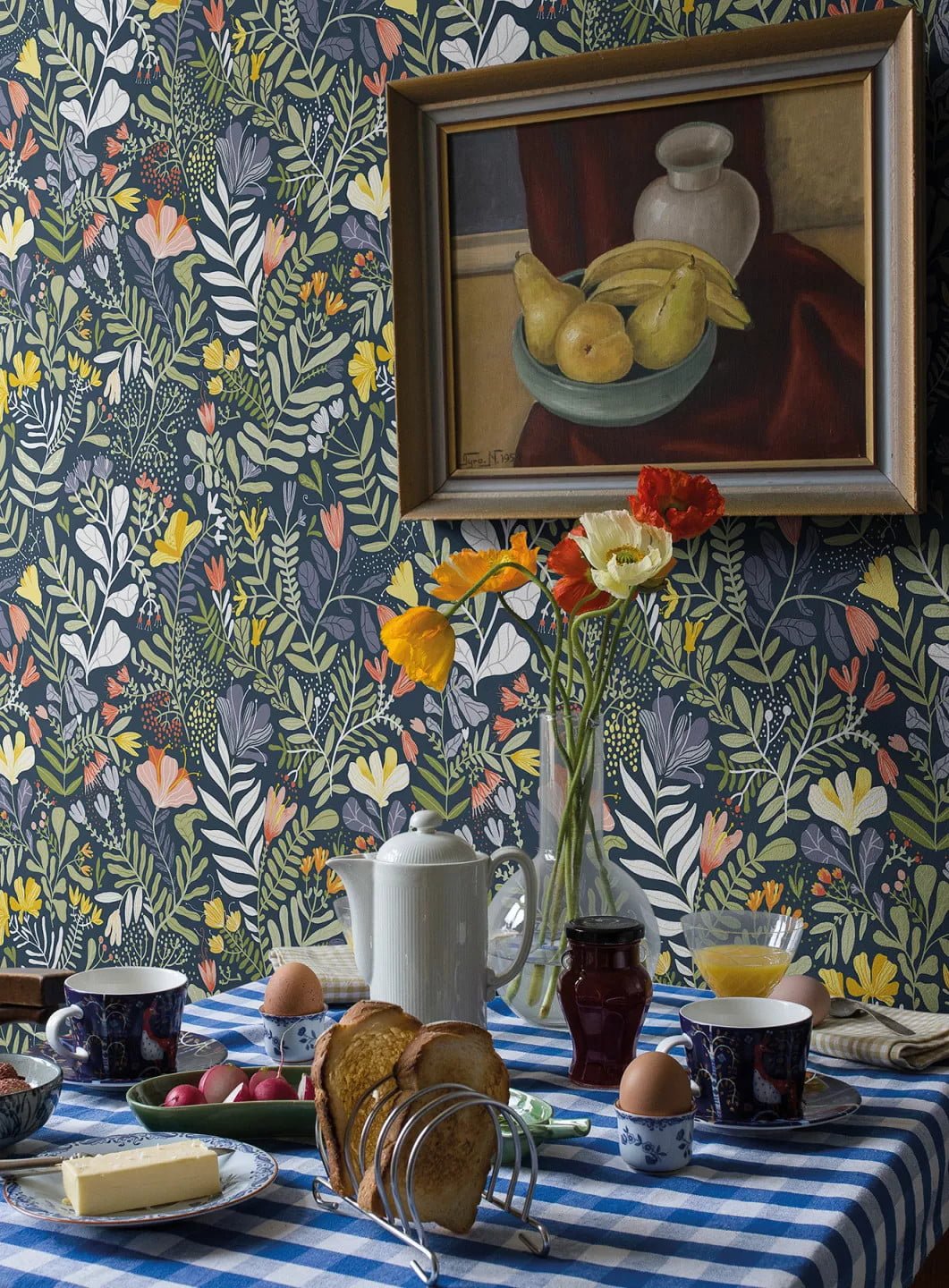 Decorating the Bathroom
Bathrooms have also moved away from the white and sterile design of yesteryear, allowing for a more creative approach. Like in the kitchen and all other "wet rooms" in the house, it is important to pick a bathroom wallpaper model with vinyl coating, as moisture will pay an even bigger role here.
Remember that, for a healthy environment and to keep your wallpaper in mint conditions for a long time, it is always a clever idea to ventilate the room after taking a shower or a bath, as this generates hot steam that then sits on all surfaces.
Wallpaper for The Child's Bedroom
Wallpapering your child bedroom is an excellent way to personalise your child's space and to foster his imagination and creativity. Numerous designers have specialised in wallpapers for children, creating incredible worlds when stories are thought, and unforgettable memories are created.
The little ones can choose the one they want according to their tastes, as there are thematic models of all kinds, such as those of animals, unicorns, cartoon characters or dinosaurs.
Wallpaper for Stairways
This is a slightly more unusual environment to wallpaper, but one that is becoming increasingly trendy. Stairways are very often the gateway to enter many homes.
This is therefore the first thing visitors see, where the first impression of your place is created. Despite this, stairways are generally neglected, often decorated with a single coat of paint of textured plastering.
There is a lot more to be done here to add flair and make it interesting.
As stairways are one of the areas most likely to be used in the house, the main criteria ought to be quality, durability together with cleaning and maintenance qualities when picking the right design wallpapers.