The Great Smoky Mountains are a stunning part of the Appalachian Mountain range and a wonderful getaway destination for couples and families alike.
Marvel at the stunning, ever-present morning fog as it rolls down the mountain range and enjoys a rich and diverse vacation regardless of whether you are in the area to get away for a relaxing break or get out there on an exciting adventure.
Gatlinburg, TN, is a popular mountain town known as the gateway to the Great Smokey Mountains National Park. Whether you are there for work, for pleasure, or with the whole family, you will want a great hotel or resort to call home when you are in the area. Make sure to book the top hotel and see some of the top sights in Gatlinburg, TN, like the 407-ft. Space Needle observation tower or the 2.1-mile aerial cable car.
There is something for everyone and during every season. Complete your skiing excursion with a top-notch hotel or your family vacation with an amazing resort. With these top 10 hotels and resorts in Gatlinburg, TN, you will find the perfect choice for your trip and your budget.
Westgate Smoky Mountain Resort & Water Park
This family-friendly resort is located just minutes from the Great Smoky Mountains National Park and features a full water park.
This resort is perfect for the whole family and offers so much more than great sunset views and hues – though it does offer both of these in spades. On top of a great location that is just minutes away from the Great Smoky Mountains National Park, this resort also offers additional amenities that will keep you busy and having fun.
This resort offers a fully equipped spa, zip line, mini-golf course, and the water park, Wild Bear Falls. Even if you don't stay at the resort itself, this water park is a must for those visiting Gatlinburg, TN. You can enjoy great rates on day rates, and members can even enjoy a special Night Splash 6 PM discount.
This water park even offers special discounts for military personnel and veterans and a local rate for those who live in the area.
As for the accommodations, you can pick from a studio villa that can sleep up to 4 people all the way up to a five-bedroom villa that can sleep up to 20. Each offers a high standard of quality and great amenities that you have come to love from your top hotel stays.
The Inn at Christmas Place
This unique, Christmas-themed hotel is the perfect destination for winter holidays and can be found in Pigeon Forge, just a few minutes from Gatlinburg.
Celebrate Christmas this winter or a special Christmas-in-July at The Inn at Christmas place for a truly unique experience in Pigeon Forge, just down the road from Gatlinburg. This resort features the classic Bavarian architecture that has become the staple for Christmas markets and is situated beautifully in the foothills of the Smoky Mountains.
Each suite comes with a full-size, fully decorated Christmas tree and even a gas fireplace. Larger, two-room suites come with two fully decorated Christmas trees and a fitted kitchen.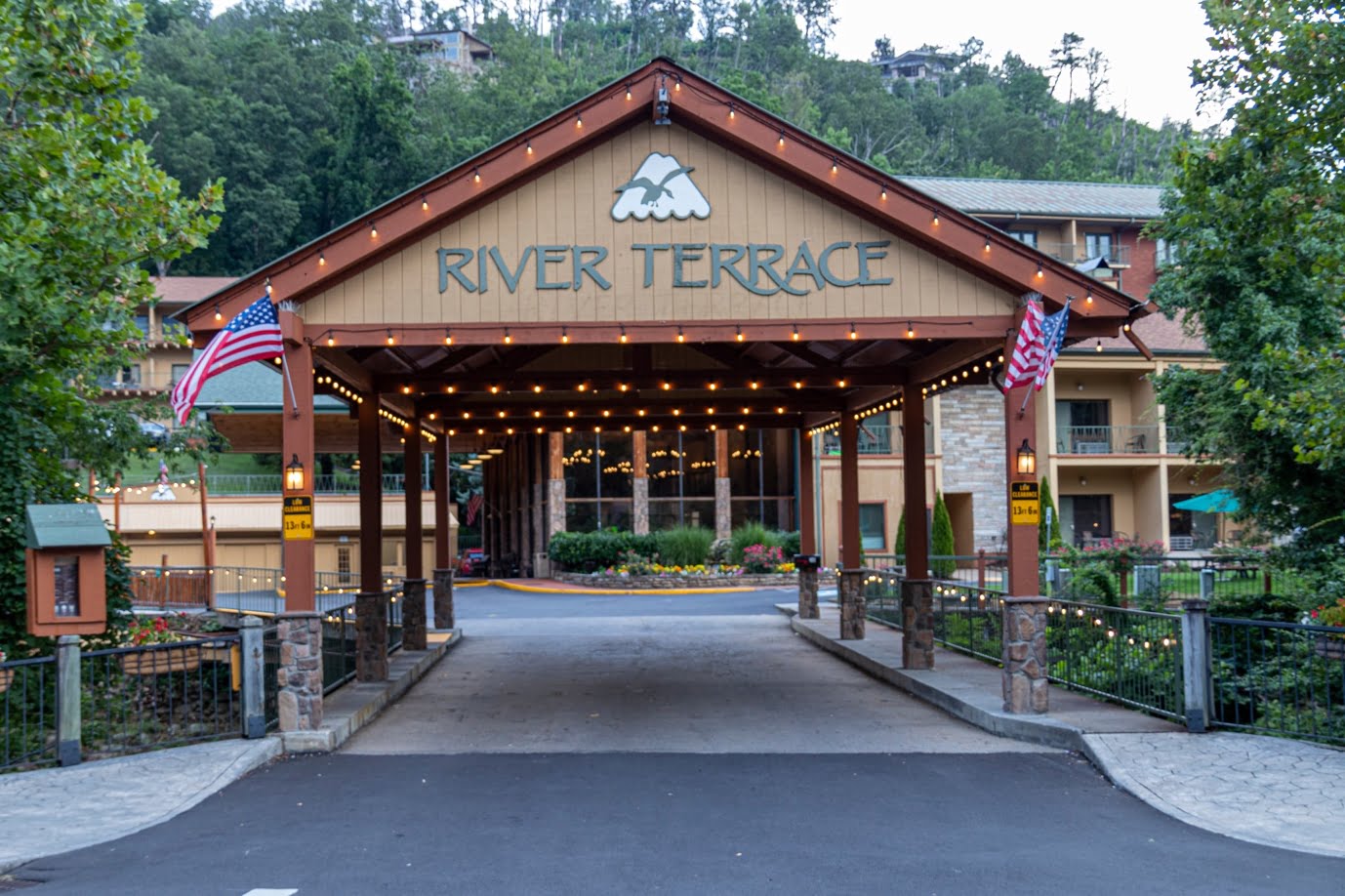 River Terrace Resort and Convention Center
This scenic resort and convention center is located in the heart of downtown Gatlinburg and overlooks the scenic Little Pigeon River.
This scenic hotel can be found in the downtown area of Gatlinburg and sits right next to the Little Pigeon River. It is ideal if you are in town for business or are interested more in the downtown hotspots than the natural wonders of the Smoky Mountains. Due to its great location and better rates, it can be the perfect go-between for work and pleasure.

Featuring a pool, convention space, and comfortable amenities, this option can be ideal for single travelers, couples, and even families. If you are an animal lover in particular, you will love the River Terrace, as it is pet friendly.
Margaritaville Resort Gatlinburg
Enjoy a tropical escape in the mountains at Margaritaville Resort in Gatlinburg, one of the top hotels in the downtown Gatlinburg area.
Choose Margaritaville if you are interested in Caribbean luxury in the comfort at the foot of the Smoky Mountains. This 4-star resort is one of the most beautiful in the area and offers luxury and comfort in spades. Here you will be able to enjoy a high-end spa day and lounge by the pool just as easily as you can go for a picturesque walk through nature.
Wild Bear Inn
This inn offers cozy, affordable comfort at the gateway to the smoky mountains and is found just a few minutes from Gatlinburg in Pigeon Forge.
If you are looking for comfort at a great rate, then one of the best options is Wild Bear Inn. This Inn offers classic amenities like a pool and even an on-site restaurant for less than $100 per night. It is perfect for those who want to escape to the Smoky Mountains for a holiday alone, with their partner, or with a group. It is even pet-friendly, so you don't have to leave your furry friends behind, either.
The Lodge at Buckberry Creek
This family-owned hotel offers rustic elegance and is a luxury cabin getaway for those who want to spend time amongst the majestic Great Smoky Mountains.
Sitting on 26 acres of lush forests. This boutique hotel is one of the most beautiful in the area. It was developed by the McLean family, who own and run it and designed by Jeanie Johnson. It offers rustic elegance and is a great choice for a romantic weekend getaway. The hotel, of course, is also a prime spot for bachelor and bachelorette parties, for luxury family getaways, and even big events like a family reunion.
Holiday Inn Club Vacations Gatlinburg Smoky Mountain
This family-run hotel is right next to the Great Smoky Mountains National Park and is within easy access to Cades Cove.
This hotel was built in 2006 and is a great, affordable option for families looking to visit the Great Smoky Mountains. As one of the most visited national parks in the country, finding the right home base is so important. Not only is the Holiday Inn Club Vacations in Gatlinburg located next to both The Great Smoky Mountains National Park, but it is also near Cades Cove.
There are several great nature trails nearby, and the hotel even has an indoor water park area called Splash Hollow to give you and your family many great ways to spend your vacation.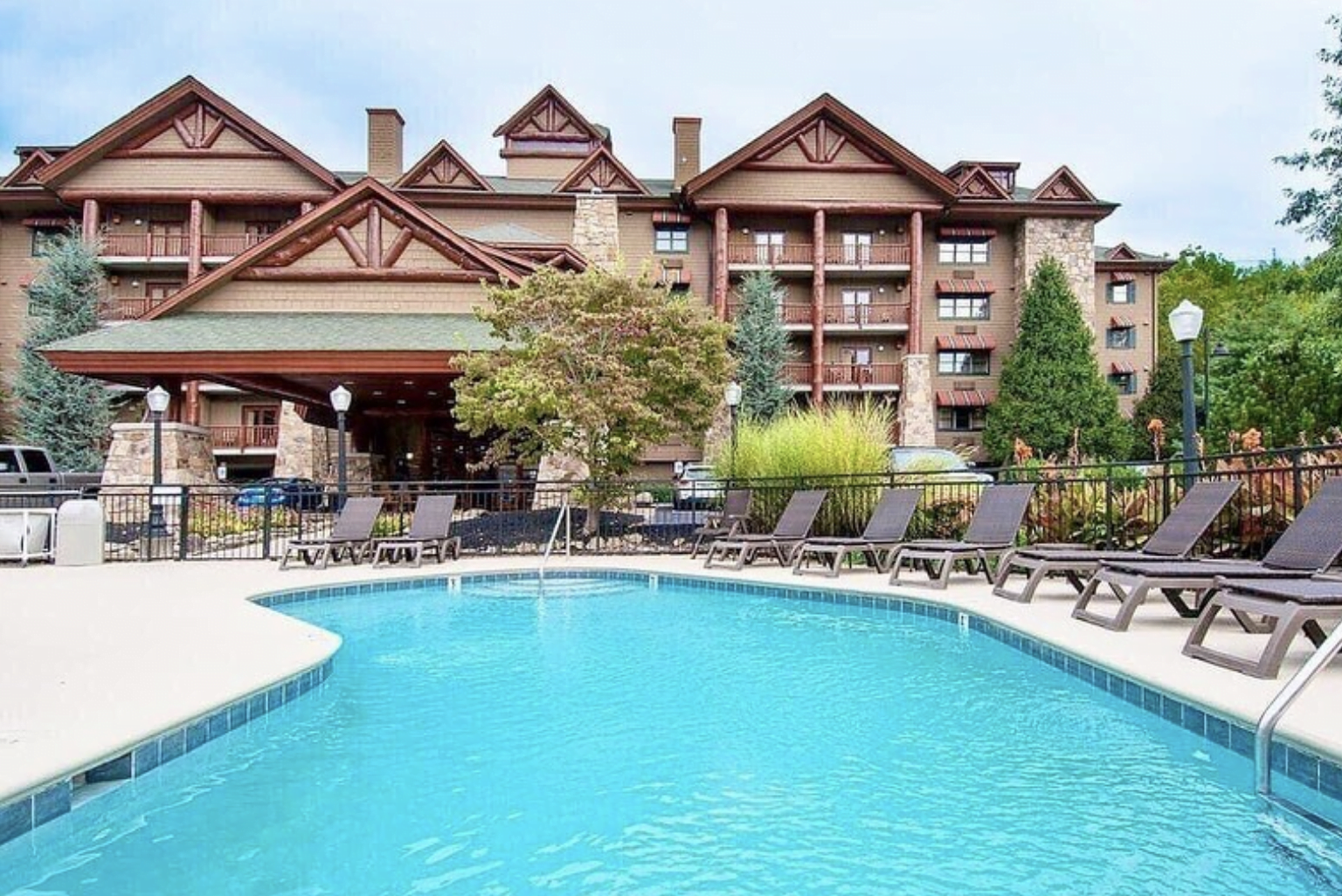 Bearskin Lodge on the River
This family-run lodge first started out in the 1930s as a craft shop and has been operating as an inn since the 1940s.
This lodge has been in operation since the 1930s and has operated as a hotel since the 1940s. It continues to be a family-run hotel and offers wonderful rustic comfort. The good news for all travelers, of course, is that it has been upgraded and has a flat-screen television, premium channels, free WiFi, a pool, a lazy river, and a fitness center. You will even get a complimentary breakfast every morning and are within walking distance of many other great restaurants in the area.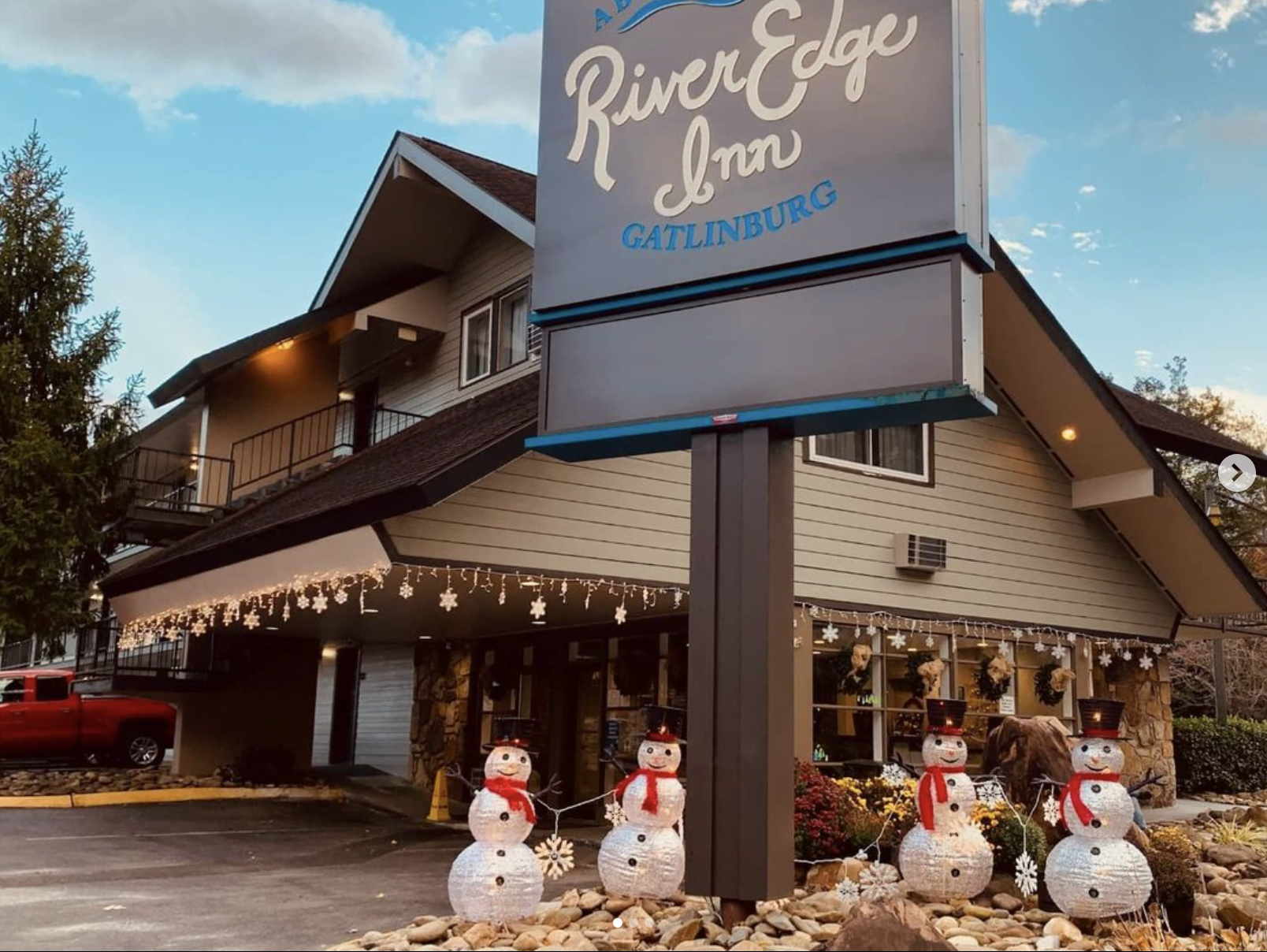 River Edge Inn
This newly renovated inn dates back to the 1800s and now operates as one of the top boutique hotels in the downtown area.
The property itself may date back to the 1800s, but the hotel itself has been in operation since 1984. It has changed management and owners and is now a refreshed, ready hotel perfect for those looking for a boutique spot to stay while they are in Gatlinburg.
It is within a walk's distance to many top restaurants in Gatlinburg and even has an outdoor pool and children's pool during the summer months. It is a great option for those looking for affordable comfort, as many rooms come with two queen-size beds, and most have gas fireplaces to keep you cozy when it gets cold out.
Hilton Garden Inn Gatlinburg
This hotel offers all the classic amenities and is located a short distance away from the Great Smoky Mountain National Park.
This massive hotel is 75,000 square feet and is five stories tall. It is a short distance from the national park and is surrounded by nearby streams. It offers all the classic amenities you look for in a hotel and is available at a variety of rates to suit your needs.