Your home is your haven. It's the place where you can unwind and escape from the hustle and bustle of the outside world. So, it's no wonder you want it to look its best. But as time goes by, your home's interior might start to look a little bland and need some refreshment.
Giving your home a makeover doesn't have to be a huge and expensive project. You can do plenty of small things to spruce up your home and give it a new lease on life. Here are some easy ways to do it:
1. Give A Fresh Coat Of Paint
A fresh coat of paint is one of the quickest and easiest ways to transform a room from drab to fab. You can paint the walls, ceilings, doors, cabinets, or furniture. These features are one of the first things people notice when they enter your home, so giving them a fresh new look can make a difference.
While various interior paint colors are trending, it's best to choose a shade that reflects your taste and personality. And more importantly, it should complement your existing furniture and decor. Otherwise, you might end up with a mismatched and chaotic look.
For instance, you can go for brighter colors such as yellow or green if you want a more vibrant and lively home. Or you may opt for neutral colors like white or beige if you prefer a calm and relaxing ambiance. The choice is up to you!
2. Change Window Treatments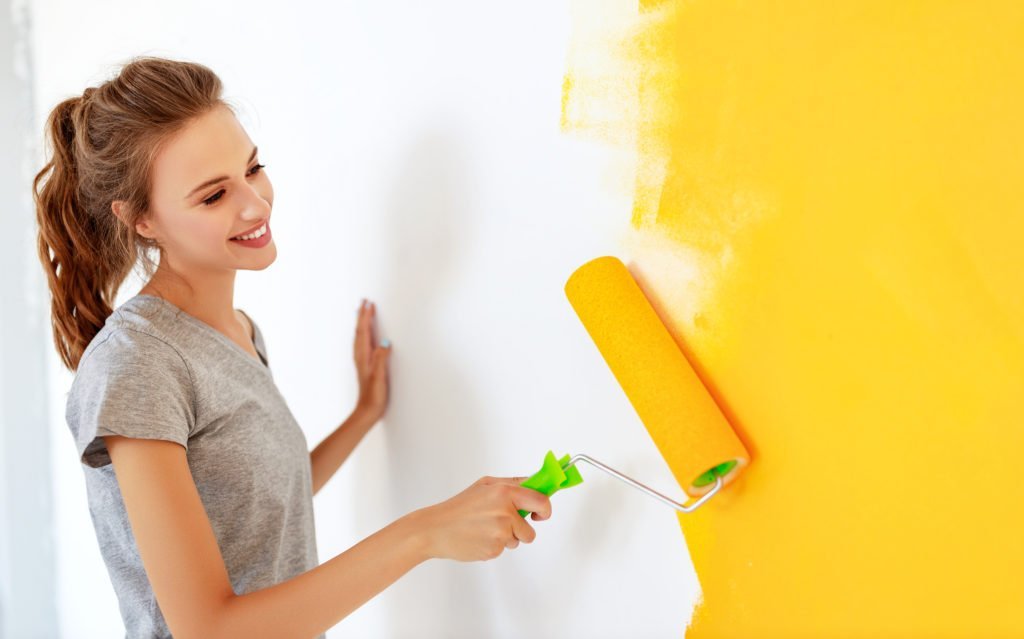 It's no secret that window treatments can make or break a room's atmosphere. If you have old and outdated curtains, drapes, or blinds, then it's time for an upgrade. Changing your window treatments is an excellent way to add color, pattern, and texture to your home interior. It's also an opportunity to control the amount of light that comes into the room.
Opt for lighter colors and sheer fabrics to let in more natural light. Romantics may enjoy flowing drapes, while those who prefer a modern look can go for clean-lined shades or blinds. There are many options for window treatments, so have fun exploring different styles and materials.
3. Update Lighting Fixtures
Lighting plays a crucial role in setting the tone of any space. It can create a warm and inviting ambiance or a cold and sterile one. So, if your home is in dire need of a revamp, then consider updating your lighting fixtures. You'd be surprised at how big of a difference it can make.
There are different lighting fixtures to choose from depending on your needs and preferences. For example, you can install pendant lights or track lighting in the kitchen to brighten up the workspace. You can also put some LED lights under cabinets for a more practical purpose.
On the other hand, you can add floor or table lamps to add a softer and more soothing tone to your living room. Consider wall sconces or ceiling lights in the bedroom for a cozier feel. And don't forget about accent lighting to highlight specific areas or architectural features in your home. You can instantly turn an ordinary room into an extraordinary one with these elements.
4. Accessorize With Decorative Objects
Another easy way to spruce up your home interior is by accessorizing it with decorative objects. This can include vases, sculptures, picture frames, wall arts, and candles. Adding these beautiful pieces can give any room a more polished and put-together appearance.
When choosing decorative items, it's essential to consider the overall theme or character you want to achieve. You can go for rustic-themed items if you want a country feel in your home. Or you may opt for fun and quirky elements if you prefer a more whimsical atmosphere.
A minimalist piece could be a great option for a classic and timeless look. There are endless possibilities, so let your imagination run wild!
5. Bring In Some Greenery
There's nothing better than some green elements to add life and vitality to any space. Plants help purify the air and also provide a refreshing and calming vibe. If you want to breathe new life into your home, consider bringing in some plants.
Start adding a few potted plants such as cacti and succulents on shelves or windowsills. You can put snake plants, spider plants, or peace lilies in the room's corners to liven things up. There are also realistic-looking artificial plants if you're not keen on taking care of real ones. Whichever route you choose, decorating with greenery will add some much-needed boost to your home interior.
6. Rearrange The Furniture
Sometimes, all your home interior needs is an excellent ol' fashioned rearranging of furniture. This simple yet effective method can change the entire mood of any room. It's also a perfect way to maximize space, especially if you have a small area.
When rearranging your furniture, remove unnecessary pieces that take up too much space. Then, play around with different layouts until you find one that suits your needs and preferences. Be sure to leave enough walking space so you won't have any problems moving around the room.
You may also want to consider buying new furniture pieces if you feel like your current ones are starting to worn out. But before you do, make sure that they fit nicely with the new layout you have in mind.
Takeaway
There you have it—six easy ways to spruce up your home interior. Consider these tips the next time you want to give your place a quick makeover. With a little effort and creativity, you can achieve the home of your dreams in no time!