A roof gutter system is crucial, just like plumbing and drains replacement in your home. They redirect water away from your walls, foundation, windows, and doors. In addition, they can also prevent water from entering your house.
However, without proper maintenance and replacement, water will have its way to your home and damage your appliances. Addressing this issue as soon as possible helps avoid damage and ensure that your roof gutters function properly.
On the other hand, cleaning your gutters regularly can extend the time it takes to replace them. Also, dealing with the issue before it gets out of hand saves you money, time, and effort. Alternatively, you can also get K-Guard Leaf-Free Gutter System to improve your gutter during the windy season.
The guide below illustrates some key indicators that will help you tell if it's time to replace your roof gutters.
1. Cracks In Your Gutters
Cracks may not seem like a bigger deal. However, what people don't realize is that those tiny cracks will expand and become significant in no time. Water can go to the extent of damaging fascia boards, shingles, and your home's foundation if the gutters aren't taken care of immediately.
Even though this damage isn't very obvious, the roof gutters should be replaced because small cracks can make the entire system useless. Though some cracks may be repaired, when the fracture covers the whole gutter, it's a sign that you need a replacement.
2. Rust
It's essential to always keep your gutters clean by climbing up your roof to remove the leaf droplets and water pools. A dirty gutter will cause rust and corrosion.
But if you don't clean your gutters regularly, there are a number of things that could go wrong.
Rust and corrosion are two terrible things that can happen to your gutters, far worse than a crack. Once your roof gutter is old, it'll be practically impossible to stop corrosion from appearing.
Moreover, rust indicates that the protective covering has worn away and that the end of its useful life is approaching. The only way to deal with rust in your gutters is to replace them before they start harming your home.
3. Peeling Paint
Paint is always applied in the gutters to withstand tremendous wear and tear. Unless they're very old, painted gutters can resist temperature changes, wind, and heavy rains.
When the paint on your roof gutter begins to peel, it may be difficult for it to last the whole season. More like rust, paint peeling on your gutters is a sign that your protective coat has worn out, and it's time to replace it.
4. Water Marks Beneath Your Gutters
You should often have a specialist check on your gutters, maybe once or twice a year on a sunny day. But if you don't have the time and money to do that, pay attention if there's a leak on your exterior walls.
The water beneath the gutters can damage the soffit and fascia board, adding extra costs for repair.
Constant water flow in your wall may cause mold and mildew to grow around your house foundation, endangering both your health and the foundation itself.
If you notice the presence of mold or mildew, it's best to schedule a roof inspection as soon as possible before the situation gets out of hand.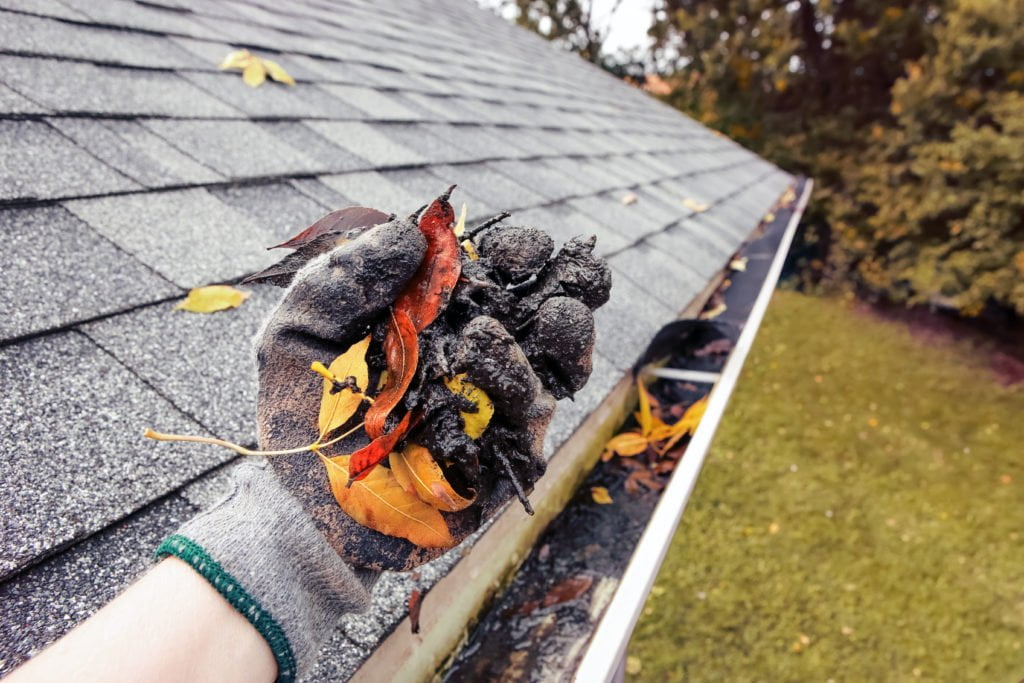 5. Saggy Gutters
No matter how busy you are, your sagging roof gutters are the most obvious warning that you should replace them. This indicates that they're heavy and they're pulling away from the house.
Heavy gutters may not be appropriate for the house because they won't efficiently perform their purpose.
Gutters are significant in your home, and they act as a defense force against the wind, heavy rain, etc. They send water to your drainage in order to keep your property secure.
Water is one of the damaging factors that may turn your home environment into a disaster.
6. Pool Of Water Around Your House
Gutters are one way to prevent water damage to your home. They're designed to keep water away from your property, so pools of water around your foundation will be uncommon. If there's water around your home's foundation, the gutters aren't functioning as they're supposed to.
Even though water pools in your home can also be caused by something simple like drainage issues or a lousy plumbing system, it's still best to check on your gutters when doing your yearly home checkups to avoid costly, time-consuming repairs.
Conclusion
If the damage isn't as intense, consider fixing it with nails, fasteners, and screws to keep your gutters tightened to the roof and fascia. Repair your drains if you can.
However, if you constantly experience the above signs, it's time to replace them.