If you've been dreaming of a more stylish and up-to-date home, it might be time to start your own remodel. You don't have to take on a massive renovation project to make a big impact; even small changes like redoing your flooring can make all the difference.
Laminate flooring is one of the most popular options for homeowners looking for a flooring option that looks like hardwood and can be installed for a much more affordable price. It's also easy to clean and holds up well over time. They can easily blend in with your home's style as they are similar to stone and wood.
Installing laminate flooring isn't a difficult job, but it requires careful attention to detail. Let's discuss the steps to installing laminate flooring and the tools you'll need to complete the job.
Why Install Laminate Flooring
The following are a few reasons why installing laminate flooring is a great option for home improvement:
Looks good but doesn't cost too much: Laminate flooring looks like wood, tile, or stone but is much cheaper than those materials.
Easy to install and maintain: It is DIY friendly and doesn't require any special tools for installation.
Scratch and impact resistant: If you have pets or children, laminate flooring is a great choice as it can take a beating and not show any signs of wear and tear.
Low maintenance and extremely durable: Laminate flooring lasts between 15 to 25 years and is easy to care for.
Tool You'll Need
Here are some of the tools you'll need for successful laminate floor installation:
Measuring tape
Hand saw
Pull bar
Level
Spacers
Hammer
Utility Knife
Floor Scraper
Step-by-Step Guide to Installing Laminate Flooring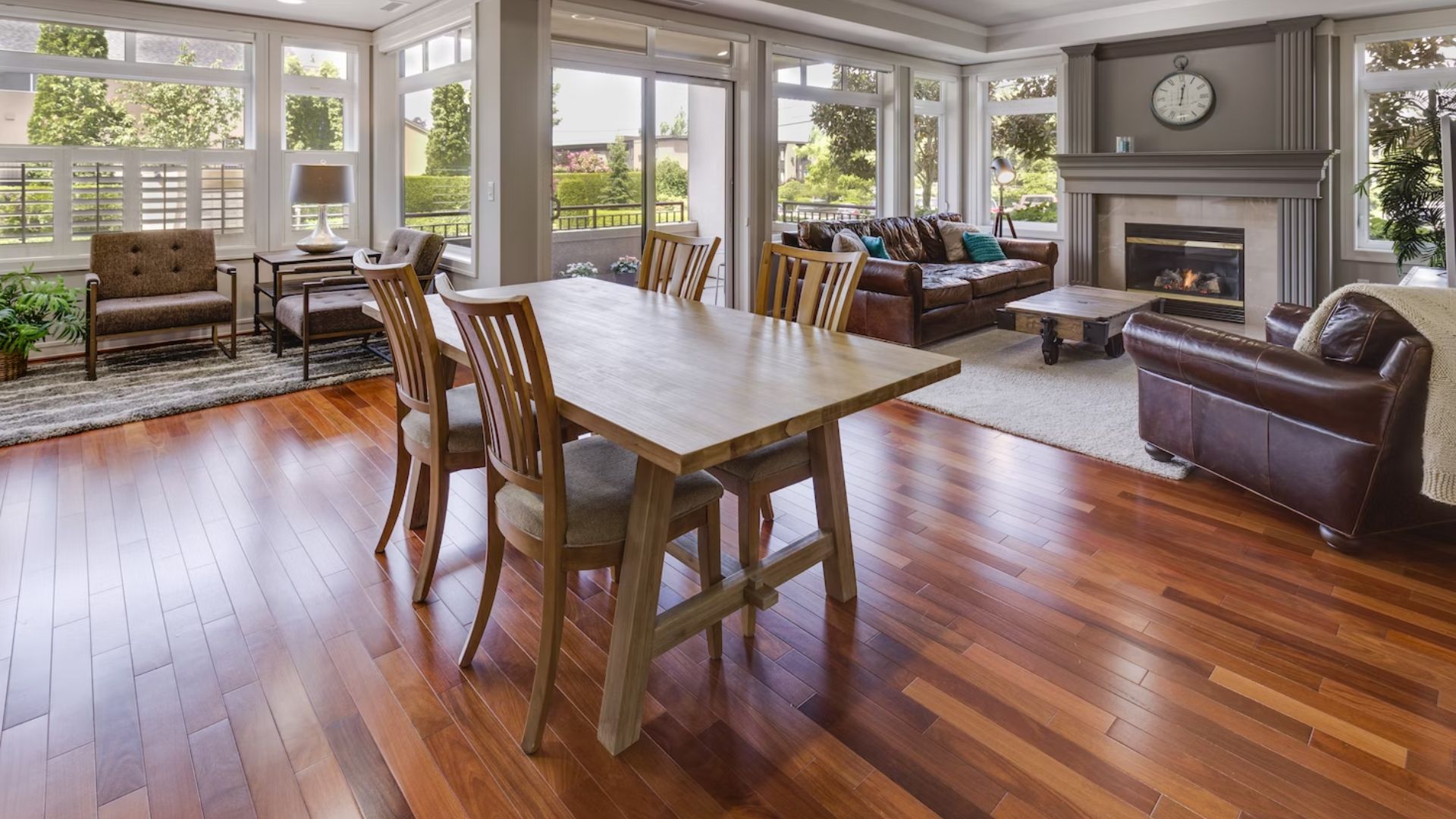 Source: Unsplash
This step-by-step guide will walk you through the basics of laminate flooring installation:
Confirm Measurements
Before removing the old flooring, measure the room, as you will need to know how many planks are needed to cover the space. Use a measuring tape and record the length and width. You can also use a square footage calculator to determine the room's total area and how many planks you'd need to fill the space.
It's best to purchase 10% to 15% more than the calculated amount to ensure you have enough planks in case of errors or damage.
Remove Existing Flooring
Before you start installing your new laminate flooring, take a look at the existing floor underneath. If it's in good condition and flat, you can lay your laminate flooring directly over it. However, if the existing floor is bubbling or not even, it's best to remove it using a floor scraper.
Install Underlayment
It's recommended to use underlayment when installing laminate flooring. Underlayment acts as a thermal barrier and helps to absorb sound, ensuring the floor doesn't make too much sound when walked on.
It also helps to ensure the floor is level and even so that it looks great once installed. To install underlayment, start by unrolling it across the room and use a utility knife to cut pieces as needed. Don't overlap pieces, as this can create raised edges on the floor.
Trim the Door Jambs
To trim your door jambs, start by laying a plank along the side of the jamb and marking it. Then, use a handsaw to cut parallel to the floor to create a cutout that fits neatly under the jamb.
Install the First Row
Begin by laying the first row of laminate flooring parallel to the longest wall in the room. Getting this first row straight is important to ensure each successive row fits perfectly. It's best to start on the right start and slowly work your way left.
Lay down a full-size plank against the wall and place 1/4 inch spacers between the board and the wall at intervals of 12 inches. Gently tap on the plank with a hammer until it's properly secure.
If you're using an underlayment foam, make sure the plank is lying flat on top of it.
Finish the Rest of the Floor
Continue installing laminate flooring from right to left until you reach the other side of the room. When you get to the other side, cut the last row of planks to fit accurately.
To do this, use a handsaw or a circular saw and cut in the same direction the planks are lying. Use a pull bar to secure the last row of laminate planks.
Key Takeaways
Installing laminate flooring is a great way to upgrade the look of your home and
increase its value. It requires minimal maintenance, is durable, and can be installed without professional help.
Here's a step-by-step guide to installing laminate flooring:
Confirm the room's measurements to determine the number of planks needed.
Remove any existing flooring with a floor scraper.
Install underlayment for sound insulation and to ensure the floor is even.
Trim your door jambs using a handsaw and cutting the plank parallel to the floor.
Begin installing the planks from right to left while leaving a gap of at least 1/4 inch between the wall and flooring.
Use a pull bar to position the last row of laminate planks.