When you get back home after a tiring day at work, how do you want to feel at home? "Comfortable, cosy, and relaxing"- perhaps, this will be your answer! And what makes your home feel so? Soft furnishings? A big Chesterfield sofa in the living room? Or is it the luxurious Murphy bed in your bedroom? These are perfect cosy corners to relax, but they are only add-ons in your interior designs. 
Your home is a retreat that offers you the ultimate peace of mind and soul from the busy world, and you must perceive this feeling the moment you step on the threshold! A key aspect of owning a warm and inviting abode is choosing the ideal color palette during interior painting Ottawa. It is the most intricate component that lays a considerable impact on the entire perception of a space.
With paint colors you can play around with your mood! You can make your living room bright, chirpy, and full of zest or keep it cool, calm, and relaxing. Professional painters can assist you in picking the right hues that will display your temperament while keeping track of the interior decor.
There are plenty of warm colors for interior painting proposing diverse decor styles. Whether you want to keep it traditional or modern, add the delicate feminine or brawny masculine touch- there is something for everyone!
So, even if paint may seem only a subtle detail to make a space look colorful, it is still the most impactful element to create an overall ambience. Let's probe deeper into this discussion.
Paint Colors and More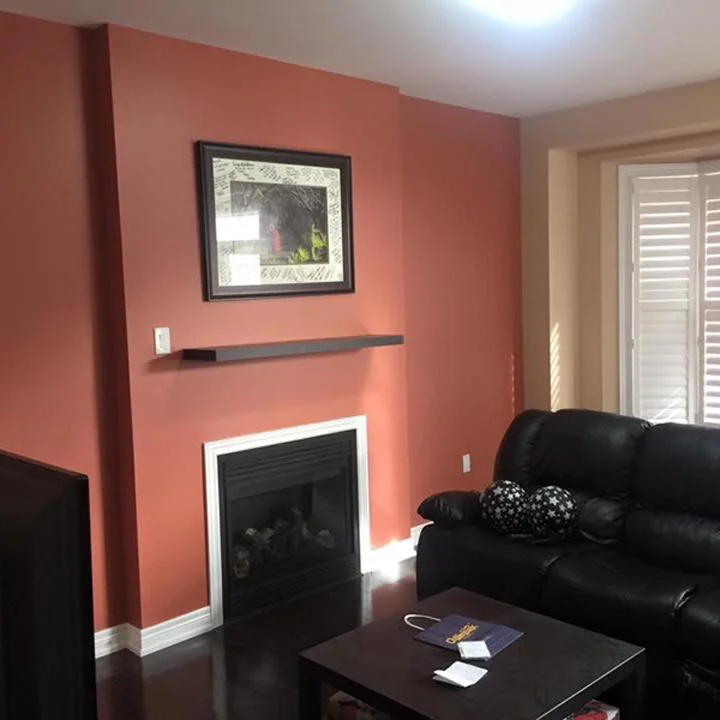 When you approach a professional painter to paint your home's interior, the first thing he asks you is, "What type of ambience do you want?" The pro painters will assist you with colors and finishes depending on the aura you wish to set in. It is because even a lick of paint on a wall can create a poignant accent!
Painting has always been the most economical way to induce a powerful makeover. Interior painters consider it the only potential tool playing a vital role in bringing about a crucial segment of your home decor.
Moving on to paint colors, they can be broadly classified into two palettes:
Warm Colors- These colors are an excellent option for creating a cosy and inviting ambience. It will remind you of the warmth and snug of the Sun on a chilly and frost-biting winter morning. In other words, you receive a homely, plush, and pleasant feeling that evokes your spirit with a sense of luxury.
Cool Colors- This palette is ideal when you want to induce calmness, serenity, and freshness like that of a deep tranquil sea. It is perfect for relaxation and indulging in some peaceful alone time. Most spas and therapeutic salons have cool interiors to encourage a revitalizing ambience.
Thus, the color palette for interior painting is typically based on these primary hues that come in limitless shades. Every shade is unique and emanates specific dispositions.
Get the Right Amount of Cosy and Warm Vibes!
Warm colors can make the brightest and biggest space feel snug and intimate. You will feel the warm embrace of a closed one when you enter the room. Such is the power of choosing the right shade of warm color! Interior painters recommend the following colors that instigate the right amount of saturation topped with the perfect balance of warm vibes:
Brown- It is one of those neutral tones that impose great warmth and cosiness in any room. Walnut, Chocolate, Caramel, Coffee, Brunette, or Cedar- no matter whichever hue you choose, you can easily pair it with other colors, including your home decor. Offering an extensive range of shades, brown is always the most sought warm color in any season!
Clay- Again a neutral shade delivering a sense of sophistication, luxury, and warmth. With a tinge of the darkest brown and red, this color provokes the ideal appeal for a snug and comfortable feeling. Often infused with undertones of magenta and walnut brown, you can apply it in your bedroom or reading room to enjoy the perfect welcoming note!
Yellow- For interior painting, yellow is a classic shade, denoting a lot of warmth and cosy vibes. The color of the Sun speaks for itself! No wonder a variety of yellow hues is preferred by any homeowner for the living room and office room for its outstanding stimulating capability. It does energize the spirit, yet you get a very inviting and snug feeling.
Green- When sage green is a neutral shade, pesto, moss, and black forest green are the darker tones that infuse cosiness to the right degree. The deepest green is a preferred color, recommended by interior painters when you want to keep it rich, textured, and classy. Apart from an impressive color payoff, dark green is a good choice for a contemporary, bold look.
To sum up, it is all about choosing the right color palette that makes your home warm and inviting. You can experiment with the shades and seek assistance from professional painters for the setting in the ideal cosy temperament! Go paint!