Your outdoor space is where you can spend time relaxing and reconnecting with nature. It's a great place to host guests and entertain family and friends. It can also be a place where you de-stress and read or perfect some of your yoga poses.
There are many ways to make sure that this space is welcoming and tranquil for members of your family and your guests. The ideas below can transform any drab outdoor space into a picturesque stress-free zone with a view.
1. Get A Fire Pit Table
Australian Made Fire Pits have become quite popular amongst homeowners, especially those that love to grill outdoors. It is because they are a great addition to any outdoor space. When you are not using the firepit, you can use it as a tabletop when it's covered.
It is also a great example of double-duty furniture where you can enjoy warm nights and eat outside with family and friends, turning your outside space into a more intimate space.
There are many design options to choose from when picking the type of firepit you want outside, so take your time deciding.
2. Get Built-In Benches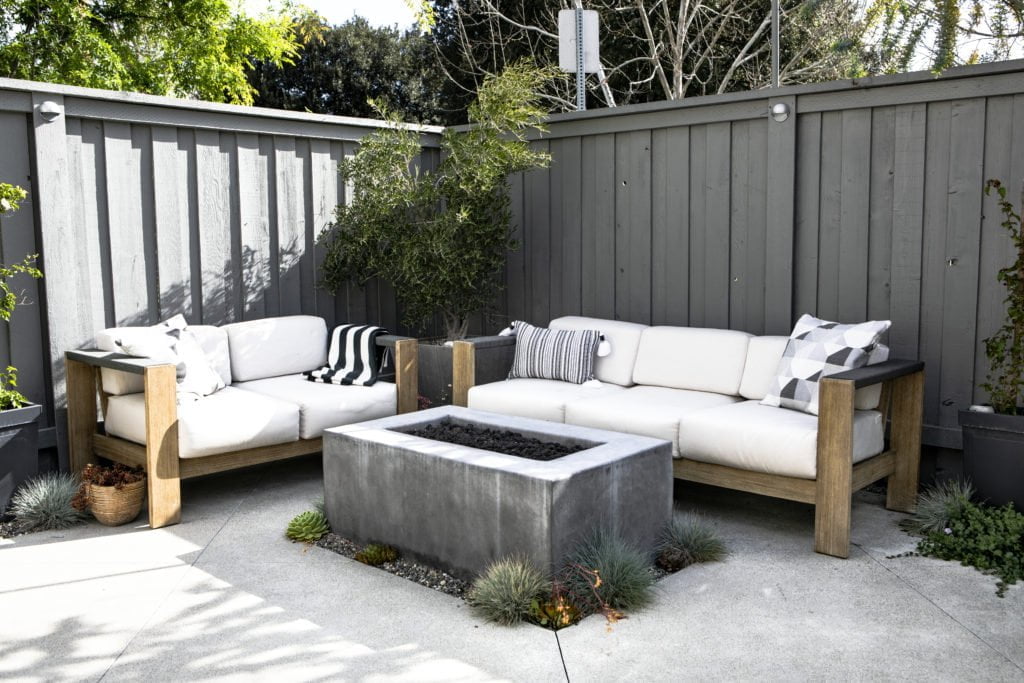 If you own the home you are staying in and are not renting, getting built-in benches is a great option to have in your outdoor space. Built-in benches can be made from any material such as quartz, concrete, or wood, to name a few.
You can build your benches into any corner outside that seems a little empty. There are many styles and colors to choose from; you can customize the benches to suit the backyard in the color and style you desire.
It can make a great outdoor dining space for your family and guests, and you can host many events in this space.
3. Invest In Hidden Storage
An excellent way to maximize the space you have in your outdoor space is by investing in hidden storage. It is also great for people who like to host but don't want to keep all the great cutlery, pillows, and table cloths outside the entire year.
You can store your things in outdoor storage spaces, ensuring that they are nearby for those surprise events. It can also be a great place to store any extra China and table decorations for those special occasions like engagement celebrations or baby showers.
4. Purchase Double Duty Furniture
Double-duty pieces of furniture are a great addition to your outdoor space. One example of this is outdoor storage boxes that also double as seating. It's a convenient way to utilize the space outdoors without cluttering. You can get a stool that can double as a side table or even large throw pillows that can also double as floor cushions.  
When buying outdoor furniture, check the material and quality. You can try the store's furniture display to have a feel of the sturdiness of outdoor chairs. Also, don't hesitate to ask the sales rep some questions, such as the materials used and the edge of a particular design to other furniture pieces or brands. Furthermore, take time to research different outdoor furniture options (like rattan, plastic, metal chairs and tables, etc.) available and buy one that you can use for many years.
You can also buy double duty furniture online. It's convenient, and the prices are reasonable. Dreamo Living and other trusted online furniture stores offer various designs of outdoor tables, chairs, and other furniture pieces. Whether you want an elegant balcony, patio, or conservatory, you'll find the perfect outdoor furniture online to spruce up your exterior.
5. Lay Out An Outdoor Rug
Outdoor rugs are a perfect addition to your outdoor space, especially if you want to inject a pop of color. They can help define the outdoors in terms of its space. Get a rug specifically made for the outdoors as it can be made from durable material that can withstand the outside environment and temperatures. Make sure you get more than one type of rug so you can change them whenever you want or if you have a themed event. 
When buying outdoor rugs, choose water-resistant or waterproof ones to ensure longevity. The best materials for making outdoor rugs include nylon, acrylic, man-made polypropylene, and polyester. These non-porous materials are synthetic fibers that can withstand fading, stains, mold, and mildew. 
Some of the best outdoor rugs include Norwegian, Bohemian, Asian, and Scandinavian designs. These high-quality rugs are made by master artisans in native localities. You can buy outdoor rugs online, but make sure you'll deal with authentic brands.
6. Try Some Faux Grass
Faux grass is an excellent option if you live in a high-rise building or apartment. You can place this grass on the patio or balcony to create the illusion of authentic grass without the bugs and dirt. If you want to make it look more realistic, you can place the faux grass in an entire defined area and eliminate any harsh edges that can expose the grass.
7. Start A Tiny Garden
If you live in a home that doesn't have a large outdoor space, this can be a good option. You can make a container garden by arranging several small pots for planting.
It gives you more flexibility in terms of space, and you can invest in as many potted plants and flowers. You can also move the plants around in your desired color scheme or layout for the small garden.
8. Hang Drapes Outside
Hanging drapery panels into your outdoor space can make your outdoor space feel more homely. You'll be able to create some privacy and shade for your family and guests from the sun when you are hosting events. If you don't have an overhead option to hang up the drapes, then you can invest in some wooden framing that you can hang your drapes on.
9. Put Some Throw Pillows Outside
Some people think you have to keep accessories down to a minimum for outside spaces, but that is not the case. You can get as many pillows, drapes, and rugs as your heart desire, as long as you ensure that they are durable and specifically designed to withstand outdoor conditions. There are mildew-resistant pillows you can place outside to inject color and add a cozy ambiance to the space.
10. Paint Your Outdoor Deck
If you want to go bolder for your outdoor space design, you can paint or re-paint your outdoor deck. You can get an artist to do commission work for your backyard. You can get them to paint anything you like, from anime characters to a simple color rejuvenation job. There are many great colors and designs to choose from, and once finished, you may enjoy your desired outdoor design.
Conclusion
Sprucing up your outdoor space with these ideas and tips will allow you to create a Zen-like space for your family and guests. You can have a place to unwind and bond with family and friends. It can be a wonderful space to feel close to nature or pursue hobbies like gardening. So, visit your local home department store and upgrade your outdoor space into a small paradise.