Your home's heating, ventilation, and air-conditioning (HVAC) system are vital as they affect people's comfort. For one, an HVAC system can improve the air quality indoors and keep the household safe from allergies. This fixture also boosts the family's comfort, positively impacts their productivity, and helps you save energy in the long run.
An HVAC system impacts the quality of your life, which is why you should hire the best contractors the moment you notice it's not working correctly. HVAC contractors have undergone training and have in-depth experience repairing all sorts of HVAC-related problems.
Finding these professionals would be a lot easy with the help of an HVAC marketing agency.
Here's how you can find the best professional HVAC services for your home:
1. Seek Referrals
Do you see yourself overwhelmed by too many HVAC contractors operating in your state or city? Finding the best hvac contractor will become easier when you seek referrals from people you know.
Reach out to friends, family, colleagues from work, and other parents at your child's school and ask some of the best HVAC contractors they've worked within the past. Since these people have first-hand experience working with certain contractors, they can provide in-depth information about the service—from the quality to the cost and the contractor's professionalism.
If you never hired an HVAC contractor, you can also ask for information from your social circle about unreliable contractors or companies known to scam people. This is crucial to ensure as you don't want to spend money on services that won't do any good to your home's HVAC system.
2. Do Your Homework
After receiving referrals, it's time to roll up your sleeves and do some homework. Look for the highly recommended HVAC contractors' names online to know more about them. Use this opportunity to verify information provided by friends and family, especially regarding costs and services offered.
You can also use the internet to look for online reviews left by previous clients. Were clients happy and satisfied with the services provided by the HVAC contractor? Or were they frustrated and felt that they should've hired others? Take note of these reviews, as these can help you manage your expectations on a particular HVAC contractor.
Since the internet is accessible to anyone globally, take negative reviews with a grain of salt. These will give you an idea of how an HVAC contractor operates but all aren't accurate or valid.
3. Assess Their Experience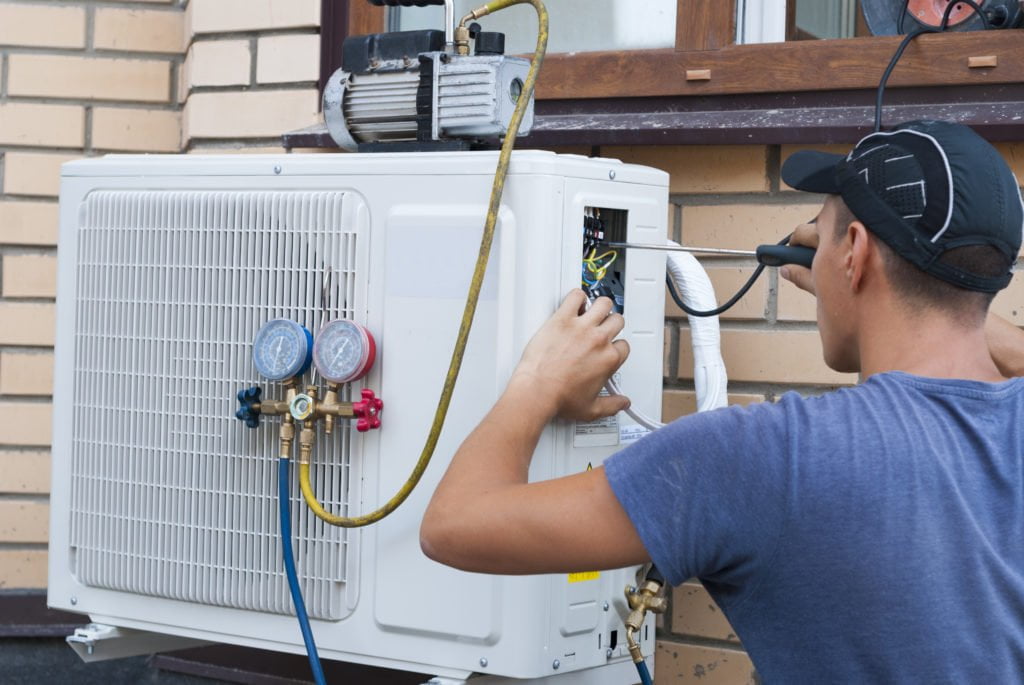 One of the reasons you're willing to spend money on hiring HVAC contractors is that you don't have the experience they have. Sure, you can read articles and watch videos on HVAC repair and maintenance, but even these resources aren't enough to equip you with the experience that HVAC contractors have.
Ensure that you get value from your hard-earned money by assessing the experience of the HVAC contractors you're eyeing to hire. How long have they've been operating in the industry? Do they have experience working on the type of cooling or heating system you have at home? These are just some of the questions you should ask to find the best HVAC contractor.
Ideally, you should hire an HVAC contractor with years of experience in the industry. Their longevity in the industry indicates that they can resolve any HVAC-related problems and satisfy clients.
4. Ask For Verification
After following tips one to three, you'll likely have a shortlist of some HVAC contractors that meet your preferences. To know each of them better, reach out and ask for verifications. The documents they can present will help you determine whether the contractor has the necessary skills to operate as one.
One of the most important documents you should require from an HVAC contractor is their license. Licensed contractors have undergone training needed for the job, and hiring them will give you peace of mind knowing that they know what they're doing and have the tools to do it.
Additionally, don't forget to ask if the HVAC contractor is insured. The HVAC contractor you'll hire should have at least general liability insurance. This type of insurance will pay for injuries sustained at job sites and property damages caused by the contractor. Thus, working with a licensed HVAC contractor will help you stick to your budget.
Knowledge Is Power
HVAC systems can be an expensive investment. But, aside from the money you'll pay, your ability to enjoy your HVAC system depends on the contractor you'll hire. You would want to hire an HVAC contractor that will extend the lifespan of your HVAC system—hiring the wrong contractor can only worsen problems.
Treat this article as your guide to finding the best HVAC contractor in your area. When you know what to consider, narrowing down your options will be a breeze!