Creating your dream home requires attention to detail. It involves being meticulous in design, comfort, and functionality to build a safe and beautiful abode. That said, choosing the perfect windows for your dream home is crucial.
Selecting the windows for your dream home can be tricky. It's easy to get confused with various options and designs. Knowing different types of windows, joineries, and glazing can help you make the right choice.
Here's a quick guide to choosing windows for your dream home.
1. Window Types
When choosing the best windows for your dream home, you must look at the different types and designs. This way, you can determine which is perfect for the exterior and interior design of the house. Your architect or designer will guide you if you're building from scratch. You may also visit Window Factory and other window manufacturers in your area to see your options.
Sliding
Sliding windows are perfect for various home styles, from traditional to modern. They're sleek and minimal in design. The mechanism is also very straightforward, as you can quickly open or close it by sliding left or right. You can also place them in different parts of the house.
Awning
An awning window is standard for allowing ventilation within the space without compromising security and privacy. This type of window opens outward and is commonly placed in bathrooms. However, awning windows can also be mixed with other window types like fixed and casement windows.
Casement
Casement windows are some of the oldest window types that have been used in traditional homes for centuries. It opens outward, so it requires clearing an additional exterior space. It also goes well with various home styles and efficiently maintains the home's temperature when shut.
Fixed And Shaped
Fixed and custom-shaped windows are windows that don't open. These are often installed on top of other window types to let more natural light and in rooms where ventilation isn't required. However, some are picture windows, perfect for capturing the outdoor scenery from your home.
Bi-Fold
Bi-fold windows are perfect for opening up your home to the outdoors. Most homeowners prefer installing this window through the kitchen and outdoor dining space for serving meals. If your dream home is in a secluded location with incredible scenery, this window type should be on your checklist.
Louvre
Louvre windows aren't as popular as the other types, but some home designers still use them today. This window type comprises glass slats that enable good airflow while keeping the moisture out. However, it's not ideal for locations with harsh winters since the louvres don't seal as tightly as other windows.
Skylight
Skylight or roof window is typical in tiny homes and houses with attic rooms. It's perfect for star gazing and helping the hot air flow out of the house. Some skylights come as fixed windows, while some open like a hopper or awning window.
2. Frames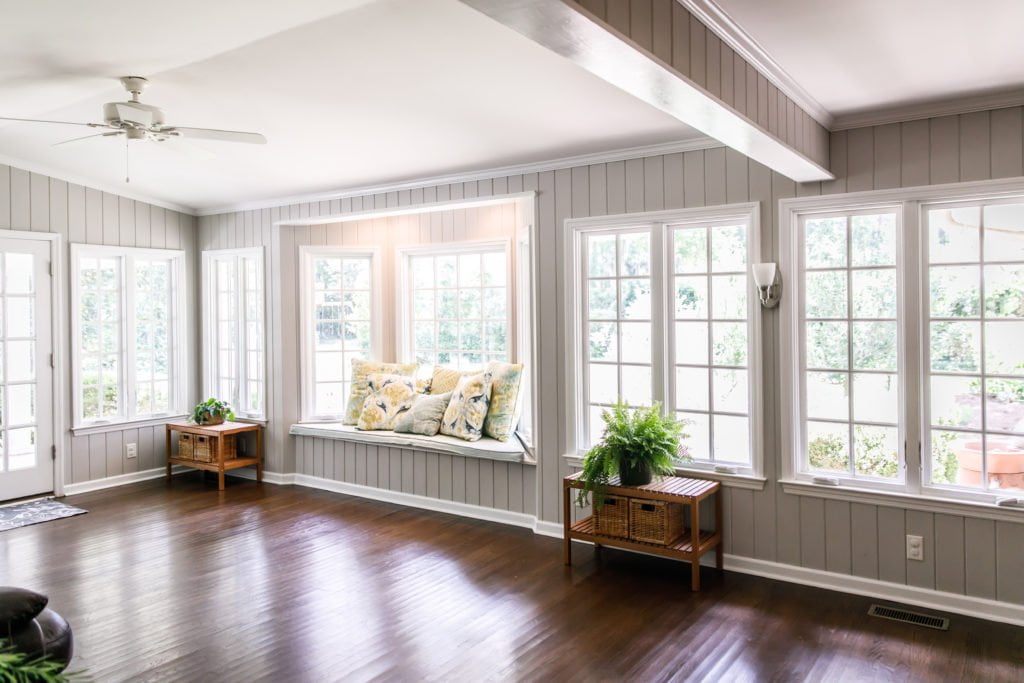 Installing the best windows for your dream home is more than the design. It would be best to consider the most durable, cost-effective, and low-maintenance window frames. Doing so ensures the safety of your home without having to break the bank.
Aluminum
Aluminum is a durable, lightweight material widely used in construction. Aluminum is ideal for window frames and joineries since it's weatherproof and requires little to no maintenance. Most aluminum frames are also ready for retrofitting double-glazed windows. Plus, it's the most affordable option for excellent quality.
Timber
Timber has been a widely-used material for building homes for centuries, including window and door frames. However, it's less durable and heavier compared to other framing materials. Wood is also a high-maintenance home feature that requires regular repainting or staining to keep its elegant look.
Unplasticized Polyvinyl Chloride (uPVC)
Another excellent option for window frames is uPVC. It's lightweight, highly durable, and resilient to water damage. For some regions, uPVC frames may cost more or less than aluminum. However, both materials are tough and low-maintenance.
3. Glazing Types
After picking the window type and framing, you can now decide which glazing type is perfect for your dream home. These are some of the most popular glazing types you can choose from:
Single-Glazed
Single glazed windows are suitable for homes in temperate regions. Since the window only uses one glass pane ranging from 3-10mm thick, heat and sound can still pass through. However, it's efficient enough to keep moisture and rain out.
Double or Triple-Glazed
Double and triple-glazed windows are the most energy-efficient in heating and cooling the home. A double-glazed window has two glass panels with a total thickness ranging from 24-28mm, while a triple-glazed window has three glass panels with thickness ranging from 28-44mm. These two are ideal for locations with harsh climates since they perform the best for insulation.
Tempered Glass
Tempered glass is also a smart option for your dream home. It can also keep the heat or cold inside your home and does not break easily. However, tempered glass windows are not soundproof like double or triple-glazed ones.
Conclusion
Knowing the essentials of choosing windows is imperative in building your dream home. Considering the window designs, types, framing, and glazing is crucial to making the smartest choice. Therefore, use the information discussed above to guide you in choosing the best windows for your dream home.