Loft conversions can be turned into bedrooms, playrooms, hangout spaces and home offices, but is there room for more? Is there enough space to turn a loft conversion into an apartment? Let's take a closer look at these exceptional home improvements and whether or not they could be roomy enough for an apartment space:
Why A Loft Conversion?
Loft conversions are a popular way to convert unused space between the ceiling of the top floor in your home, and the roof.
In areas like London, loft conversions are particularly popular because garden space is so valuable. One in eight British homes has no garden, and that figure jumps up to one in five in the UK capital of London.
If you are lucky enough to have a garden, the value pre-pandemic was thought to be around £90,000 in London. Post-pandemic, when over 7 million UK residents have now taken up gardening to help deal with stress, and with most of us wanting to know we have some private outdoor space in the event of another pandemic, the value could be twice that, or more.
Loft conversions don't require any garden needing to be compromised in the way house extensions do, making them a great choice for homeowners who want to preserve every square foot of outdoor space.
Loft Conversions Also Have Additional Benefits Including:
Various design options
Generally quicker to build than house extensions
Access to views of the surrounding areas
Beautiful natural lighting
Can be used as an apartment, bedroom, study, playroom and more
Could be used to rent out for hundreds of pounds a month
Quirky, unique layout and features to work with
Adds value to your home
Can help avoid the need to move house if functional space is all you're missing
Which Loft Conversions Can You Turn Into An Apartment?
To fit a complete apartment into a loft conversion there has to be enough space for the areas you would expect in this kind of dwelling.
A complete apartment would usually consist of: a kitchen, bedroom, dining area and bathroom. Of course, this can be in an open plan/ studio style layout with kitchen, bedroom and dining area all combined into one space.
For smaller conversions, you can also consider having an en-suite rather than a larger bathroom, and you may also wish to have a basic kitchenette rather than a completely fully fitted out kitchen.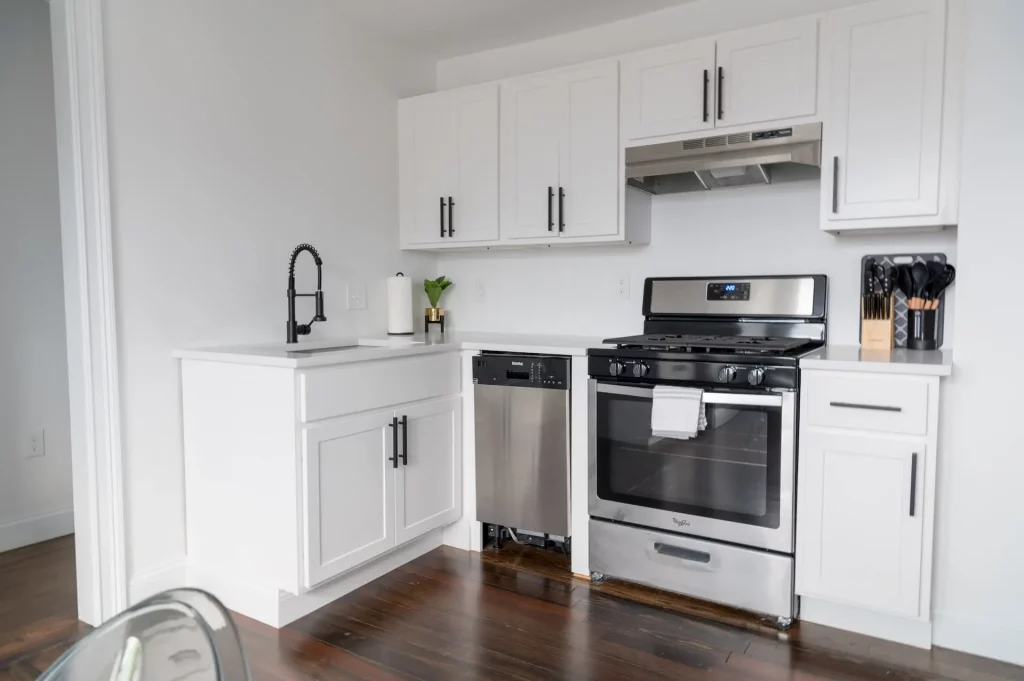 A simple and basic kitchenette that fits into a corner provides a high amount of functionality whilst taking up minimal space.
These kinds of clever design adjustments can ensure that the 'WOW' space central to the apartment remains spacious and beautiful, without taking away from the amenities you want to include.
Alternatively, if you do have a lot of space to play with, you can have multiple rooms without compromising on space at all. The biggest loft conversion types can include lots of separate rooms, including multiple bedrooms. Some people also choose to use partitions rather than true walls so that there's easy flexibility for layout change in the future.
As your home's footprint and the space in your loft is unique to your property, the type of loft conversion you can have is something to be discussed with your chosen local loft conversion company. However, in general, the most spacious conversion types tend to be:
L-Shaped Dormer
Double L-Shaped Dormer
Mansard Conversion
Of course, there are so many variables and combinations of structure types, that there are often ways to create additional space in a loft conversion design.
In some cases, you may only need a simple conversion but you have a large roof space, so you get enough room for an apartment without too much work needing to be done structurally. In other cases, loft conversion experts can work with you to design a compact space in such a way that it allows for a studio apartment setup.
The best thing to do is speak to a trusted loft construction company for more information on the possibilities for your home.
Legal Considerations
When you're considering the kind of work you would like done to your home for a loft conversion, you'll need to consider potential barriers like Planning Permission, being in a protected area of conservation and other legalities. Because of your intended use of the space being as an apartment, there may be more to do in the way of paperwork.
The important thing is to speak through your loft conversion goals with your loft conversion company, and they can walk you through the paperwork necessary. In some cases you only need Permitted Development, but it's always worth airing on the side of caution and working with the experts so that you're doing everything by the book.
Extra Entry
You may want to consider additional entry being added to your property so that the loft conversion apartment is completely self sustained. This will use up some of your outdoor space, may not be structurally possible, and it will involve extra legalities you may not get approval for.
However, it will help considerably if you plan to have a loved one live in the apartment semi-independently, or you plan to rent the apartment out. It means the people staying in the apartment have complete independent access to the space without having to come and go through your home, so it's a really beneficial feature to consider spending more on.
Speak To A Professional Loft Construction Company To Find Out If Your Loft Can Be Turned Into An Apartment
If you would love your unused loft space to be transformed into an apartment, speak to Clapham Construction today. They can help you to design your perfect new converted loft space into a stunning apartment, adding value to your home, and the potential for extra income, too.
If an apartment isn't suitable, they will be able to discuss alternatives with you, so that you can make the most of your loft space by having it turned into a functional, attractive room that you can use in multiple different ways.
Speak to Clapham Construction today to find out more about the potential of your loft space and make your next home improvement really count.