It's always a terrible circumstance to lose your home to a disaster. No matter the nature of the event or the extent of the damage, having to rebuild afterward is a daunting task that requires a lot of time and effort. You may have a difficult time thinking of where to start and how to go about it, especially since this expense and circumstance were not planned for.
However, this task isn't impossible. You can seek the help of professionals like Wright Restorations for restoration or rebuild your home at a reasonable and fair price.
Here are some helpful tips to help you successfully rebuild your home after a disaster.
1. Ensure Your Safety
When conditions permit, you may be eager to begin rebuilding your house, and the first thing you'll want to do is inspect the damage. However, you should remember that your safety is more important than your property.
Stepping into a wrecked house poses many risks that could result in you getting injured, which would only delay the rebuilding of your home even more.
When you set foot in your home, make sure to comply with the following guidelines, most of which are recommended by the US Department of Housing and Urban Development:
Before entering a damaged structure, have it inspected by a professional. Proceed only if it's considered safe to do so.
Wait until daylight to enter the house and survey the damage.
If there's a gas leak, leave the house immediately and call emergency services. Don't turn on the lights or anything that could cause a spark.
Wear protective gear, such as a hard hat, goggles, gloves, masks, and steel-toed boots.
If there are downed trees on the property, be extra cautious when operating a chainsaw.
Have a team to help you lift heavy objects and debris.
Be prepared for the weather and stay hydrated as you clean up or rebuild the structure.
After pumping out any water present or cleaning wet debris, ensure that the structure is dried immediately to prevent mold.
2. Document Everything
As you inspect the damage and survey your home, make sure to bring a camera with you and take photos. You could also use your phone instead if it's more convenient for you. Make sure not to forget about this step, as it's important for you to have proof of damage for your insurance company, federal aid, and your records.
While taking photos or videos of the property, pay special attention to the following items:
Serial numbers: Make sure to document the serial numbers of your appliances, electronics, and other damaged items, particularly if they're expensive.
Damaged walls, roofing, floors, and the like: Take photos of and from every corner of your home. Try not to leave any spot undocumented; there's no such thing as too many photos in this situation.
Material samples: If you find that your insulation got moldy, put some samples in a plastic bag. Take photos of your water-damaged flooring too. These will help you negotiate with your insurers over the extent of the damage.
Additionally, for documentation purposes, take photos of or hold on to receipts you receive during the rebuilding, be it for the work done on your home, the materials purchased, or other expenses related to the project.
3. Hire A Reliable Contractor
You shouldn't just hire the first contractor recommended to you; you need a reliable contractor who can rebuild your home back to its glory, if not better. Do your research on the available contractors in your area so you can make the best possible choice.
It's important to note that certain contractors, such as SERVPRO of Southwest Dallas and others, can restore specific damages, like water damage or fire damage. You may want to find one that can meet your specific needs and requirements.
4. Make A Checklist
Before you start cleaning, restoring, and rebuilding, you should make a checklist so that your tasks seem more manageable.
Your checklist should include each detail of what needs fixing, from the tiniest dent in the wall to the huge one in your roof. Remember, no damage is too insignificant to be listed down. Having a complete checklist will help you figure out what needs to be done and how.
5. Tackle What Can't Be Delayed
Some work can't wait; there may be certain aspects of your home that may require immediate attention. If your house was damaged by flooding, for example, you should do the following as soon as possible:
Water clean-up: This is the first thing you should do after your house is exposed to flooding. You can use mops or towels to clean up small puddles or pools, whereas wet-dry vacuums and sump pumps would be better for dealing with major flooding.
Mold prevention: You can use a sledgehammer to take down some walls. To prevent mold, open up any wall that may have been flooded, even if it appears undamaged from the outside. You may also want to check cabinets, floorboards, and other structures that got wet.
Remove furnishing and carpets: If your couch got soaked by flooding, you should take it out of the house immediately to prevent mold. The same case applies to carpets and other furniture that may have gotten soaked. You don't have to dry everything right away; the priority is to get all soaked items out of the house first.
While some tasks may require immediate attention, not all of them can be handled by just anybody. Some things, such as electrical work, should only be done by a professional.
To avoid danger and further damage, you should stick to tasks you know are safe for you to do and leave the rest to professionals. For extra precaution, you should ask your contractor what you can help out with before attempting to do anything.
6. Protect Your Belongings
A damaged home can't provide good protection for your belongings. If there are items or furniture that somehow survived the disaster or sustained minimal damage, you should remove them from your home and store them elsewhere as you proceed with rebuilding your home.
You can have the items sent to wherever you're staying in the meantime. If there isn't enough space at your current residence or if you have a lot of furniture to store, you could also just rent a storage unit for the duration of your home's reconstruction. This may be an extra expense, but remember that protecting your possessions is cheaper than replacing them entirely.
7. Prepare To Negotiate With Your Insurance Provider
Getting compensation from an insurance company isn't always as simple as filing a claim. You should be prepared for negotGetting compensation from an insurance company isn't always as simple as filing a claim.
You should be prepared for negotiations. Ideally in this situation, you should hire insurance claim experts because they know how to tackle insurance companies and help you in providing the maximum amount possible.
First of all, you should ensure that you have the proper insurance. Suppose your home isn't insured or your policy doesn't cover the specific natural disaster that happened. In that case, you may require government assistance.
If you have an insurance policy, follow these steps when putting together your claim:
Report your claim as soon as possible.
Provide all your receipts and other documents, including lodging receipts if you resided in a hotel following the disaster.
Make sure the insurance company adjuster who surveys the damage is certified.
Keep a record of what the adjuster says or doesn't say during the survey.
If the settlement doesn't satisfy you, file an appeal with your insurance company. If the appeal isn't granted, you may want to consider hiring an attorney or sending a complaint to your state's insurance regulator.
8. Rebuild And Restore Better
Though it came about through terrible circumstances, you have the opportunity to rebuild your home to your liking.
This is a convenient time to improve your kitchen and redesign the other sections of your home. Whatever project you may have dreamed about before, this could be the ideal time to make it happen.
However, you shouldn't only focus on the aesthetic changes you could make. Work with your contractor to improve important aspects of your home, such as basement drains and exterior grading. Take this opportunity to toughen up your home's walls and install a more durable roof. These improvements are crucial if you want to avoid having your home damaged by another disaster in the future.
9. Take Care Of Yourself
Taking care of yourself is important when rebuilding your home after a disaster. Since you'll be making a lot of important decisions in the process, you should take care of your mental and physical health.
Recovering from a disaster, especially after your home is wrecked, can be harrowing and may lead to long-lasting issues. According to the U.S. Department of Health and Human Services (HHS), mental distress after an emergency can lead to the following:
Emotional problems such as excessive sadness or irritability
Physical symptoms such as stomach pains, headaches, or difficulty breathing
Cognitive dysfunction such as inability to make sound decisions or follow directions
Behavioral changes such as excessive consumption of alcohol or interpersonal conflict
Failure to adhere to required physical and medical needs
If you're experiencing any of these symptoms, you should seek the help of mental health professionals as soon as possible. Continuing to work too hard or be too hard on yourself will only make the matter worse.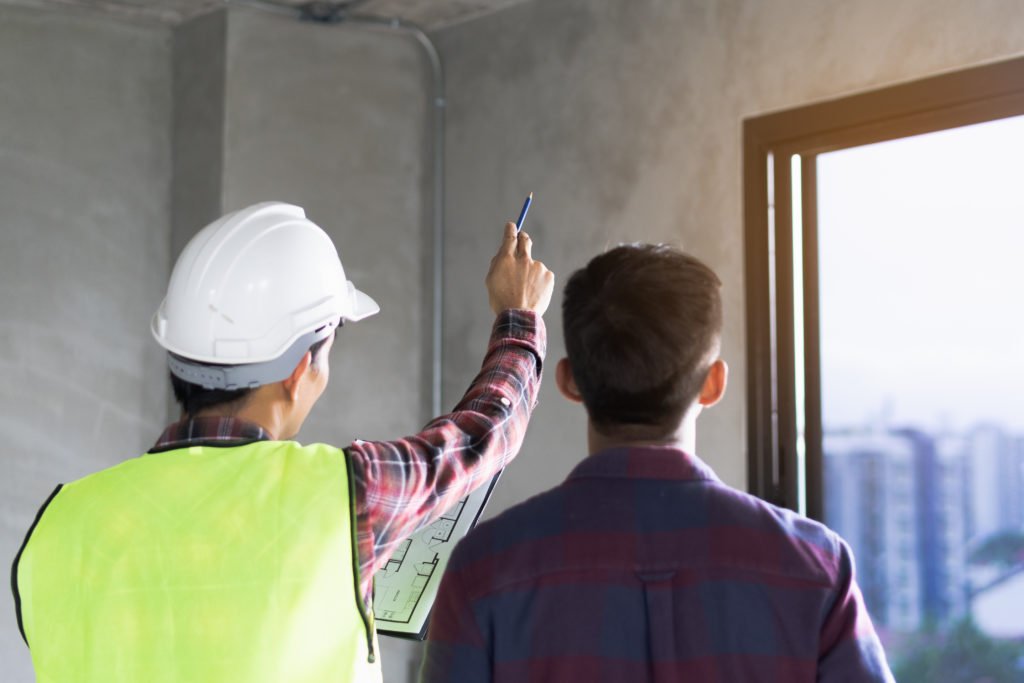 How To Protect Your Home From Disasters?
Now that you've learned the important steps for rebuilding your home after a disaster, it's likely you'll want to protect your home from future disasters.
Suppose you live in an area prone to natural disasters, such as flooding, hurricanes, earthquakes, wildfires, or tornadoes. In that case, the following tips can help you protect your home against such disasters.
1. Flooding
Flooding may occur due to heavy rainstorms or hurricanes. If these are regular occurrences in your area, there are several ways you can ensure that your home is protected from floods.
First, you should understand how water moves around your home. The grading or the ground slope can either bring water into your home or drain it away.
If you have a good grasp of the conditions around your house or in your area, you can take the necessary measures to ensure that water is led away or kept away from your residence.
You can also do the following:
Elevate or tie down outdoor items, such as fuel tanks and patio furniture.
Adjust water valves to ensure water flows out of the sewer automatically.
Retrofit your home to ensure it sits above flood level.
2. Earthquakes
Earthquakes often occur unexpectedly, and if your previous home was affected by an earthquake, you may want to be prepared for future ones. The following steps can help you make your home earthquake-proof:
Ensure that the foundation of your home is bolted.
Secure heavy objects in place.
Strap your gas heaters down to prevent them from tipping, which may lead to fires.
3. Wildfires
Unfortunately, no home is completely safe against wildfire. However, there are things you can do to try to mitigate the damage it may cause.
First, remove dead grass or any vegetation around your home that can catch fire. If you have firewood in your compound, keep it a safe distance from your house. Instead of timber, use fire-resistant materials on the roof's edge and replace wooden patio furniture with fire-resistant ones.
Additionally, don't overlook the importance of a defensible zone. This refers to a 5- to 10-foot boundary you set around the perimeter of your home.
4. Hurricanes
Most people assume it's impossible to protect their home from hurricanes. However, this isn't exactly true. You can still protect your home from some damage that a hurricane might cause.
Fortunately, you're usually warned when a hurricane is expected to come to your area. So, before you evacuate, make sure to board up all entry points since they're the weakest points. Use plywood or storm shutters to protect the glass from shattering and thus protect your home's interior.
Next, make sure to tie down items that can be carried away by strong wind. This may include furniture, toys, yard decorations, and outdoor tools.
Power outages are likely to occur during hurricanes, so you should unplug all appliances and electronics before leaving. If possible, you may want to invest in a generator so that the food you leave in your refrigerator won't spoil during an outage.
Conclusion
Dealing with the aftermath of a disaster and having to rebuild your home is one of the most difficult experiences you could encounter. It may be a stressful undertaking, but the steps above can guide you and help you facilitate the safe and fast rebuilding of your home.