A sleek and luxurious kitchen is a combination of getting many kitchen elements right. These range from sophisticated hardware like sleek electronics, and artistic countertops, to little details like window treatments and light fixtures. All these details contribute to the impression and final look of your kitchen.
Touch of Glamor
Metallic material is classic and synonymous with the glam effect, perfect for any space. You can choose a gold metallic theme from your cabinet hardware to the trim around your windows. Match the metal with taps, cabinet handles and metallic stands on the breakfast seats. Remember to look for matching chandeliers to complete that look.
Wood Factor
Wood never grows old, and every generation reinvents designs bringing forth interesting and fresh techniques. You will find dark, sophisticated timber cabinetry designs like black cabinetry by Best Online Cabinets in some luxurious high-end kitchens.
Traditional craftsmanship and hues of antique furniture have featured in modern design pieces and contemporary details. Also, combining lighter finishes and dark tones balances the feeling of depth and solidity.
Well utilized wood, like pairing veneers to dark marble, will give any space an impressively sleek and luxurious kitchen.
Consider Luxury Surfaces
Standard flat slab countertops are common, with nothing to write home about. If you want to elevate luxe in your kitchen space, invest in a wall fall countertop that creates a dramatic look. Porcelain makes some of the best countertops in the market.
A Statement Island
Kitchen islands are a great focal point that you will need to harness their full potential. Choose design twists, bold shapes, and materials that will make a statement in your kitchen.
Engage your creative juices and indulge in the endless possibilities by getting a unique island shape. While this is a brave and scary move, the outcome can pay off incredibly, thanks to the visual impact of a sleek, modern kitchen.
Let There be Light!
Light has a beautiful effect on any space. Did you know you can use light to bring luxury into your kitchen by evoking depth and interest?
Consider installing light elements that share a design with your kitchen furniture and give your space a sophisticated look. Match the lights by shape, and thickness, then coordinate the finishes.
Get artfully aligned lights that match something else in the house. Remember to match anything you buy to the rest of the items at home. Lacquer all brass items to retain uniformity. You may also opt to have all items not lacquered to match. Change the taps to a neutral color like black, which goes with any metal.
Open up all possible spaces to allow natural light into the kitchen. Reflective surfaces and a mirror for small kitchens are perfect for bouncing back the light making your space look brighter.
Consider mood, task, and feature lighting when choosing kitchen lighting. Task lighting is very practical and covers busy spaces like the cooking areas, sink, and preparation. Mood lighting helps to keep you upbeat, and feature lighting exemplifies beauty.
Two-Tone Color
Try a two-tone color on the cabinets for a depth and pleasing look. If you love color or you're just adventurous, a two-tone color cabinet sounds like a good idea. In case of fashion changes, repaint the cupboards to the original form.
Consider your home architectural space when choosing bold colors.
Hire an Architect
Sometimes parting with a few coins to get the best professional kitchen look is all worth it. If you have the budget, get a kitchen designer on board to sort out your kitchen design needs. However, you may need to consult an experienced architect for structural work.
Pay Attention to the Details
Kitchen trends are versatile. Now kitchen cabinet ideas, backlashes, and sinks designs define the luxury kitchen. You will find 3D interest fluted patterns in contemporary settings.
Wall and floor finishes are some of the most exciting ways to enhance your luxury kitchen. Keep the colors neutral and calm.
For a luxury kitchen, pay attention to the taps, sinks, tiles, and working surfaces. Polished marble remains to be one of the most desirable countertop options and is a mark of true opulence and luxury. Invest in sensor taps, functional smart air conditioners, and modern appliances.
Conclusion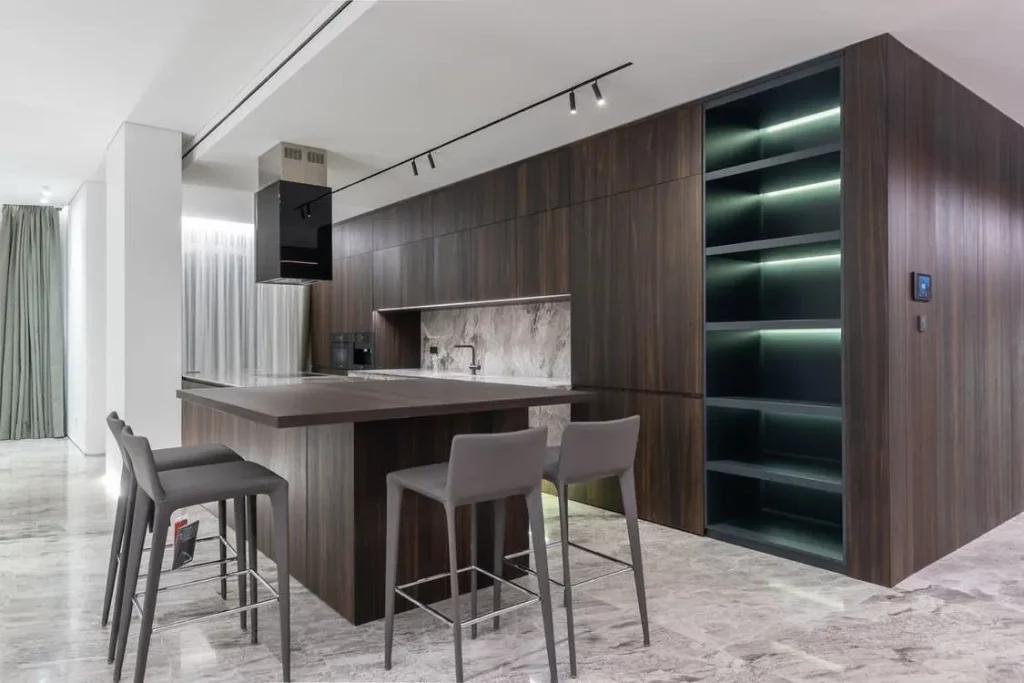 Please do not underestimate the power of high-shine finishing as it defines luxury kitchen space. Another simple yet dramatic transformation to enhance your kitchen is applying a fresh paint coat. Invest in modern appliances, materials, and elements for all your kitchen needs.