The fireplace is not only a part of the home that provides functionality (offers extra warmth especially during the winter season). This one also adds style and appeal to your home.
This can even become one of the areas at home where you can spend lazy afternoons sipping wine. With the help of designs and decors, your fireplace can be a stylish yet functional focal point of your living room.
If you have zero knowledge of how to decorate it, here are a couple of unique fireplaces decorating ideas.
Install a Mantle Above the Fireplace
When designing the fireplace, one of the decisions that you need to make is whether to have a mantle above it or not. A fireplace mantel is a shelf installed above the fireplace that can be used any time of the year and will add style and design to the area.
It is one of the most common fireplace decors as this can still be used in any season – regardless of whether your fireplace is in use or not.
A fireplace mantel can also be used as a shelf to store certain items and objects. You may be able to fit a lot of stuff on the shelf depending on the size of the items and how they are arranged.
Having a fireplace mantle opens a door of possibilities when it comes to decoration.
To ensure that everything above the fireplace looks presentable and easy in the eyes, you have to narrow down your decor options and choose a theme that blends in with your design.
You wouldn't want an odd-looking fireplace area in your house, right?
You can modify and change your displays as season changes and utilize it as a general extension or your original interior design theme. Since it is usually situated in the receiving area and is usually in the center, it can serve as a prominent feature that may bind your entire interior together.
Of course, you also have to clean the fireplace, as well as the mantle, to maintain the charm of this part of the room.
Make Use of The Fireplace Area as A Storage Space when It's Not in Use.
Another creative way to use the fireplace even when the cold weather's over is to use the hearth of the fireplace as your temporary storage.
One good way to do this is to put shelves on each side of the hearth, depending on the structure of your fireplace and everything surrounding it, to offer more storage and increase functionality.
To store logs and other items for the fireplace, you may use metal or wooden baskets and crates and place them near the hearth. For added style, you may also accent it with a custom fireplace metal work.
Candles Are a Great Way to Provide More Light to A Room
Whether or not your fireplace is working, LED candles placed on the fireplace mantel can create a warm and cozy feel in the area.
You can make an interesting design by lining up candles of different sizes and heights. If your fireplace isn't in use, you can make a candle display inside the hearth to obtain the fireplace glow without the flames or the extra heat.
Create a Mini-Art Gallery Above the Mantel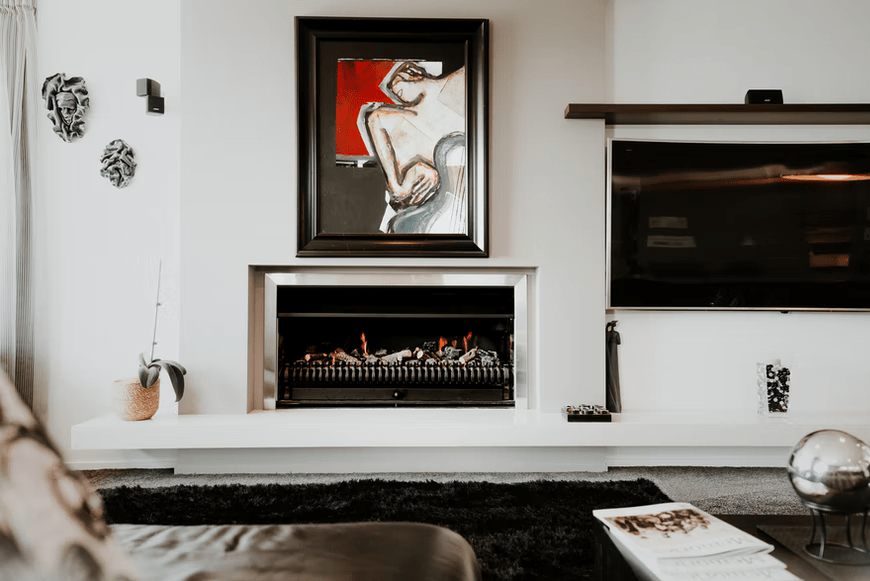 Hanging wall art around the fireplace is another option for fireplace decor. Since you'll most likely have space above the mantle, you can utilize this to hang art, portraits, signage, or anything that can make the space stylish.
If you are creative, you can even create a mini gallery in this area for a personal touch.
Choose a Creative Fireplace Screen
A fireplace screen is useful whether or not your fireplace is in use, but it is especially helpful while it is used during the winter season.
Since fireplace design has grown so popular, manufacturers made a way to produce a variety of unique and innovative fireplace screens that homeowners can buy for their homes.
To highlight the design and decor of your fireplace, you can choose one that is both interesting and useful.
Fireplace screens can add character to your fireplace and give a unique look, especially the ones that are built like a collection of twigs or branches or stained glass.
This is also true with fireplace screens that bear a not-so-common color, such as gold instead of the usual black or gray metal. A metal fireplace mesh screen with a unique design can also help set your fireplace apart from the typical ones.
While decorating and applying new design ideas, you also need to consider the accessibility of the fireplace for chimney cleaning & inspection when you need it.
This is crucial to avoid the fireplace from getting damaged. You may also check several practical and budget-friendly revamping tips online if your fireplace looks like it could use a makeover.