If not properly disposed of, garden waste can also harm the environment like any other rubbish. For instance, it can rot, emit bad gasses, thus polluting the environment. Besides, large piles of garden junk can attract dangerous animals and pests, which can spread diseases and infections.
However, you can implement some simple yet effective strategies to help manage your garden wastes and avoid these problems. 
Some of these strategies include:
1. Work With A Rubbish Removal Company
Working with rubbish removal services is one of the best ways to deal with your garden waste. Rubbish removal services is a company that specializes in collecting and disposing of garbage from companies and homesteads. 
Sometimes your garden can have a lot of wastes. Rubbish can take much of your time, sorting and disposing of it. But you can avoid this hassle by hiring a garden waste removal service provider. This helps save time and enables you to focus on other critical garden activities.
If you're looking for a cost-effective strategy to manage your trash, then hiring a rubbish removal company could be the best deal. When you decide to do it by yourself, you'll have to buy tools like garden bags and skip bins. Besides, you'll be required to hire a motor vehicle to help dispose of your garbage. This can cost you a lot of money.
On the other hand, a garden waste removal company comes with its own tools and vehicles. Therefore, you won't need to buy any tool or equipment, thus enabling you to save on costs.
Lastly, sometimes removing trash involves dealing with dangerous items like sharp objects. So, an accident can occur, thus injuring yourself with such items. This interferes with your safety.
Most junk removal companies work with trained professionals on matters to do with security. They can therefore take the best safety precautions to avoid any risks.
Besides, some junk removal services have insured their workers. Therefore, even if one of their workers is injured in your garden, you won't be responsible. Their insurance company will compensate them and cater to their medical bills and other associated costs.
So, if you want to promote your safety when managing your trash, you should consider hiring rubbish removal services. For instance, you can decide to work with Same-Day Rubbish Removal or any other similar firm. 
2. Consider Composting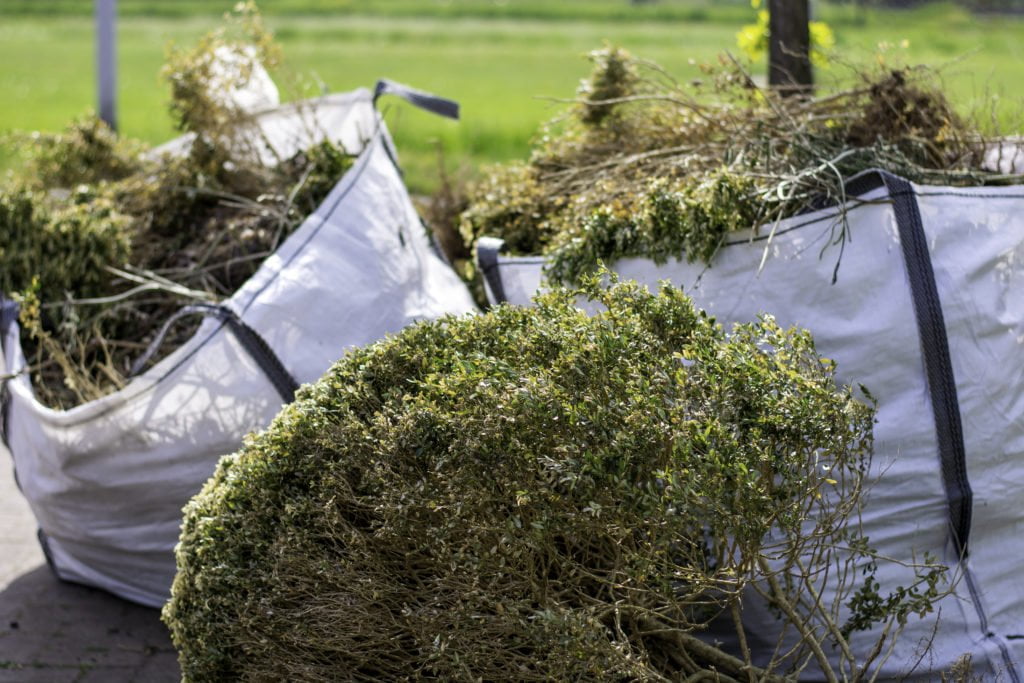 You can also manage your litter by composting some items. Composting is a biological degradation process of converting wastes into manure or organic fertilizer. This is done through controlled moisture and heat.
Composting garden waste can prove to be beneficial in several ways. For instance, it eliminates the need to buy fertilizers, helping you save on costs. Apart from that, it enriches the soil enabling it to retain moisture.
Besides, composite manure encourages the production of fungi and bacteria. These organisms help break down organic matters to produce nutrients for plants.
3. Donate Or Sell 
Not all your garbage should go to a trash bin. Some can be donated to charitable institutions and help put a smile on someone's face. Therefore, if you've got old garden furniture, you can consider donating it to an orphanage or seniors' home in the community.
Besides, you can make a few coins by selling some of your garden litter. For instance, if you have some overgrown flowers, you can cut and sell them to farmers for re-planting. Not only will this help you manage your waste, but you also earn some income from it.
4. Recycle Your Garden Rubbish
Recycling is another effective strategy to manage your waste. It's a practice of converting your rubbish into reusable items.  But you must first sort your garbage to identify which materials are recyclable.
From there, you can find effective ways to recycle your waste.  Recycling garden junk is one of the best ways to reduce garbage in landfills, minimize greenhouse gas emissions and eliminate bad odors in the environment.  
Takeaway
Managing your trash is the way to go if you want to boost your environment. It helps keep dangerous animals away from your land. This helps promote your health. Besides, a proper garden waste management strategy like composting helps create organic manure, thus enabling you to save on costs.
That said, if you want to manage your trash and improve your environment effectively, you can implement one or all of the discussed strategies.