Running an Airbnb rental is becoming an increasingly popular option for entrepreneurs who want to make extra money. And with the company posting record profits in 2022, we're sure to see even more people jumping into the host chair in the coming years. Between being able to curate the perfect stay and produce passive income, it's no wonder why many are jumping into this business model.
For those not in the know, Airbnb is a revolutionary vacation rental service that has taken the lodging industry by storm. People can rent out their homes or spare rooms to travelers needing a place to stay — but only if they meet certain criteria.
By listing your property on Airbnb, you can instantly market your space to potential customers looking for unique experiences online. We'll dive deeper into running an Airbnb and examine some pros and cons so that you can decide if this venture is right for you.
We'll also explore everything you need to know, from how bedroom essentials can help you make a profit to how some challenges to managing your property successfully can impact your bottom line.
Pros of Running an Airbnb
1) Generate Extra Income
Running an Airbnb can be a great way to generate extra income and offer financial security for homeowners and landlords. It offers higher rental fees than traditional monthly rents, potentially allowing for hundreds or even thousands of dollars in extra income each month.
Additionally, it gives owners flexibility in setting rates and availability schedules with automation technology and control over pricing without needing to worry about long-term commitments from tenants.
All this while being part of a larger community that connects people on their business success journey.
2) Meet New People
Hosting guests from all over the world through Airbnb can be a gratifying and fascinating experience for any host. Encountering different cultures, languages and perspectives from around the globe can be educational and entertaining while simultaneously creating new business opportunities.
Not to mention the unique relationships that may form during this exchange of different people and ideas. Interacting with guests of diverse backgrounds could also create positive publicity for the host's business through word-of-mouth marketing and by referrals or repeat customers.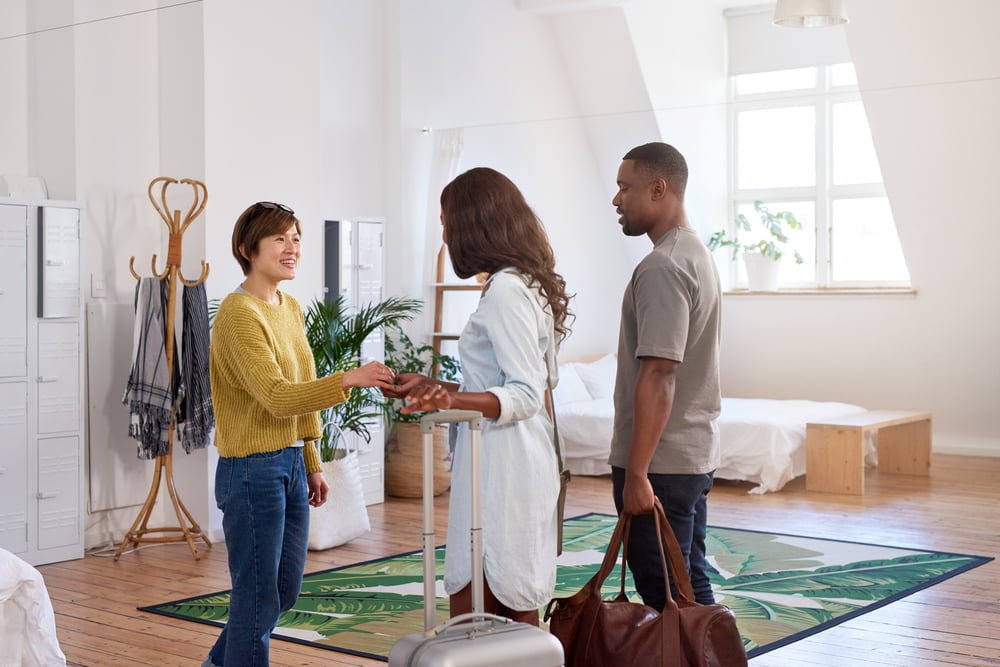 Source: Daxiao Productions/Shutterstock.com
3) Automation Technology
Airbnb hosts can use automation technology to create flexible schedules and pricing, allowing them to easily manage guest inquiries and bookings. This increases their efficiency by automating tedious tasks and allows for faster response times, creating a smoother experience for both the host and the guest.
Automation technology has also made it easier for hosts to quickly update rates or change availability schedules so that their listings remain competitive in the market. Furthermore, it enables them to stay on top of potential guests and increase revenue opportunities.
4) Becoming a Hospitality Expert
As an Airbnb host, one benefit is becoming an expert in hospitality practices. Through managing multiple bookings and engaging with different guests, hosts gain valuable experience in customer service and hospitality.
Hosts learn the importance of creating a comfortable atmosphere while understanding cultural differences and guest needs through regular interaction. This experience aids hosts in providing safety, convenience, and satisfaction to all guests staying at their properties.
5) The Fun of Creating Your Airbnb
Being an Airbnb host offers the opportunity to be creative and express oneself in the design of their space. Creating a unique atmosphere for guests is a great way to stand out from the competition, attract new visitors and ensure returning customers.
Hosts have the freedom to decorate and furnish their spaces however they like; with chic decor or cozy comfort, it's all up to you. Whether opting for more bedding pillows to create a homey feel or adding textured wallpaper for a more modern and vibrant look, the possibilities are endless.
Cons of Running an Airbnb
1) Increased Responsibility & Unpredictability
Being an Airbnb host is a responsibility that comes with challenges and rewards. Hosts must take the initiative to keep the space appealing and up-to-date and be prepared for changes in booking schedules requiring additional management and flexibility.
It requires foresight to factor in unpredictable guest arrivals, plus the ability to remain available whenever needed. Finally, hosts must plan ahead and stay on top of their obligations while meeting all safety regulations concerning their space.
2) Financial Pressure
Investing in Airbnb properties can be a great way to earn additional income; however, it is essential to know that Airbnb hosting is not a guaranteed job and has no steady income or benefits associated with it. While this type of investment does have the potential to bring in significant returns, it also carries with it a certain amount of financial risk.
Before committing to an Airbnb property, hosts must thoroughly evaluate their rental expenses, such as taxes, insurance, maintenance costs and other necessary fees. Also, hosts must manage their finances carefully and consider the unpredictable nature of their business. This can leave you feeling vulnerable and exposed if bookings are slow or expenses exceed what you make from your guests.
3) Upkeep Expenses
Maintaining the condition of an Airbnb property is essential for providing a positive guest experience. Hosts should be prepared for any upkeep costs, from minor expenses such as replacing shampoos and hand soaps to major ones like repainting a room or purchasing new bedding comforters.
Regularly checking for wear and tear can help identify small items that need replacing before they become more significant problems or allow you to craft solutions that buy you a little more time. For example, suppose you have a couple of negative reviews about bed quality but aren't able to purchase new mattresses. In that case, mattress pads can be a cost-effective solution.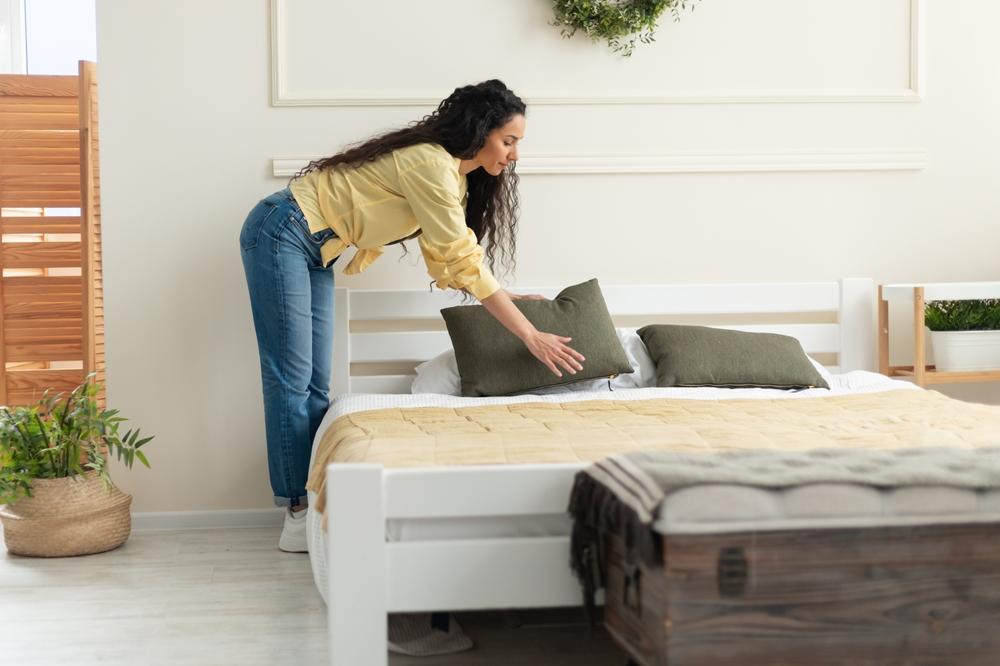 Source: Prostock-studio/Shutterstock.com
4) Regulations, Compliance and Increased Liability
Renting out a property on Airbnb can be exciting and rewarding, but it also comes with certain risks. Hosts must ensure that their space meets local regulations such as fire safety codes, health concerns and zoning restrictions for short-term rentals if applicable.
Moreover, hosts are responsible for maintaining the safety of their guests and the property within their care. There may also be local bylaws for short-term rentals, requiring additional licensing or specific criteria that must be met before renting out a property. And then there are some places where Airbnb and other short-term rentals are simply illegal.
As an Airbnb host, it is important to understand the laws and regulations in your area so that you are aware of any liabilities imposed on you. In addition, hosts should always consider purchasing additional property insurance coverage to protect themselves from potential liability claims.
5) Reputation Management
As an Airbnb host, reputation management is one of the most important aspects of the job. Negative reviews can significantly impact a host's overall rating; therefore, staying on top of customer service is essential.
Hosts should be doing regular check-ups with guests to ensure their satisfaction during their stay and also monitoring feedback given after they depart. Responding positively to criticism and making necessary changes will help maintain a good rating and attract future customers.
Final Thoughts on Being an Airbnb Host
Being an Airbnb host might be for you if you are willing to dedicate time and resources to providing a quality experience for guests and managing your reputation. Regular upkeep of the property, responding positively to criticism and rewarding satisfied customers are key components of being a successful Airbnb host. It is also essential to stay on top of customer service, monitoring feedback given by guests after they leave your Airbnb.
On the other hand, this type of business may not be for you if you are not interested in investing the necessary time and money into maintaining an Airbnb property or providing exceptional customer service. If you're only doing it for the money, there might be better alternatives for making an income.
Ultimately, being a successful Airbnb host requires patience and dedication. With the right approach, you can create a memorable experience for your guests and enjoy the rewarding feeling of providing them with a great home away from home.